Eshopbox VS Shiprocket Fulfillment – Brief Comparison of Features
Order fulfillment is an integral aspect of your eCommerce supply chain. Customers today are very mindful about how they receive the product and whether they receive it on time. Suppose your brand fails to deliver to the customer's expectations. In that case, you can expect a backlash on social media and several negative reviews that can negatively impact your business.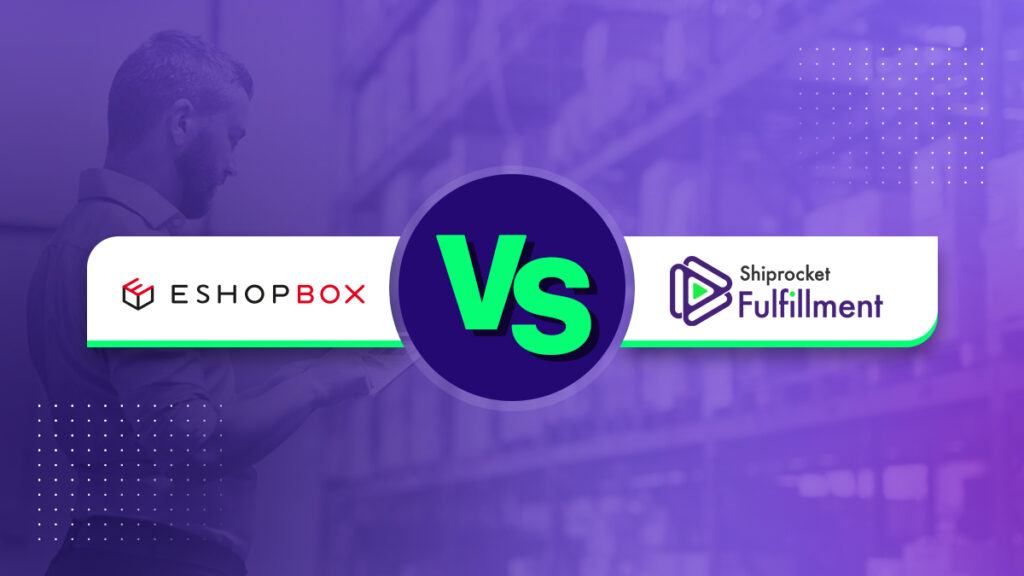 To ensure that your product reaches the warehouse to your customer on time and in perfect shape, you need to ensure that your operations are running smoothly and working efficiently to deliver the order on time. Therefore, choosing a reliable 3PL fulfillment provider for your business is necessary to avoid mistakes, deliver efficiently, reduce costs, and optimize operations.
Let's briefly compare the services Eshopbox and Shiprocket Fulfillment offer so you can decide on the most suitable 3PL fulfillment provider for your eCommerce business.
Shiprocket Fulfillment
Shiprocket Fulfillment is a third-party fulfillment provider for e-commerce businesses across India. We have fulfillment centers located across 35+ locations in India. We help you with end-to-end order fulfillment and take care of water management, inventory management, warehousing, packaging, shipping, and returns management.
Eshopbox
Eshopbox box is a fulfillment solution that helps you distribute and deliver goods across India.
Service Comparison
| | | |
| --- | --- | --- |
| Feature | Shiprocket Fulfillment | Eshopbox |
| Integrated Platform | Yes | Yes |
| Fulfillment Centers | 35+ | 6 |
| Warehouse Management System | Yes | Yes |
| Logistics Technology | Yes (With Shiprocket) | Yes |
| Daily Dispatch | Yes | Yes |
| 1-Day and 2-Day Shipping | Yes | No |
| Returns Management | Yes | Yes |
| Quality Check for Returns | Yes | Yes |
| Dedicated Account Management | Yes | Yes |
| Prime-like Shipping Badges | Yes | Yes |
| Order Tracking Updates | Yes | Yes |
| Data-Driven Insights | Yes | Yes |
| RTO risk prediction | Yes (With Shiprocket Engage) | No |
| Automated WhatsApp Comm | Yes (With Shiprocket Engage) | No |
Integrations
| | | |
| --- | --- | --- |
| Feature | Shiprocket Fulfillment | Eshopbox |
| Channel Integrations | Yes. Amazon, Shopify, Magento, etc. | Yes |
| Carrier Integrations | 14+ carrier integrations | None |

Why Choose Shiprocket Fulfillment?
Store Inventory Closer to Customers
Shiprocket Fulfillment has more than 35 WMS-enabled fulfillment centers across India. All you need to do is send your inventory to our fulfillment centers. We will handle fulfillment operations like order management, inventory storage, warehousing, shipping, and reverse logistics. You can store your inventory closer to customers and reduce the transit time. This way, you can deliver 3X faster and offer customers one-day and two-day shipping for express delivery.
Reduce Fulfillment Costs
When you store inventory closer to customers in thoroughly equipped fulfillment centers, you can reduce your fulfillment cost by up to 50%. The order processing costs reduce, storage and inventory management costs increase, and you can ship the proper orders by improving efficiency across your business.
Upgraded Logistics and Fulfillment Technologies
Shiprocket Fulfillment has the latest warehousing, fulfillment, and logistics technologies. With warehouse management systems across the spectrum, you can ensure top-level order processing in each fulfillment center. You can also integrate your websites into the marketplaces with Shiprocket Fulfillment to ensure that no orders are missed when processing shipments.
We have top-notch logistics in a place where the first mile, last mile, and B2B shipments are handled with ease.
Fulfill Website and Marketplace Orders Conveniently
You can synchronize your website and marketplaces like Amazon, Shopify, Magento, etc. And import orders without any interference. Also, you can meet the stringent marketplace requirements by processing orders in thoroughly equipped fulfillment centers with a skilled team that can help you reduce the order-to-ship time.
Fast-Shipping Tags
You can also add fast shipping tags to your shipments as you can offer benefits of express shipping like one-day and two-day delivery to your customers. This can help reassure your customers about exceptional shipping service without paying any premium.
Decrease RTO and Improve Delivery
When you store inventory closer to customers and deliver orders on time, you can reduce RTO and improve delivery for your business. This will help you ship faster, increase repeat purchases, and ensure a pleasant shipping experience for your customer.
Final Thoughts
Eshopbox and Shiprocket Fulfillment are reliable fulfillment solutions for your business. However, you must thoroughly compare their services to ensure which service can help your business flourish. Giving importance to e-commerce fulfillment and choosing the proper fulfillment solution for your business has never been more critical. We hope this comparison enables you to decide what features you are looking for in your 3PL fulfillment providers and which one is more beneficial for you.