The Benefits and Challenges of Direct Store Delivery
eCommerce fulfillment is of different kinds. You can either have your warehouse and conduct operations from there, or if your business is picking up slowly, you can even ship your products from your home or office. If you are a retail seller and want to move your business online, you need to figure out a fulfillment solution to help you run both aspects smoothly. However, your fulfillment method must evolve with your business. Mistakes are inevitable if you ship your products from your home, even when you are receiving a heavy demand. Direct store delivery is one of the many fulfillment models available for businesses in India. Let's look at immediate store delivery, its advantages and disadvantages, and the best practices if you want to follow it for your business.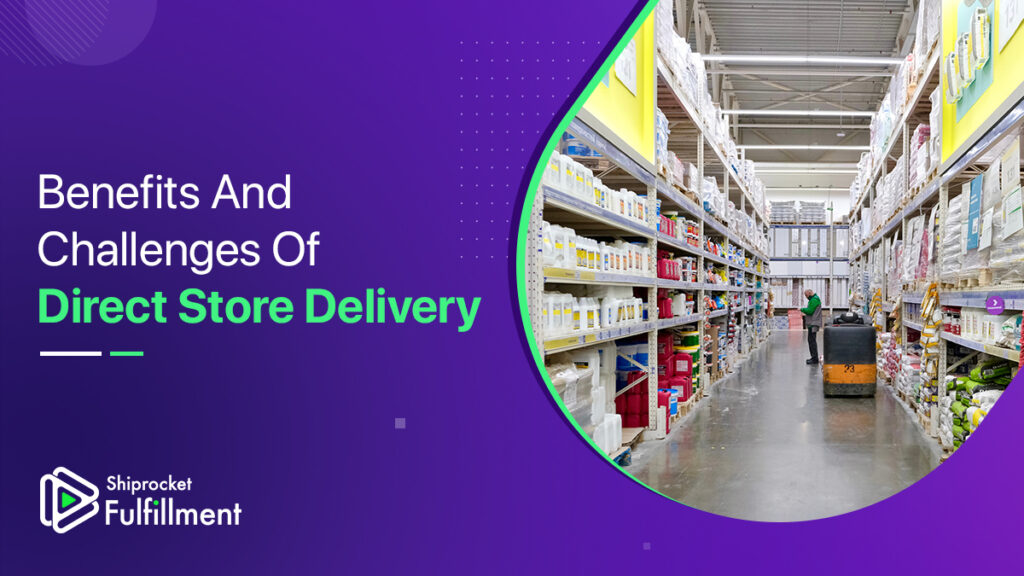 What is Direct Store Delivery?
Direct store delivery refers to delivering goods directly to a retail store or location rather than a centralized warehouse or fulfillment center.
Advantages of Direct Store Delivery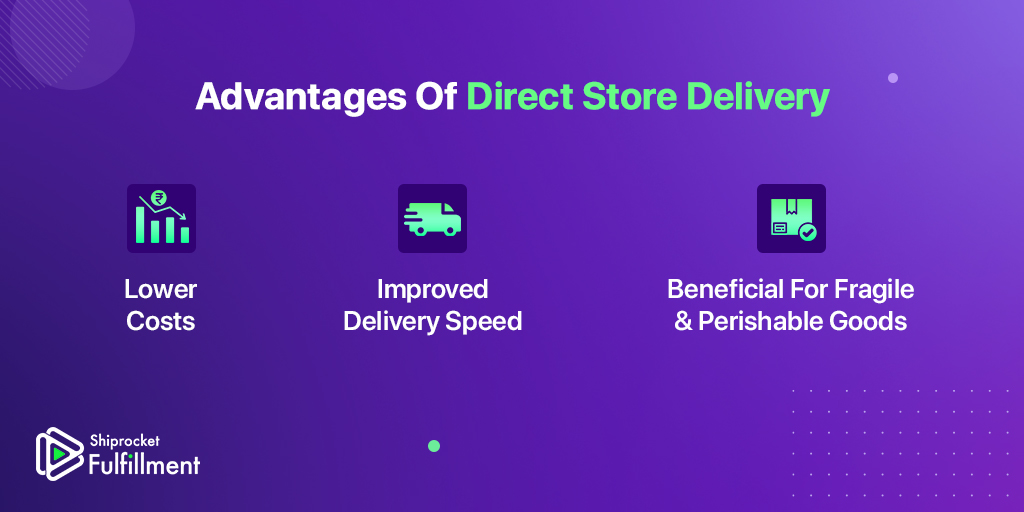 Lower Costs
The first advantage of direct store delivery is the lower costs. It can be a cost-effective option for businesses that want to simplify the supply chain and streamline operations. It can help you reduce logistics costs by eliminating the process of shipping, warehousing, and several other operations.
Improved Delivery Speed
It can help you improve the delivery speed of orders since customers can pick up their products directly from retail stores rather than waiting for their orders. It is particularly suitable for consumer packaged goods as it ensures better product availability and higher inventory turnover.
Beneficial For Fragile and Perishable Goods
When you sell fragile and perishable goods, it is difficult to maintain an end-to-end supply chain with utmost accuracy. Direct store delivery gives you an even opportunity to reduce damage and ensure that they move faster. Therefore many companies in the grocery industry opt for the direct store delivery model.
Challenges of Direct Store Delivery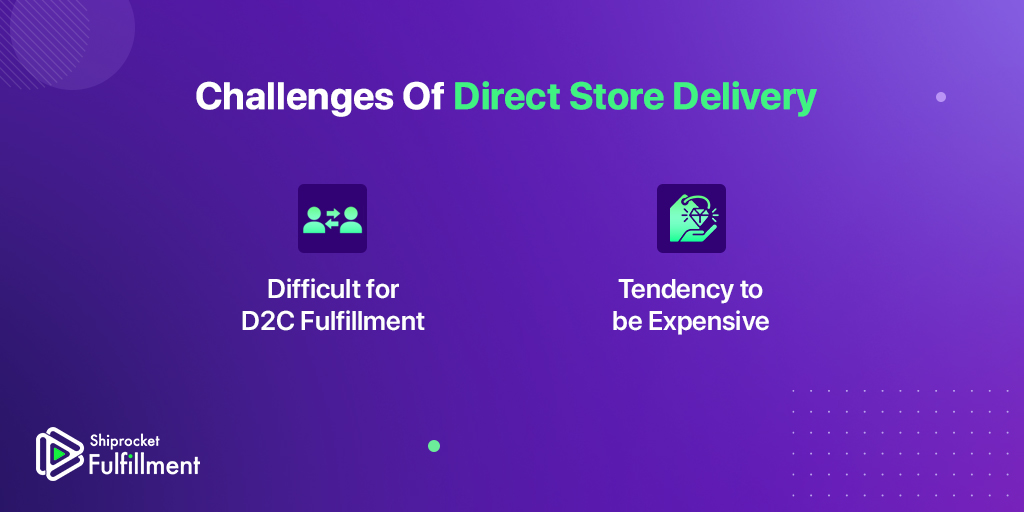 Difficult for D2C Fulfillment
Even though direct-to-store delivery might be a suitable option for retail businesses, it can make direct-to-consumer fulfillment very hard. Utilizing your retail stores as micro fulfillment centers needs careful monitoring of inventory, and it is usually more expensive. Direct-to-consumer businesses thrive on shipping from multiple distribution centers.
Tendency to be Expensive
For businesses that do not have an offline presence or retail stores, the direct store delivery model can be expensive as inventory stocking needs to be more precise, and the opportunity cost of lost sales is high.
Direct to Store Delivery vs. Traditional Order Fulfillment
How is direct store delivery different from traditional order fulfillment? This is a question most eCommerce sellers have.
The critical difference is that the direct store delivery model is an alternative to centralized distribution. Centralized distribution involves the inventory stored in a warehouse or fulfillment center wherein the suppliers or manufacturers send their goods to a retailer's warehouse or fulfillment center.
The goods are stored in this warehouse or fulfillment center until they are picked and packed for a customer, saved for safety stock, or delivered to a retail location.
Delivery directions are a type of decentralized fulfillment and distribution. This means the inventory is stored in multiple fulfillment centers and shipped whenever a new order is received.
For direct consumers or D2C businesses, decentralized fulfillment and distribution are more beneficial as they do not need to invest in maintaining retail centers that can act as micro fulfillment centers.

Best Practices for Direct Store Delivery
Record Data Actively
The first and foremost best practice for direct store delivery is recording data. Accurately registering data on all steps can mitigate miscommunication and mistakes between the supplier and retail store. Sharing the correct information with all stakeholders can eliminate errors and improve your inventory management as well.
Strengthen Customer Service
Next, it is essential to create a feedback loop with customers so that the customers pick up the right products. Improving customer service can also enhance demand forecasting as you will understand trends, demands, requirements, etc.
Establish Omnichannel Sales
Direct delivery also allows you to establish omnichannel sales as your products are not just available online but also in retail stores. This improves brand visibility, and you can connect with customers on multiple channels. It also allows you to centralize your inventory data, and you can keep a check across channels about the average sales, inventory turnover, etc.
How Can Shiprocket Fulfillment Help?
Shiprocket Fulfillment can provide you with a network of fulfillment centers located more than 35 across the country. All these fulfillment centers are WMS enabled and have the latest logistics and warehouse tech to ensure that your products reach customers in record time. With Shiprocket Fulfillment, you can provide your customers with one-day and two-day delivery options as you can store inventory nearest their location. This will considerably reduce the shipping time and help you save on logistics costs. You can also create a network to manage inventory from a centralized location and stock it in different areas. By delivering orders on time and with past tags, you can also reduce RTO for your business. It is an optimal solution for direct to consumers businesses as they can utilize the decentralized inventory management system while not investing in micro-fulfillment centers like retail stores.
Final Thoughts
Direct delivery can be a suitable option for your business if you are moving into the online space or have just started creating your online presence. By creating an omnichannel sales experience for your customers, you can deliver more than they expect and provide them with a uniform and enhanced shopping experience across channels. With a direct store delivery model, you can also offer buy-online-pickup-in-store services, which can benefit your business.