Understanding the Warehousing Requirements for Food Items
Food products are one such product category that requires strict regulation and thorough care. They must be kept fresh throughout the supply chain as they are most prone to spoilage, contamination, and spillage.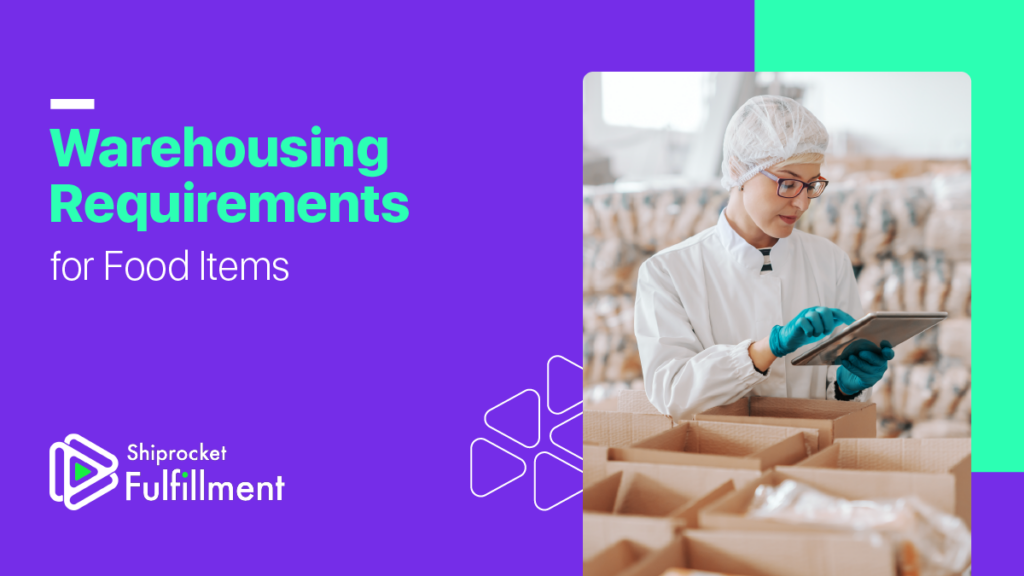 As a seller, you need to meet stringent requirements to ensure that the product goes through the process safely without any risk of poor quality. Therefore, you need proper visibility and transparency throughout the supply chain and end-to-end maintenance inside the warehouse.
Warehousing for food is a sensitive area, and you must fulfill all requirements if you want to dispatch good-quality products. Let's look at the requirements for warehousing food items and what you should look for when tying up with a fulfillment provider.
What is Meant by Warehouse for Food?
A warehouse of food refers to a dedicated facility where you can store, pick, and ship food items. As food items are perishable and more prone to contamination, this facility must be equipped with temperature control, moisture control, and other requirements.
Let's take a look at what are the requirements for warehousing food items.
Requirements for Warehousing Food Items
Cold Storage
If food is not stored at the correct temperature, it can lead to bacterial growth that doubles fast. Therefore, the foremost requirement of warehousing food items is freezers. This reason should be able to maintain the temperature of 0°F or -18°C. This will curb the growth of bacteria and protect the food items from spoilage.
Foods like ice creams, frozen pizzas, meat, etc., require cold or frozen storage.
Dry Storage
When we talk about dehydrated items, pasta, rice, canned goods, etc., require dry storage. This may look like an easy-to-maintain condition, but you still need to be very careful with factors like the temperature, moisture, and the material of the container you use. For example, if you store dried chips in a non-airtight container, they will come in contact with moisture and become soggy. This might also lead to mold growth.
Therefore, the type of material you choose also plays a massive role in the appropriate dry storage of food items.
Dried products are also vacuum-packed to avoid any contamination from the air.
Refrigerated Storage
Refrigerated storage refers to the temperature range of 40° F or 4°C. The bacteria and salmonella growth is restricted when goods are stored at refrigerated temperatures. The cold food should be prevented from getting warm as it becomes more prone to spoilage and loses its texture. Few items require refrigerated storage: fruits, vegetables, and freshly cooked items.

Temperature Guidelines for Different Food Items
Canned goods – 10 to 15°C
Dairy products – 2°C to 4°C
Fresh produce – 2°C to 4°C
Unripe fruit – 10 to 15°C
Carcass meats – 1°C to 3°C
Fresh seafood – −1°C to 2°C
Frozen food – −18°C or lower
What to Look For in a Warehouse for Food Items?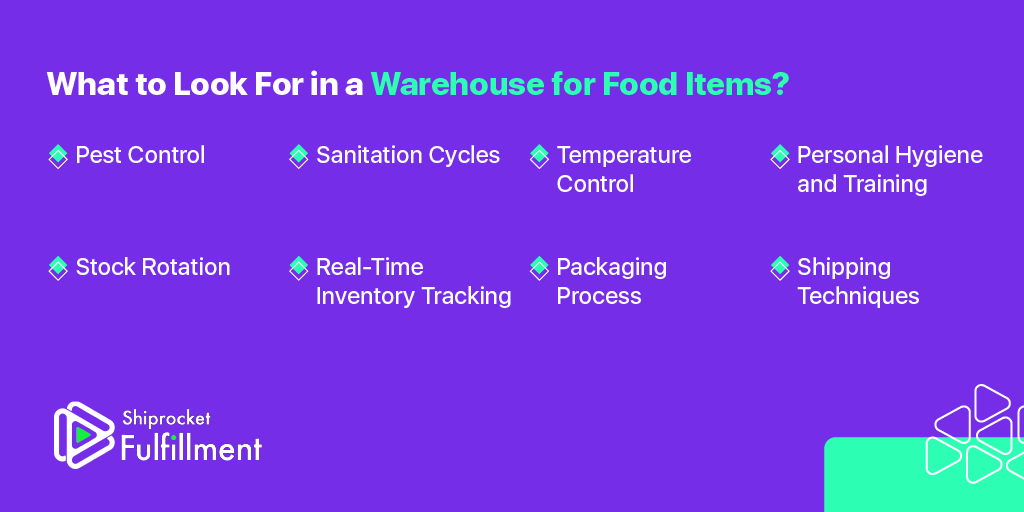 Pest Control
There is a very high chance of pest attack as it can impact all types of goods. It is primarily a complex problem for dry fruits such as grain and rice. Your warehouse provider must have a solid plan to ensure that pests are not found anywhere in the facility. They must cater to indoor and outdoor pests to prevent contamination.
Sanitation Cycles
The following requirement is sanitation. Proper sanitation is the key to superior quality storage. The warehouse facility and its employees should follow the best practices to prevent the spread of any food-related allergies, environmental pathogens, or other illnesses through cross-contamination.
Temperature Control
Like we discussed above, temperature control is necessary for different types of food, and your warehouse provider must follow the best practices for the proper storage of goods to maintain the quality, taste, and texture
Personal Hygiene and Training
The employees of any warehouse are the forerunners. There should be SOPs established for personal hygiene and training to be sanitized and healthy to carry out the warehouse operations.
Stock Rotation
With perishable items like food, proper stock rotation is a must. The first in, first out inventory strategy should be followed if you want to maintain the quality of the goods. Like it is said, one foul Apple can spoil the lot. Therefore, you must regularly check and rotate the stock.
Real-Time Inventory Tracking
In case there is a fault with any of the products, there should be real-time inventory tracking so you can identify the error and trace back the development immediately.
Packaging Process
Not every food item is packed in a similar manner. For example, dry products require air-tight packaging. Therefore, your warehouse must be able to accommodate different types of packaging material for your products.
Shipping Techniques
Last but not least, it is more important to maintain the quality of the product once it is dispatched from the warehouse. If the product's cold chain is broken, it can hamper the quality of the product by many folds. Therefore, you must look for shipping partners. A warehouse must be associated with the shipping partner that can handle the shipping and delivery of perishable products with the right temperature and requirements.
Final Thoughts
Warehousing food items is a crucial task. It requires utmost attention and an eye for detail. It can have more remaining damage if you do not pay attention. It is intelligent if you invest in warehouse management systems that can help you stay on top of the quality of your products. Always look for 3PL fulfillment providers that can help you with end-to-end storage, processing, and shipping of food products so that you can maintain a seamless supply chain throughout.