Understanding the Importance of Multichannel Order Management Systems
Order management is one of the most critical aspects of your eCommerce fulfillment supply chain. It defines how well you manage your operations to make or break your supply chain. The connecting link between your front-facing store and back-end operations can directly impact the customer experience and delivery performance. You must understand why order management systems are essential and how they can make your life easier.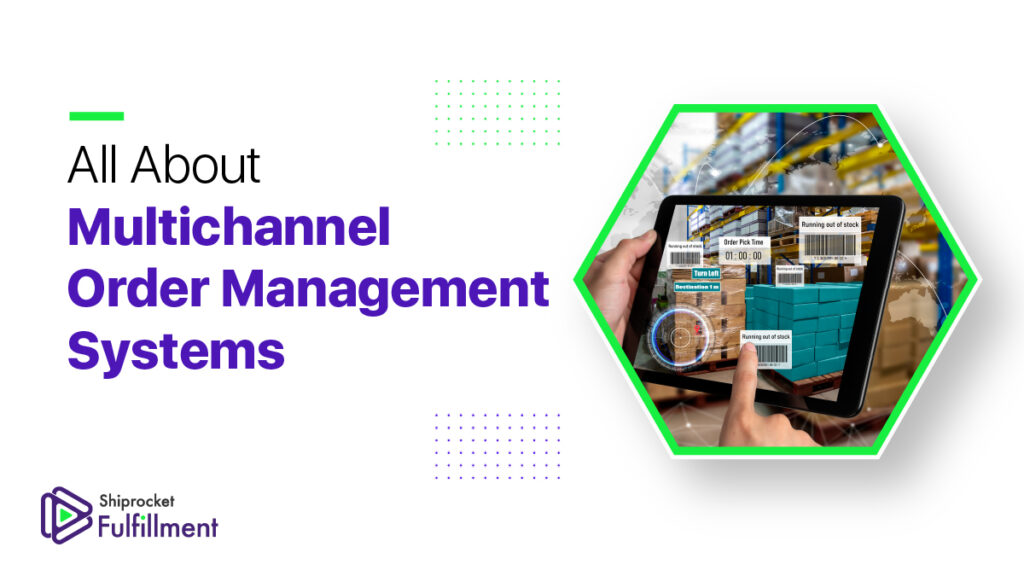 It can be a nightmare to have different portals for order management if you sell on multiple eCommerce channels like your website, marketplace, social media, etc. A single order management system for multichannel selling is a game-changer. Let's closely understand multichannel order management and its benefits.
What is an Order Management System?
An order management system is software that tracks the complete lifecycle. It starts right from order receiving up to shipping and returns. An order management system follows incoming orders in real-time and updates the inventory to ensure complete transparency for the seller.
Closer Look At Multichannel Order Management
It can be challenging to manage incoming orders individually when you sell on multiple sales channels like websites, marketplaces, social media, offline retail, etc. Since your inventory is singular, it can be very confusing to track orders separately, leading to errors and misses.
This is where the concept of a multichannel order management system comes into the picture. A multichannel order management system can help you consolidate all incoming orders into one place and process them from there. Suppose you have a central warehouse from where you process all your orders. In that case, a multichannel order management system can help you simplify the process by making the entire chain transparent and unidirectional.
Before we dive into the role of a multichannel order management system in your eCommerce fulfillment supply chain, it is essential to understand the steps involved in a thorough order management chain.
Stages of Order Management
Receiving
The first step of order management is receiving orders. You can receive orders from multiple sales channels. Without order management, you must organize the incoming orders and process them in a streamlined manner to avoid missing out on any orders.
If you manage multiple order management systems or processes, there are chances of confusion, and you can skip a few orders on the way.
If you do not receive orders promptly, it can impact the overall supply chain and lead to a delay in shipping.

Picking & Packing
The next step in order management is picking and packaging. Did you know that even a 0.5% mistake in selection can lead to returns, increasing the customers' loss and the cost of processing orders?
Thus you must sort out the incoming orders in the most efficient way to ensure that every product is picked from the right aisle and act accordingly.
You cannot keep running around the warehouse to find a product for a single order. This will increase the processing time drastically and lead to delays.
Ensuring seamless picking and packaging can help you reduce the processing time and give you a solid hand over the order to ship time for your shipments.
Shipping
The next step is shipping. You must reach out to your courier partners and ensure that the packages have shipped seamlessly. Neither do you or your courier company have time to waste. Therefore, you must bundle your products and packages to ensure that the courier company picks them up in one go and delivers them seamlessly. Multiple trips for pickup can cause distractions and delays.
Role of An Multichannel Order Management System in Seamless Fulfillment
How can a multichannel order management system help you in every stage of order management? Let's look at a few of the advantages of the system.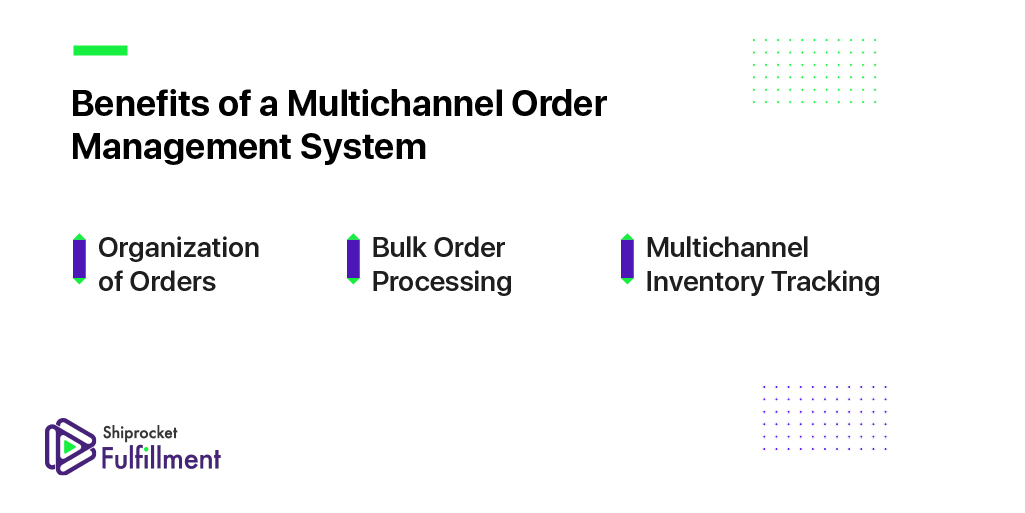 Organization of Orders
A multichannel order management system three all incoming orders from different sources into one platform. This helps you process them in one go by not downloading multiple sheets and collecting several orders. This means that there is a smaller margin of error, and you can eliminate human processes to avoid problems like overselling and increase productivity.
Bulk Order Processing
When all orders from multiple channels are in one place, it means that you can process them in one go. You need to segregate them based on the products and optimize the picking and packaging process. This means that the order to ship time reduces, and you can bulk process the orders in one go.
Multichannel Inventory Tracking
With the multichannel order management system, you can synchronize inventory across channels to ensure that you do not reach a situation of stockouts and you are aware of the inventory that is being processed. This way, you can predict future sales, replenish your stock accordingly and be on top of your productivity.
Shiprocket Fulfillment – An Easy Alternative To Seamless Order Management
Even though automation and multichannel order management systems can reduce the effort to process orders quicker, they can still be a hassle because they require capital investment and maintenance. An easier alternative to achieve the same level of order management is to outsource your eCommerce fulfillment to 3PL fulfillment providers like Shiprocket Fulfillment.
Shiprocket Fulfillment helps you decentralize inventory by storing your stock in various fulfillment centers located across India. This way, you can store inventory closer to buyers and trust experts to process your orders without spending a considerable capital investment.
With such an arrangement, you can quickly reduce your order to shape time, deliver faster, and reduce your shipping costs. Shiprocket Fulfillment is equipped to handle your multichannel orders and process them from a single platform.
This means that you can put your business' order fulfillment supply chain on an auto mode and have complete control over it simultaneously.
Final Thoughts
A multichannel order management system can help you reduce processing times and maintain systematic processes in your eCommerce fulfillment supply chain; however, it is an expensive approach that needs to be adequately implemented. Trusting a 3PL fulfillment provider can help you eliminate this need and run your business smoothly. Choose the best strategy for your business to make the process simpler.