How Multichannel Distribution Can Help Expand Your Business
Today, running a business is not limited to just selling on a single channel or platform. You can sell your products across multiple channels to reach more customers and increase sales. You can run a physical store, online store, or sell through both platforms. You can also consider selling on major online marketplaces like Amazon and Flipkart.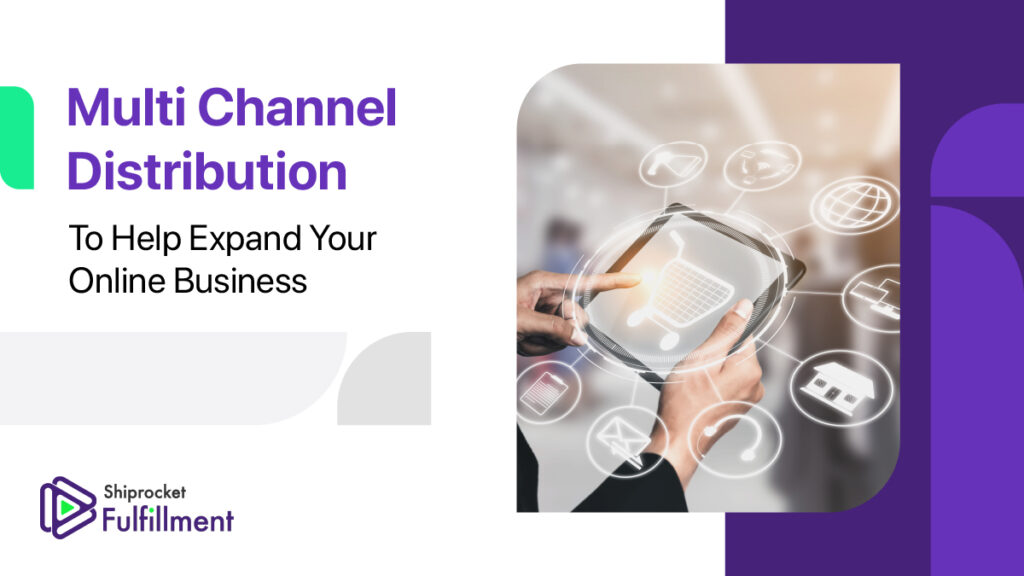 If appropriately managed, a multichannel distribution system can help expand your business by increasing customer reach. But without the right tools, resources, and technology, it might be hard for you to establish a multi-channel distribution system.
This blog will discuss what a multichannel distribution system is, its benefits, and its strategies.
What is a Multi-Channel Distribution System?
Nowadays, consumers want to shop from different places at their convenience. A multichannel distribution system is where a businessman sets up two or more sales and marketing channels. He does so to increase his customer reach and increase profits. He can sell through a brick-and-mortar store, online store, and online marketplaces.
A multichannel distribution system is majorly run with the support of technology. However, planning a multichannel strategy is also equally important and must be executed properly.
Benefits of Multichannel Distribution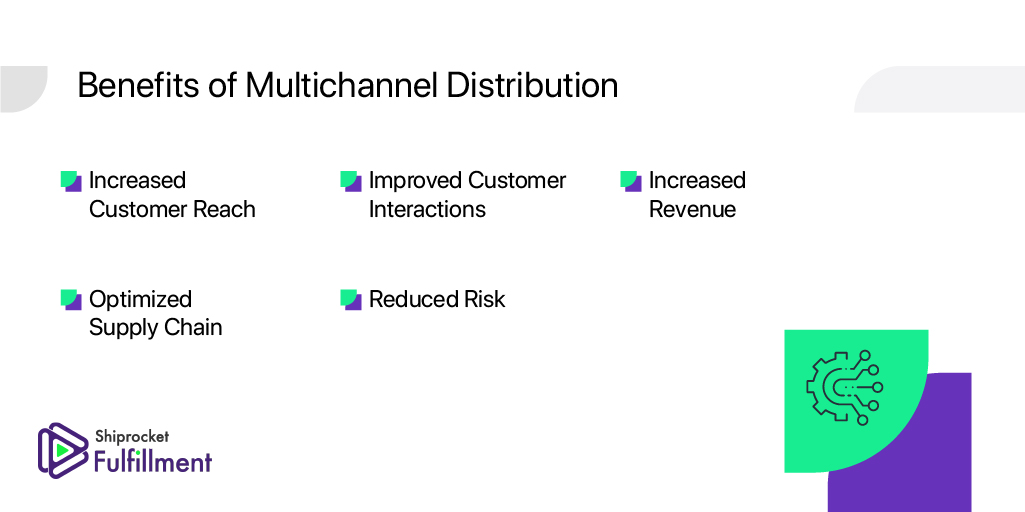 Here are the benefits of adopting a multichannel distribution system:
Increased Customer Reach
This is the obvious benefit of a multichannel distribution strategy. Adopting the strategy helps reach a broader customer base and sell in more markets. You can blend physical store, eCommerce, and sales and marketing functionality to grow and increase sales. Reaching a broader range of customers simply means expanding your business into previously untapped markets.
Distributors will also benefit from a multichannel distribution system by reaching new customers from a broader geographical reach. They can take explore new opportunities and take advantage by selling through pop-up stores and online marketplaces.
Improved Customer Interactions
With the advent of technology, customers are now demanding more. Better and pleasant customer experience has also become significant. Multichannel presence is in demand, and all business owners are adopting it to offer maximum customer satisfaction to their customers to differentiate themselves from competitors.
Whether your customers are end-consumers or retailers, embracing a multichannel distribution strategy offers flexibility to your customers and enables them to purchase products at their convenience. This is bound to give you an edge over competitors.
Optimized Supply Chain
The supply chain is the backbone of the distribution business. To remain competitive and profitable, all businesses should optimize their supply chain process, which can happen with the help of a flexible multichannel distribution process. With a multichannel distribution process, you can ensure that the supply chain process is optimized.
Reduced Risk
Sometimes, relying on a single distribution channel can be risky. If it didn't turn out the way you wanted, you could be in trouble. However, by selling on multiple channels, you can reach different people and reduce the risks significantly. It will help diversify your distribution network. However, it might be a little challenging to manage and track multiple sales channels in real-time.
Increased Revenue
Adopting a multichannel distribution strategy will ultimately lead to profits. Serving new customers through multiple channels brings in more sales, and thus revenue. Upon serving a broader customer base and penetrating new markets, your revenue is bound to increase. With this strategy, you boost your productivity and increase efficiency with the help of automation and a streamlined process.
Multichannel Distribution Strategies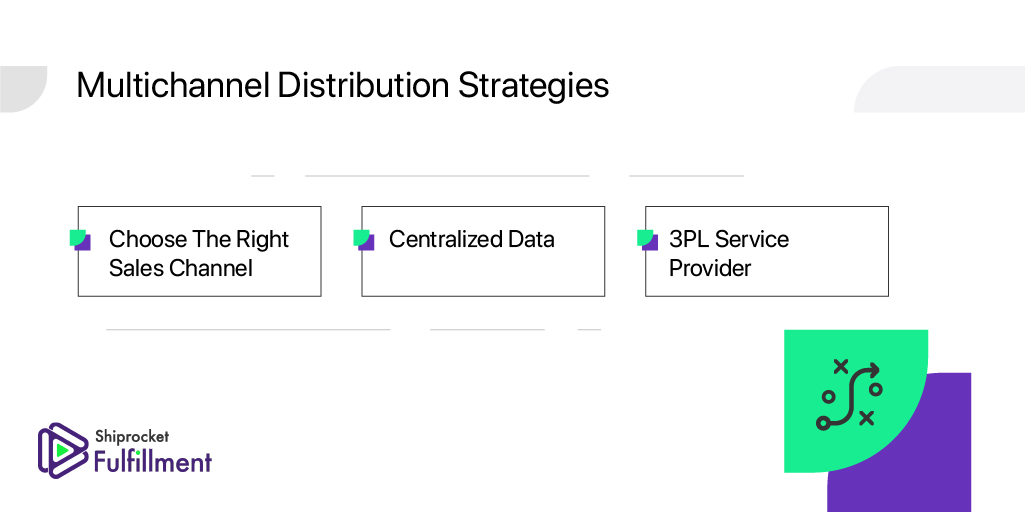 Adopting a multichannel distribution strategy involves a lot of strategizing before executing it. However, once executed, it can be extremely beneficial for your business. Have a look at some of the strategies that you can start with:
Choose The Right Sales Channel
From physical stores to social media platforms, you can sell your products anywhere. But that doesn't mean every platform is the right sales channel for you. Have you seen a car company selling cars on any of the social media platforms?
Before choosing any platform, you need to be sure that the platform you are about to sell on will provide you with the right opportunity and customers. Specifically, it won't kill your margins or have any fees that might lead to fewer profit margins.
So, before committing to a sales channel, you need to consider if your target audience is present on the channel. Next, think about whether the channel matches the type of product you sell. For instance, social media channels like Facebook or Instagram are not the right option for selling cars. They indeed can be used to advertise to the target audience, but you surely can't sell vehicles through these channels.

Amazon offers all types of daily products at different prices. Most buyers tend to go to amazon to buy everyday essentials. However, buyers don't have a look at the brand before buying daily products. Similarly, for beauty, health, and wellness products, most buyers go to Instagram and Pinterest. These platforms provide good visuals of the products and let the buyers interact during the purchasing process. You can present your products in the best light and with eye-catching visuals.
Centralized Data
When you sell through multiple platforms, it is crucial to have a single source of data. Always having data at your fingertips will help you make informed decisions such as inventory management for your business's benefit.
Tracking inventory can be challenging, especially when you fulfill orders across different channels. That is why a centralized data system will make it easier to track inventory and refill it when required. You can also leverage technology to streamline the process and make it efficient.
3PL Service Provider
You can integrate your multiple sales channels with the 3PL service provider platform. With this, all your orders are automatically fetched and synced, and you can check all your orders from multiple platforms at a single platform. Not just this, you can also process and ship your orders from the platform only. Besides, the 3PL platforms also help in managing orders and inventory.
If you are looking for one such 3PL service provider, Shiprocket Fulfillment is your best option. With us, you can store your inventory in tech-enabled fulfillment centers across all major locations in India and fulfill orders 3X faster. Not just this, you can ship your orders to 29,000+ pin codes and 220+ countries at the lowest shipping rates and reduce RTO as well.
Conclusion
Diversifying and selling through multiple channels is vital in today's competitive environment. With the help of multichannel selling, all business sizes can be benefitted by catering to new customers, markets, and geographic regions. It is an organic and cost-effective way to increase sales and profits.