What is LCL Shipping and Its Importance?
As an eCommerce seller, you need to prioritize how you ship your products. If not done correctly, it can burn a hole in your pocket and throw budgets out the window. Especially if you are a B2B eCommerce shipper, you need to decide the correct mode of truckload shipping to ensure that you do not spend way too much at regular intervals. Different shipping methods are available, and you must choose the most suitable one for your business. This considers the other characteristics like the container's interior dimensions, nearby consolidation centers, etc. LCL shipping is one type of freight shipping that can help you save on costs. Let's look at LCL shipping, its advantages, drawbacks, and tips for getting the best LCL shipping rates.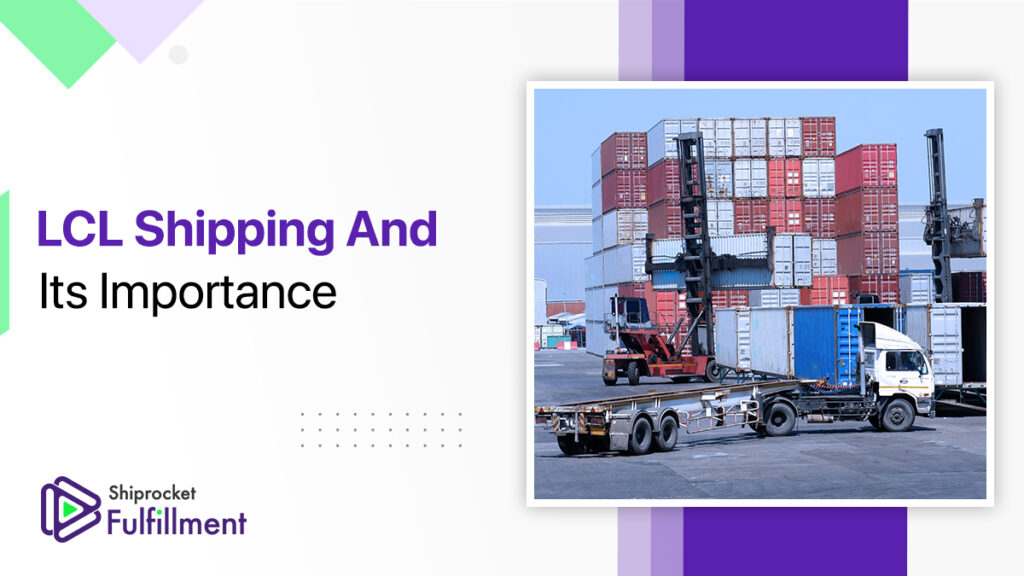 What is LCL Shipping?
LCL shipping means less than a container load. It talks about sea shipping for cargo loads that are not large enough to fill a total 20 feet or 40 feet shipping container.
They are sometimes called groupage shipments because they are a group with other cargo.
Loose Cargo Load
A loose cargo load is often confused with LCL. Loose cargo refers to a load that is not palletized. It can mean shipments that do not require palletization or cannot be containerized.
Advantages of LCL Shipping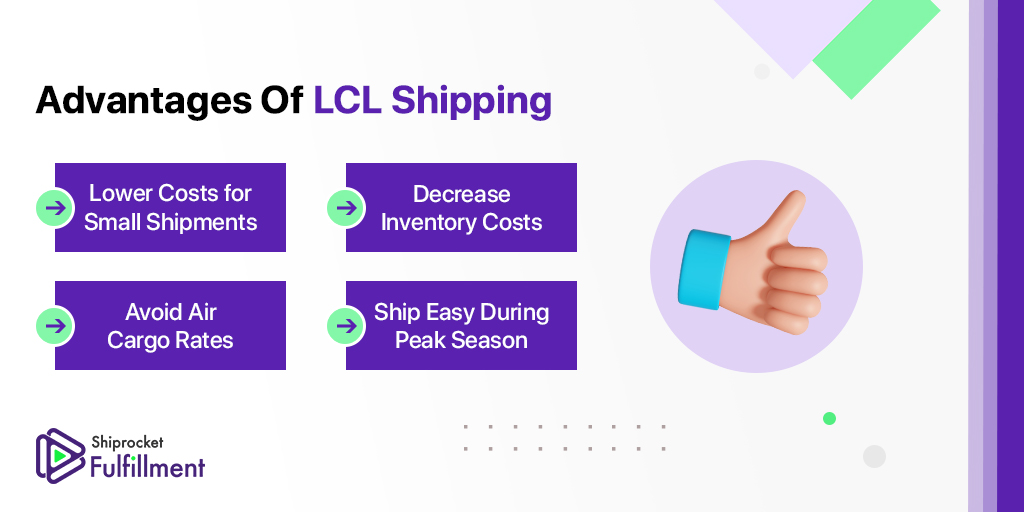 Lower Costs for Small Shipments
The primary advantage of LCL shipping is that it can be used to save money on smaller shipments. It does not have a flat rate, and you only pay for the volume you need in the container.
Decrease Inventory Costs
Next, it helps decrease inventory costs as you ship fewer goods more frequently. So this automatically reduces your holding costs, and you spend less on warehousing space.
Avoid Air Cargo Rates
Air cargo can be expensive and is usually the most suitable option for smaller cargo shipments. You can lower this cost with LCL shipping if you have some time to spare for sending your shipment.
Ship Easy During Peak Season
Usually, there are very few FCL shipping options during the peak season. LCL shipping can be a more suitable option for you at the last minute as it can be easier to find.
Drawbacks of LCL Shipping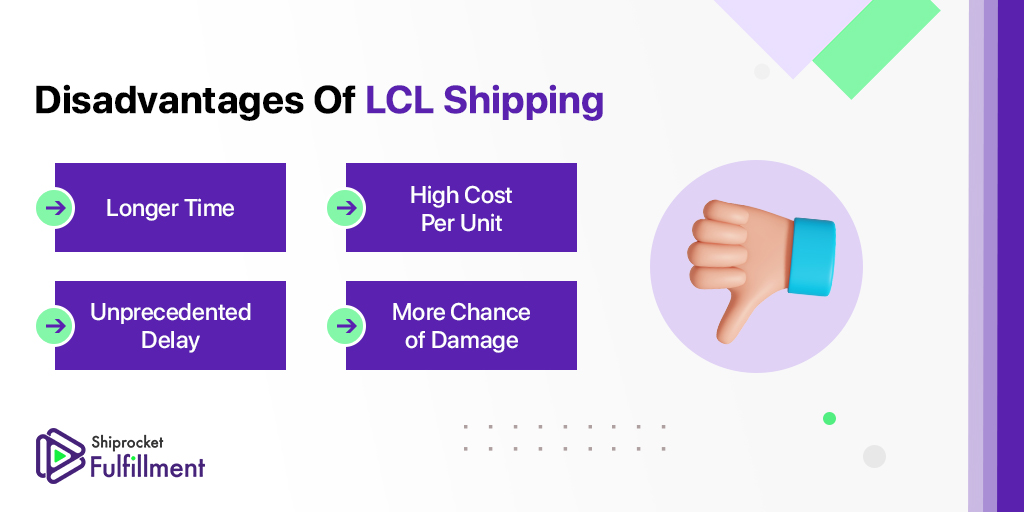 Longer Time
The first drawback of LCL shipping is the longer time it takes for shipping. The transit time is longer as the need to be loaded and unloaded from containers frequently.
High Cost Per Unit
Next, it can sometimes be more expensive per cubic meter than FCL. Sometimes this price can even go twice as much.
Unprecedented Delay
Since your cargo is grouped with other sellers' cargo, if there is a delay in customs because of their order, it can delay the delivery of the entire LCL load.
More Chance of Damage
Since they are loaded and unloaded more frequently, the chances of damage in LCL shipping are greater.
Factors Involved in Calculating LCL Shipping Costs
Pickup
The first factor in calculating LCL shipping cost is the pick-up of the orders. Depending on where the shipment is picked up will decide the price.
Origin
LCL shipments are loaded onto containers and other shipments or need to be consolidated at a container freight station. So this account has the origin of the LCL shipment.
Main leg
This includes the cost of the sea journey. Even though it is the central part of the entire shipping procedure, it might not be the most expensive. The CFS or container freight station charges can be higher than the central leg.
Destination
Like the origin, the LCL shipments must be de-consolidated at a CFS at the destination. This process also incurs charges.
Delivery
Finally, the last contributing factor is the cost of delivering the goods to the destination warehouse.

Tips for Getting The Best LCL Shipping Rates
Ask Multiple Carriers
The first important tip to get the best LCL shipping rates is to ask for multiple carriers. This will allow you to narrow down and choose the best price, give you an insight into the market rates, and have a wide range of options.
Account for Pallet Dimensions
Accounting for pallet dimensions and the box dimensions will help you analyze the costs better as pallets also take up container space for which you are charged.
Book Port-to-Door or Door-to-Door Service
Usually, when freight forwarders offer you a very cheap quote, it often has hidden charges. A good trick for this is to book port-to-door or door-to-door service. This will include all the costs that you can validate in advance.
Assess the Internal Dimensions of Container
Lastly, you must continually assess the container's internal dimensions because the interior dimensions are different from the external ones. A 20 feet container might have a lesser space inside. This way, you can better decide about LCL or FCL shipping.
Final Thoughts
LCL shipping is a suitable shipping method for goods you send at a long distance, but the quantity is not as much. If you have a few days to spare for your orders, you can pick up this option for your cargo shipments.