What is Freight Shipping and its Advantages in Fulfillment
eCommerce is not just about shipping the products to your customers. It also includes many other processes like procurement logistics, where you get the orders from your supplier and build your inventory. If not products, you will need to source raw materials from places to manufacture your products. In this case, regular shipping might not be the best option as it can cost you a lot and might not be as safe as the protocol is slightly different for finished products compared to the initial inventory and raw materials.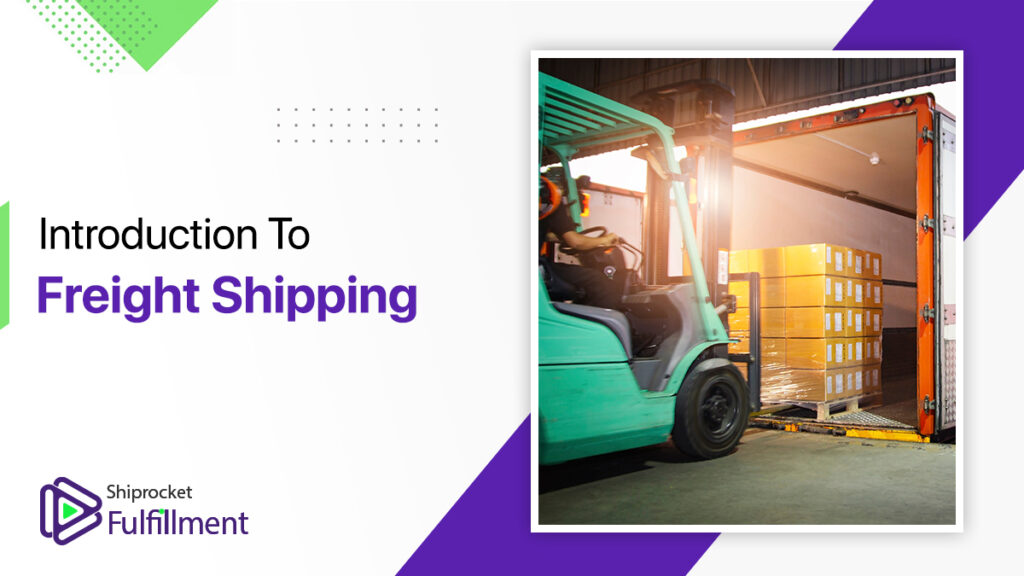 Also, the quantity that you order for your inventory is much higher than the quantity you ship with the courier partners. This is where the concept of freight shipping comes into the picture, and it can help you reduce your costs and process incoming inventory, shipment to warehouses, etc., seamlessly. Let's look at what freight shipping is, the different types of freight shipping methods, factors to consider when estimating freight shipping rates, and how it applies to eCommerce fulfillment.
What is Freight Shipping?
Freight shipping refers to the transportation of huge shipments sent domestically or internationally. They can be transported via land, air, or air. The goods are loaded on pallets or large study containers to be transported.
What Shipments are Freight Shipments?
Not all shipments classify as freight shipments. Any shipment larger than 30 in X 30 in X 30 in or weighs more than 68 kg is considered a freight shipment. Shipments below this dimension and wait are usually shipped as parcel delivery.
Methods for Freight Shipping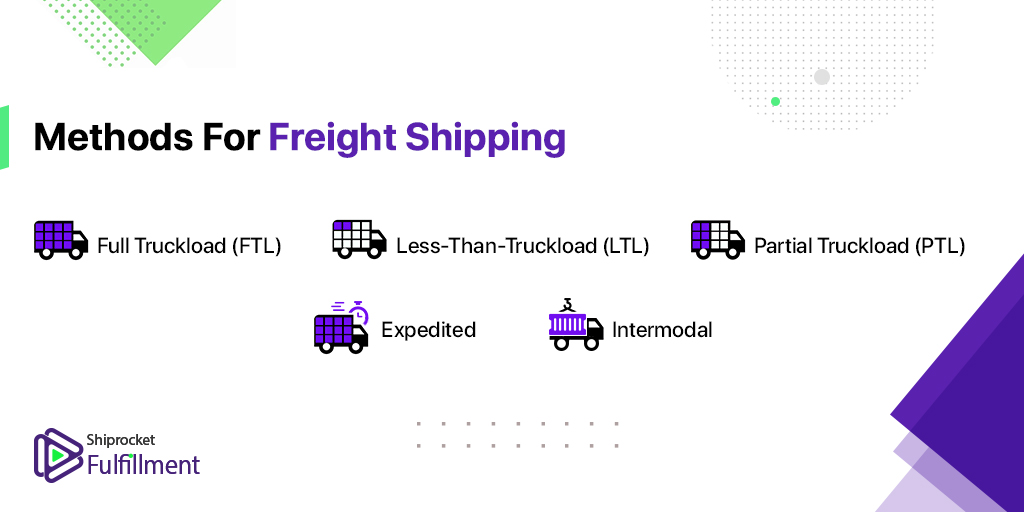 There are five types of freight shipping methods. They include full truckload, partial truckload, less-than-truckload, intermodal, and expedited. Let's have a look at what they are –
Full Truckload (FTL)
The first type of freight shipping is a full truckload. Under full truckload, freight shipments are moved via Road or Rail. FTL containers can transport 24 to 26 pallets. These are direct, i.e. from the pickup to the delivery destination.
Less-Than-Truckload (LTL)
Or less-than-truckload (LTL) is a shipment between 1 to 6 pallets. LTL is the most common type of freight shipping used in eCommerce fulfillment. Under this type of freight shipping, inventory is transferred onto different trucks on the way to the destination.
Partial Truckload (PTL)
Partial truckloads or PTLs are shipments between 6 and 12 pallets. Inventory is usually not transferred from one truck to another during shipping.
Expedited
Expedited freight shipping is usually carried out for timely shipments, and these types are done via trucks and air. Naturally, it is the most expensive since this is done with the deadline.
Intermodal
Into model freight shipping involves the combination of rail and truck but could also include rail, truck, and ships. The most important advantage of shipping with rail is the reduced fuel and shipping costs.
Advantages of Freight Shipping
Cheaper Shipping
The first advantage of free shipping is reduced shipping costs. It usually costs less than parcel delivery when you ship items in bulk. LTL and PTL can be more cost-effective as you typically pay only for the truck space. The dimensional weight determines the cost, and you split the cost of the truck with other shippers.
Hassle-Free Bulk Delivery
When you need to ship many products to different fulfillment centers, free shipping can be the best option as it helps to reduce cost and streamline delivery. It is often the most suitable option for B2B shipments.
Transparent and Secure Shipping
Next, free shipping can be more secure as the protocols are safer and palletization lowers the risk of damage and theft. Where also receive tracking details and notifications to see in real-time when and where your goods are.

Factors to Consider When Estimating Freight Shipping Rates
Mode of Transport
The first factor to consider when estimating freight shipping rates is the mode of transport. Play some significant role as different moods cost differently. Air shipping is the most expensive, followed by truck, rail, and ship.
Origin and Destination
Free shipping costs also depend upon the origin and destination. Greater the distance, the higher the shipping cost.
Size and Weight
If the package size is greater, the shipping rates will be higher.
Special Handling
Also, if any of your products need special handling like refrigeration, hazardous materials, etc., it will require additional fees.
Why is Freight Shipping Important for eCommerce Fulfillment?
Freight shipping is essential for eCommerce fulfillment because it plays a critical role in procurement logistics. When you order products from your vendor, you have to bear the shipping cost from the vendor's destination to your location. You can plan your inventory replenishment and freight shipping of goods to ensure the shipping costs are lower than parcel delivery. Bulk inventory shipping will help you save on costs and stay on top of your inventory.
You can also utilize free shipping to outsource fulfillment operations to 3PL fulfillment providers like Shiprocket Fulfillment. To send your inventory to the fulfillment centers, you can opt for freight shipping and save on logistics costs. This way, you can optimize delivery for your buyers while reducing the expenses of inventory handling.
Final Thoughts
Freight shipping can be highly beneficial to your business if you plan and need bulk delivery for your orders. Shipping bulk orders with freight shipping can help you reduce costs and optimize delivery for your business.