The Benefits of Hybrid Order Fulfillment In 2023
eCommerce fulfillment is probably one of the most vital aspects of your eCommerce supply chain. If the operations don't work in tandem with each other, there are chances that you might face a delay in delivery, unhappy customers, and much more.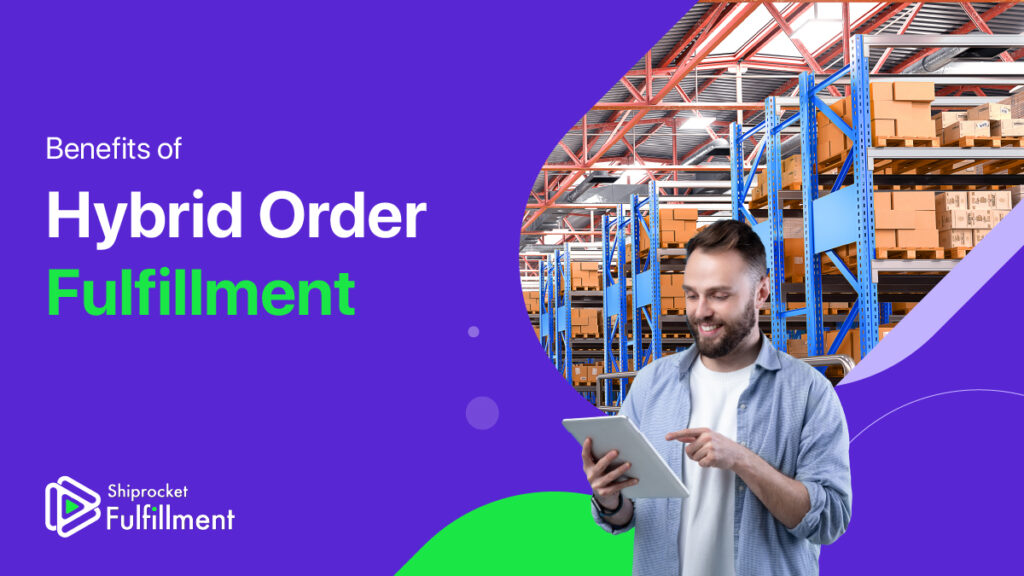 But, it can take a lot of experimentation to establish which is the suitable fulfillment method for you. There is no one-size-fits-all when it comes to eCommerce fulfillment. When you sell across multiple channels and have different offerings, it can be tedious to decide how you want to fulfill your orders. More often than once, the solution is not singular. You need to adopt multiple fulfillment models to ensure that your products are delivered to customers on time and that your business does not suffer any losses.
This is where the hybrid fulfillment model comes into the picture. Running a hybrid order fulfillment model can be difficult if you do not understand the nitty-gritty. Let's see what hybrid order fulfillment is and the benefits associated with it.
What is Hybrid Order Fulfillment?
A hybrid order fulfillment model is a diverse approach to fulfilling orders wherein you use a combination of various fulfillment models like in-house fulfillment, dropshipping, and 3PL fulfillment.
Hybrid order fulfillment offers a cost-effective approach to optimizing operations, providing a competitive edge, and meeting customer expectations.
What are the Different Types of Fulfillment Models?
To understand how a hybrid fulfillment model works, you need to understand the different types of fulfillment models that can be a part of a hybrid model.
In-House Fulfillment
In-house fulfillment refers to handling the entire fulfillment process on your own. This includes warehousing, inventory management, picking, packaging, and shipping operations.
To fulfill orders in-house, you need to have a skilled staff, equipment, and space dedicated to fulfilling orders efficiently. This could be done in a warehouse or your own office space.
It is suitable for businesses with a huge inventory and a large order volume. If you want to process all incoming orders yourself and have complete control over logistics, in-house fulfillment is an excellent option.

3PL Fulfillment
3PL fulfillment refers to outsourcing order fulfillment operations to a third-party provider. This third-party fulfillment provider manages all operations like warehouse management, inventory management, order processing, packing, packaging, etc.
Shiprocket Fulfillment is a 3PL fulfillment provider with fulfillment centers located across the country. You can send your products to our fulfillment centers, and we will make sure that they are delivered to customers on time.
3PL fulfillment providers help you delegate the entire fulfillment process to exports and take the majority load off your hands.
Dropshipping
Your business's manufacturer or supplier ships orders directly to the customer with drop shipping.
Dropshipping helps you take your mind off operations like inventory management, shipping, etc. Though it takes away the chance of overseeing the quality of the shipping and related operations, it is a stress-free approach that works for businesses that are starting or do not have enough space or capital to manage inventory and shipping.
Hybrid Order Fulfillment
With hybrid order fulfillment, you consider more than one fulfillment approach and process incoming orders with it.
For example, you can utilize the benefits of drop shipping and 3PL fulfillment to ensure that your orders are delivered on time. If you provide in-house fulfillment, you can outsource a part of your inventory to 3PL fulfillment providers to ensure that that particular region receives the orders on time.
A hybrid approach has many benefits for your business. Let's have a look at what they are.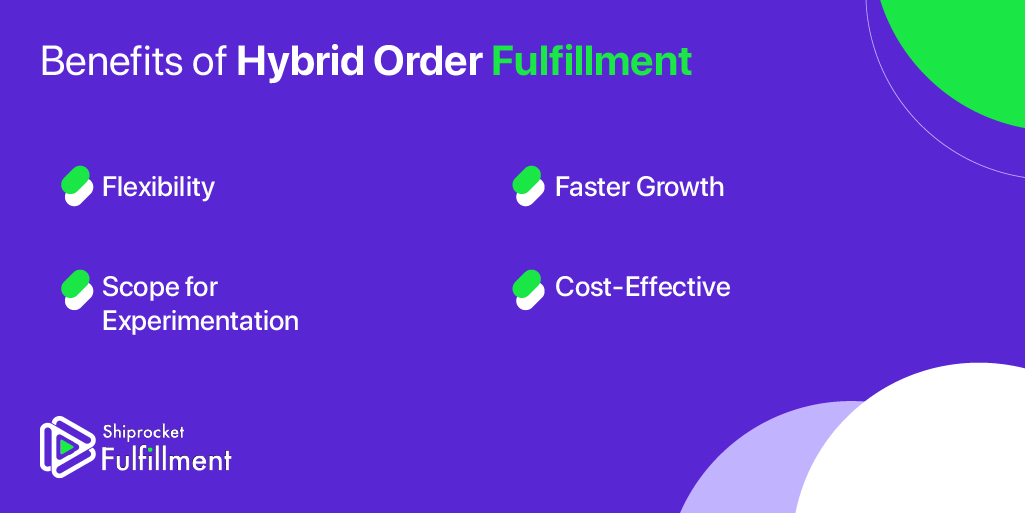 Benefits of Hybrid Order Fulfillment
Flexibility
Hybrid order fulfillment offers you a great scope for flexibility. You can decide which order fulfillment method is suitable for each SKU, and you can choose to process it accordingly. It can help you improve your order fulfillment process and deliver faster to customers.
Faster Growth
A hybrid order fulfillment model can help you achieve growth faster as you will be able to fulfill many orders in a short period with different fulfillment methods. Sometimes a drop shipping model can be helpful for a few SKUs, and a 3PL fulfillment model can be more suitable if your customers are located in different geographical locations.
Scope for Experimentation
if you were starting a new line of products and want to experiment with them, a hybrid fulfillment model can help you see the efficiency of different types of fulfillment to make your decision. The product is often good, but the fulfillment does not match up to it. With hybrid fulfillment, you can consider these factors and then choose the most suitable fit for your eCommerce fulfillment supply chain.
Cost-Effective
Most times and help you optimize costs as you can use multiple fulfillment methods that can help you reduce the shipping and delivery costs. For example, delivering products with in-house fulfillment and shipping from only one location in India can increase your shipping costs. However, if you club this in-house fulfillment with 3PL fulfillment, you can store inventory in multiple locations across India and reduce the shipping cost by reducing the shipping distance.
Final Thoughts
A hybrid fulfillment model can help you optimize costs, utilize your space efficiently, and deliver orders on time. Make sure you consider the benefits of hybrid order fulfillment to match your business requirements and then decide.