eCommerce Fulfillment Challenges and How to Overcome Them with Shiprocket Fulfillment
The eCommerce space in India is evolving, especially after the COVID-19 pandemic. According to a report by IBEF, India's eCommerce order volume increased by thirty-six percent in the last quarter of 2020. Despite the decreased spending, economic slowdown, and uncertainty owing to the lockdowns, eCommerce is doing exceedingly well in the early stages of 2021.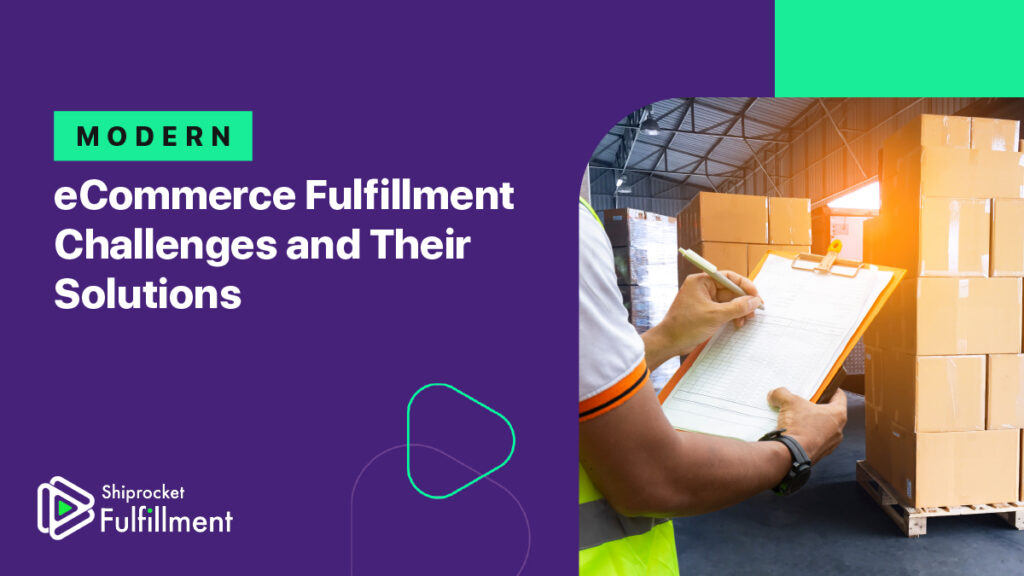 Ever since the pandemic has struck and most retail is happening online, customer expectations have drastically changed, and there is immense pressure on online deliveries to mimic real-time shopping. With the increasing demand for quick delivery and fast TAT, businesses have no choice but to adapt to the changing times.
This is also given way too many modern eCommerce fulfillment challenges that are relatively new for direct-to-consumer businesses. To ensure that you do not feel stranded when you face these challenges, here are a few modern-day eCommerce fulfillment challenges and how you can overcome them with a 3PL fulfillment solution, Shiprocket Fulfillment. Let's get started.
Common eCommerce Fulfillment Challenges and Their Solutions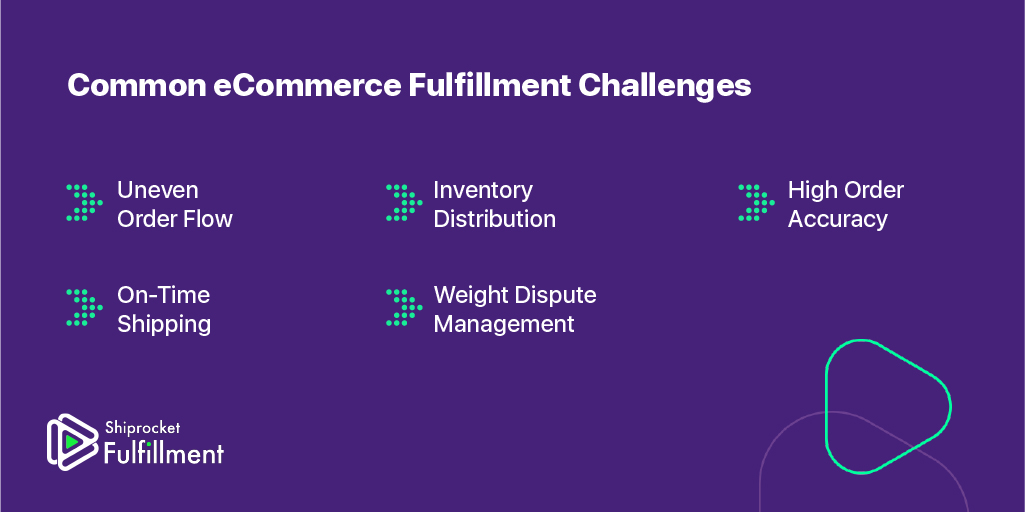 Uneven Order Flow
Challenges
The first challenge of today's eCommerce fulfillment is uneven order flow and the seasonality of incoming orders. Severe fluctuations are indispensable in any business. Your business may see a rise or decline in orders on the basis of the season, festival, requirement, or even a comment made by a celebrity. However, if you don't forecast your sales in advance, you can face customer grievances if there are delays, stockouts which can eventually lead to a lower NPA score and a high number of RTO orders.
Solution
And an excellent solution to this challenge is having a cross-trained workforce that can process large numbers of orders in a short period, inventory forecasting solutions, and complementing seasonal products in a multi-client facility so that you do not end up spending a fortune on storage and maintenance.
Inventory Distribution
Challenge
Inventory distribution can be a significant challenge for your business. It can lead to an increase in the turnaround time which can eventually lead to a higher number of RTO orders. Moreover, if you do not forecast your demand and stock a significant amount of inventory, it can lead to dead stock, or if there is less inventory, it can lead to a store out.
Solution
An excellent solution to this challenge is the balancing of stock and distributing it in multiple warehouses so that you can process it conveniently. Along with that, you can have predictive analysis at an SKU-zone level so that you can forecast demand accurately and stock the correct amount of inventory with you.
High Order Accuracy
Challenge
Maintaining a high order accuracy has become a challenge as you are receiving orders from every channel today. If you send out incorrect orders, it can lead to a decrease in repeat purchases, a lower customer lifetime value, and social media escalations, and brand dilutions.
Solution
You can opt for bar-coded operations and an automated workflow to avoid manual touchpoints that can lead to errors. By rigorously training your employees, and monitoring the operations frequently you can eliminate the risk for incorrect order processing.
On-Time Shipping
Challenge
The next challenge is on-time dispatches from the warehouse. If you do not dispatch your order on time, it can have a heavy impact on the delivery turnaround time, increase your chances of RTO, and reduce the overall customer experience quality.
Solution
An optimal solution for this challenge is by having a high inventory accuracy rate and planning or inventory capacity with a buffer capacity. Along with this, you can install a high level of automation in the house to reduce your order to ship time so that you can progress towards delivery sooner.
Weight Dispute Management
Challenge
When you process orders yourself, an impending challenge is the weight disputes that are put across by courier partners. This can be a very time-consuming activity as you need to upload proofs, negotiate with them, and go through a lot of to and fro. Along with that, it can also lead to an increase in cost if your claim is proved incorrect.
Solution
A good idea is to have an automated wait, volume, and image capturing machine that helps you record all data at once. Packaging your product correctly and measuring the weight appropriately can help you reduce these weight disputes.

Overcome eCommerce Fulfillment Challenges with Shiprocket Fulfillment
Shiprocket Fulfillment is a 3PL fulfillment provider that can help you process your incoming eCommerce orders with ease. We have multiple fulfillment centers located at key locations across the country. These fulfillment centers are equipped with the latest technologies that can help reduce order processing time and increase efficiency. Let's have a look at how Shiprocket Fulfillment is a good choice for your business.
Multiple Fulfillment Centers
Shiprocket Fulfillment warehouses and fulfillment centers are located in eight regions across the country that include metro cities like Bengaluru, Delhi, Gurugram, Kolkata, Mumbai, and major cities like Gauhati, Jaipur, and Surat. You can store your inventory in these fulfillment centers and we will process all your incoming orders.
1-Day and 2-Day Delivery
by storing inventory closer to customers in fulfillment centers located across India, you can also provide one-day and two-day delivery to your customers. This can help you provide express delivery and increase customer experience by many folds.
Advanced Warehouse Technology
Shiprocket Fulfillment centers have the latest warehouse management systems, auto management systems, and logistics tech to reduce any attrition in order processing.
Reduce Weight Disputes
All fulfillment centers have automated falcon machines installed that can record the dimensions, weight, and images of the product. With this proof at hand and a skilled team to package your products in a uniform manner, you can reduce weight disputes and resolve challenges quicker.
Decreased RTO
By storing inventory closer to customers and providing a faster delivery experience, you can eliminate a major amount of your RTO orders. This can also lead to an increase in repeat purchases from your stores.
Skilled Team
Shiprocket Fulfillment has a skilled team that is rigorously trained to fulfill all operations at hand. The team is cross-trained so that even when there is lesser manpower they can process orders with equal efficiency.
Conclusion
eCommerce fulfillment challenges are also taking a new shape with changing customer demands. It is important that you overcome these challenges efficiently and mold your business to the correct expectations so that you can deliver quality on time. Trust fulfillment experts like Shiprocket Fulfillment ensure that you can maximize your operations and deliver the Best to your customer.