Best Freight Forwarding Companies in India
A freight forwarding company is responsible for handling various logistics-related tasks. It helps in the movement of cargo on behalf of the cargo owner. The freight company arranges and books space in the vessel. It arranges cargo insurance, monitors movement in real time, and prepares all required documents on the cargo owner's behalf. It helps ship cargo with fewer complications, giving you more time to focus on core business activities. Thus, you must partner with a professional freight forwarding company in India to ensure your cargo is managed without any hassles.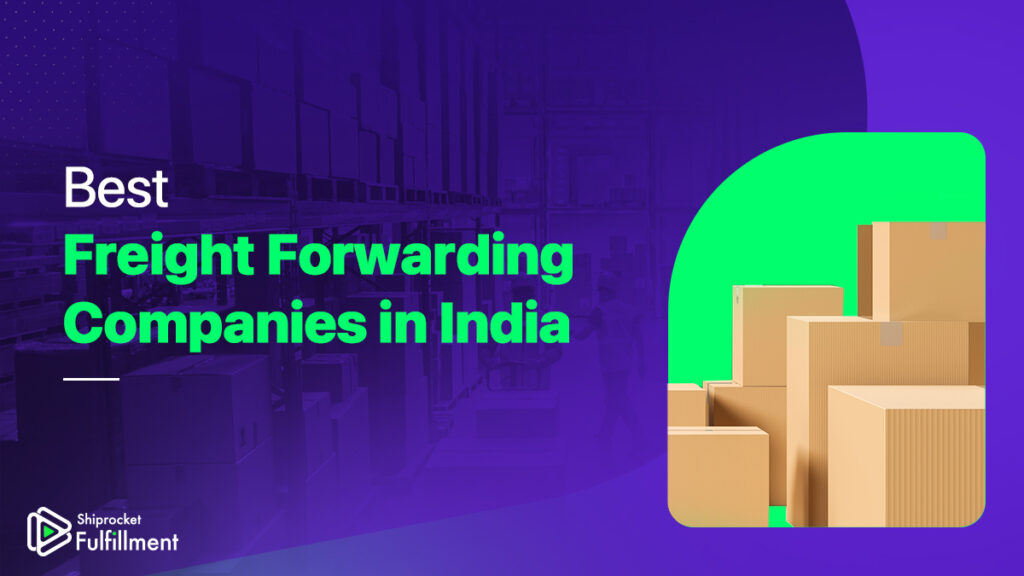 What is Freight Forwarding?
Freight forwarding is moving cargo via a freight company from its place of origin to its destination. The freight company picks up the cargo and delivers it to the final destination. The cargo can be shipped via truck, ocean, or air freight, depending on various factors.
Here Is a List of the Top Freight Companies in India
1. Maersk India
Maersk is a Danish shipping company that was established in 1904 in Denmark. It offers ocean and inland freight transportation and has offices in 130 countries across the globe. Maersk has been operating in India for more than 20 years and offers top-notch shipping services that connect businesses in India with the rest of the world. It provides services from 15 ports in India and has offices at 25 key locations in India.
Maersk India has vessels and containers that can help deliver shipments safely. You can also ship perishable products such as fruits and vegetables.
2. Om Freight Forwarders
With more than four decades of expertise in the industry, Om Freight Forwarders is headquartered in Mumbai and has offices across different continents – the UK (Europe), China, Hong Kong, and Singapore. The company caters to 700 national and international locations. It has branches in all major cities in India, airports, and seaports.
With Om Freight Forwarders, you can avail a wide range of customized services at cost-effective rates. Their services include end-to-end logistics services, warehousing, distribution solutions, and legal.
3. Ocean Sky Logistics
Ocean Sky Logistics is one of India's leading international freight forwarding companies. It has around 20 years of experience and offers a wide range of logistics services – ocean freight, air freight, and international rail & road freight. Some other benefits include custom clearance, warehousing, pickup & door delivery, professional support (formalities with DGFT), foreign trade EXIM consultant, and industry support. It has a global presence in the market and can help meet all your logistics goals with its dependable supply chain network.
4. APT Logistics
APT logistics is an air and sea freight company established in 2002 in Mumbai. Its wide range of services includes air, ocean, and inland freight, customs clearance, warehousing and storage, and consulting. It covers different industries and sectors, including consumer packaged goods, chemical goods, goods and beverages, retail goods, energy, oil, and gas.
APT Logistics offers fast and reliable worldwide delivery. It has branch offices in 12 Indian cities, including Chennai, Kolkata, Bangalore, Hyderabad, and Delhi.

5. Seal Freight
Founded in 1990, Seal Freight has become one of India's top freight forwarders. It offers land, sea, and air cargo transportation. Its wide array of services includes international freight forwarding, logistics distribution and management, cargo packaging, cold chain solutions, project cargo handling, and customs clearance.
6. Addax Logistics
Established in 2011, Addax Logistics is an integrated logistics service provider. It offers freight forwarding services, exhibition logistics, personal cargo clearance, delivery, and project cargo logistics. Addax Logistics provides customized consulting services and helps businesses save on shipping costs by reducing transportation expenses. They serve over 40 industries, including pharmaceuticals, textiles, and many others.
7. Stockarea
Stockarea is another provider of freight forwarding services in India. With Stockarea, you can import to India and export from India. It provides air and ocean freight services that can be customized per the customer's needs. Stockarea has more than two decades of experience and has a presence in all major ports in India – Maharashtra, Tamil Nadu, Andhra Pradesh, Gujarat, Goa, West Bengal, Odisha, and Kerala. It offers its services at competitive prices. They provide comprehensive logistics services, including customs clearance, warehousing, distribution, and domestic inland transportation.
Conclusion
A freight forwarding company is your one-stop shop for national and international cargo shipment needs. They work closely with freight brokers and agents to come up with the best and customized solutions for your business.
If you are looking for a top 3PL service provider in India, Shiprocket Fulfillment is your best bet! You can boost your order fulfillment, reduce shipping costs and RTO, and deliver orders faster by outsourcing your order fulfillment process to Shiprocket Fulfillment.