15 Best Logistics Companies in India (For 2023)
A logistics company plays a crucial role in ensuring your orders are delivered on time, and your customers are happy with your brand. So how do you zero in on the best logistics company in India to manage all your logistics needs? A reliable logistics company is the backbone of a D2C brand.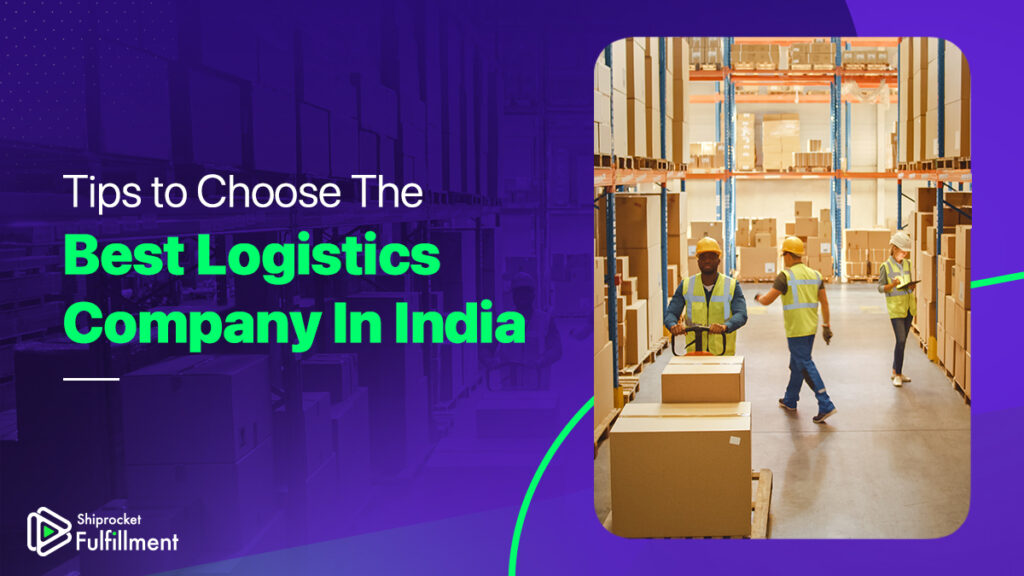 However, finding the best logistics company in India is tiresome and requires a lot of work. But, once you have chosen the best logistics partner, you can be assured that your order fulfillment is in good hands.
To simplify things, here we have compiled a list of the points you must consider when choosing a logistics company for your D2C brand.
Top 10 Logistics Companies in India
Now that you know some tips on how to zero in on the best logistics companies in India, here are the top 3 logistics companies in India:
1. Shiprocket Fulfillment
Headquartered in Delhi, Shiprocket Fulfillment is an order fulfillment service provider that helps eCommerce brands store, manage, pack, ship, and deliver orders on time. It has more than 45 state-of-the-art fulfillment centers across PAN India, such as Delhi, Bangalore, Hyderabad, Pune, Guwahati, Chennai, Kolkata, Lucknow, Chandigarh, Surat, and many more. You can store your inventory across these locations and ship orders from the centers closest to your customers. Thus, you can offer one-day and two-day delivery options to your customers while also saving on shipping costs and reducing RTO.

2. FM Logistics
FM Logistics India is a subsidiary of France-based FM Logistics. It is India's one of the top logistics companies with over 90 warehouses in 30+ locations in India. It offers warehousing and distribution services for eCommerce, FMCG, automotive, consumer durables, telecom, engineering, pharma, and other industries.
3. TVS Supply Chain Solutions Limited
TVS Supply Chain Solutions is a subsidiary of TVS Group and is a multinational supplier of end-to-end supply chain services to different industries. It helps its clients transform their logistics supply chain through improved visibility, increased productivity, and lower operations costs.
4. Gati
Established in 1989, Gati has pioneered express distribution in India. It offers technology-backed seamless and end-to-end logistics solutions. Gati also has expertise in air and surface express delivery, and it offers customized solutions for the retail and MSME sectors. The company has a PAN India network offering access to 19,800 pin codes.
5. Mahindra Logistics
One of the top 3PL companies in India, Mahindra Logistics offers a wide range of services, ranging from supply chain to transportation services. It is operating in more than 500 locations and has so far catered to over 400 renowned brands.
6. Ekart Logistics
Founded in 2009, Ekart Logistics started as Flipkart's in-house supply chain. Through its reliable delivery processes, it has managed to be one of the top logistics solutions for eCommerce businesses in a short span of time. The company serves as an excellent option for eCommerce businesses looking for end-to-end logistics solutions. With its tech-enabled tracking solution and same-day/next-day deliveries, the company has grown to be a top choice for many businesses.
7. Blue Dart
Blue Dart needs no introduction when it comes to logistics. Established in 1983 and headquartered in Mumbai, Maharashtra, Blue Dart has grown to be a leading logistics provider. Known for its huge distribution network, the company services over 14,000 pin codes in the country. Whether you are shipping locally or internationally, Blue Dart provides a comprehensive solution to eCommerce businesses.
8. DTDC
Established in 1990 and headquartered in Bangalore, DTDC is a household name when it comes to providing courier services. What started as a home-grown courier business has now turned into a leading logistics company. Delivering to over 17,500+ pin codes, the company is famously known for providing express delivery services.
9. Ecom Express
Founded in 2012, Ecom Express is a Gurgaon-based company that uses state-of-the-art technology to offer seamless first-mile pickup, order processing, network optimization, and last-mile delivery. Operating in over 27,000+ pin codes in India, Ecom Express is the go-to solution for a lot of eCommerce brands in India.
10. DHL
Founded in 1969, DHL provides supply chain solutions and courier services in 220+ countries. The company is famously known for its well-structured fulfillment services. With over 800 fulfillment centers around the world, DHL helps eCommerce businesses reach their customers faster at a relatively lower cost.
11. Delhivery
Delhivery is one of India's leading logistics and supply chain solutions providers. Established in 2011, the company offers fully integrated logistics services across India.
They cover an extensive nationwide network that spans more than 18,500 pin codes. Their operational infrastructure includes 94 gateways and 2,880 direct delivery centres.
With its extensive network and advanced technology platforms, Delhivery has been instrumental in enabling the growth of eCommerce in India.
12. FedEx
FedEx is a global logistics and courier services industry leader. With a history dating back to 1971, FedEx has become a symbol of efficiency and reliability in shipping and delivery. The company operates a vast network of services in India, including express parcel delivery and freight shipping. FedEx's commitment to technological innovation has been crucial in streamlining its operations and providing customers with real-time tracking and delivery options.
13. Xpressbees
Xpressbees is another Indian company that gained prominence in offering logistics and supply chain solutions. Founded in 2015 in Pune, Xpressbees specialises in last-mile delivery services, warehousing and reverse logistics. The company has rapidly expanded its reach across India and handles around 30 Lakhs daily shipments. The company is known for its technology-driven approach, enabling efficient tracking and delivering end-to-end supply chain solutions.
14. Shadowfax
Founded in 2015, Shadowfax is an on-demand logistics network operating across India. The platform covers over 15,000 pin codes and focuses on hyperlocal and last-mile delivery solutions.
With a daily operation volume of 15 Lakhs shipments, the company has emerged as a key player in the Indian logistics sector.
Shadowfax leverages a vast network of delivery partners and advanced technology to provide delivery services for various industries, including eCommerce, food delivery and healthcare.
15. Aramex
Aramex, a renowned global logistics and transportation company, has made significant strides in the Indian market. The company contributes to the country's expanding logistics and eCommerce sectors.
Based in the United Arab Emirates, Aramex has established a robust network of service centres in India, offering reliable and efficient shipping solutions. The company's commitment to sustainable practices aligns well with India's growing emphasis on environmental responsibility.
Considerations To Make While Choosing A Logistics Company in India
Shipping Cost
While you must look for a logistics partner that offers its services at the lowest rates, you should also look for the right services at the right cost. Besides, a logistics partner might be offering low shipping rates but have other hidden costs like extra charges for COD orders or weight discrepancies. These hidden costs can burn a hole in your pocket.
This is why it is crucial that you not only look for a company that offers low shipping costs but also offers other services at cost-effective rates. Additionally, you must know the exact services you need and your budget. This will help determine the right and cost-effective logistics partner.
Greater Pin Code Coverage
The pin code coverage of the logistics partner is one of the crucial things you must check. But, before you look for the widest pin code coverage, you must know the locations and pin codes from where you receive the most significant number of orders. This may include tier 2 and tier 3 cities that are not reachable by most courier partners.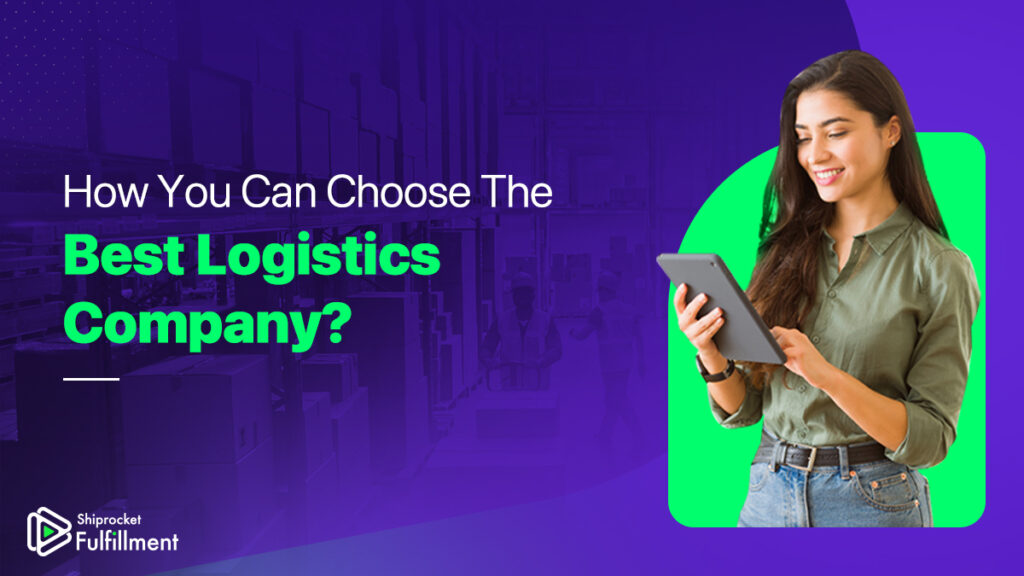 Order Tracking Facility
Real-time order tracking is essential for good customer service. You must offer your customers a good post-purchase journey to turn them into loyal customers and increase repeat purchases. You must send your customers regular and real-time updates to keep them excited. So, you must look for a partner that offers real-time tracking updates via SMS, email, and WhatsApp.
Delivery Speed
The eCommerce industry has changed significantly over time, and so have customer demands. They now prefer faster order deliveries, so you must also deliver your orders faster to keep up with their expectations. This is why you must look for speedy order deliveries at the lowest rates from the logistics company you choose.
Accordingly, you can make a list of the companies that offer same-day/next-day delivery, hyperlocal delivery, and express delivery. You can further narrow down the list based on their price.
RTO Percentage
A high RTO percentage is a hassle for every online seller. Notably, the bigger your brand gets, the higher the RTO percentage, as your incoming orders will also increase. Though it is a challenge that can't be ignored, you must keep it under control.
Therefore, you must look for a logistics company to help you keep your RTO orders low to meet your order fulfillment targets. Most logistics companies work towards addressing the reasons for RTO delayed deliveries, stuck shipments, and failed deliveries. Also, the partner must be well-equipped to manage your RTO orders efficiently.
Efficient Returns Management
Even if all your orders are delivered on time, and you offer the best customer service, you still can't stop your customers from returning or canceling orders. Sometimes the order is damaged in transit. Or the customers simply don't need the product anymore.
Customers won't think even once while canceling an order, but you don't have that luxury. However, you got a chance here to give them a reason to think about your brand whenever they need the product again. So, as the customer-friendly brand that you are, you must have an easy and straightforward return process. Your customers must not feel they made a mistake by ordering from you in the first place.
The logistics company you are finalizing must have an efficient team and the required infrastructure to handle and process the return orders. Apart from having efficient forward logistics, they must have a good reverse logistics mechanism.
Secured Delivery
As discussed above, sometimes the product is damaged in transit. Since a lot of products are picked, shipped, and delivered daily, some products are lost in transit. However, this can be heavy on your pocket. So, look for a logistics company that offers an option to secure shipment against damage and loss. This added service will make you feel comfortable while your product is in transit.
Track Record
Lastly, look for the track record of the logistics company that you are finalizing. A logistics partner's overall performance and true value can be determined by the reviews and feedback it gets from its other clients. After all, you want to trust a reputed company with your order fulfillment process.
Conclusion
Logistics companies in India have been growing exponentially lately. They are embarked to contribute significantly to the entire logistics company. 3PL companies have also become an essential part of Indian eCommerce. Online brands can trust 3PL companies with their logistics and order delivery operations. Not just that, but D2C brands can also trust 3PLs like Shiprocket Fulfillment for their inventory storage and management.