Best Cold Storage Companies in India
India is the world's second largest producer of fruits and vegetables, so there is a high demand for efficient and reliable cold storage solutions. Cold storage is a temperature-controlled storage facility for preserving perishable items such as fruits, vegetables, dairy products, meat, and pharmaceuticals. The role of warehousing in cold storage is crucial. Warehousing is the process of storing goods systematically, which plays an essential role in maintaining the quality of perishable products. The warehousing facilities in cold storage companies are equipped with temperature-controlled environments to preserve the quality of the products. The temperature is maintained at specific levels to ensure the products are not damaged due to high or low temperatures. The warehouses are also equipped with state-of-the-art technology, such as cold rooms, blast freezers, and quick-freezing facilities, to ensure that the products are stored under optimal conditions. Here is a list of some of the best cold storage companies in India.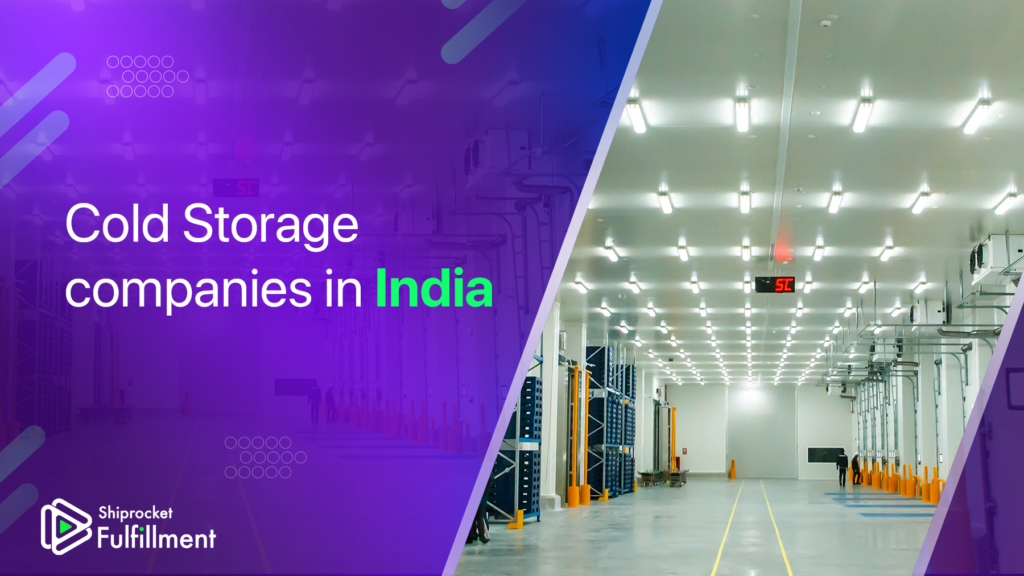 1. Snowman Logistics
Snowman Logistics is one of the largest cold chain solutions providers in India, with a pan-India presence. The company has a state-of-the-art cold storage infrastructure and offers a range of temperature-controlled storage solutions, including deep freeze, blast freezing, and chilling. The company operates a network of temperature-controlled warehouses and a fleet of refrigerated trucks and trailers to ensure the safe and efficient transport and storage of perishable goods.
2. Coldrush Logistics
Founded in 2012, Coldrush Logistics offers end-to-end cold chain solutions, including temperature-controlled warehousing, transportation, and distribution services. The company specializes in cold chain logistics services for temperature-sensitive products across various industries. It is committed to using the latest technology and equipment to ensure the safe and efficient handling of temperature-sensitive products.
3. Gubba Cold Storage
Founded in 1987, Gubba Cold Storage is one of the first cold storage companies in Andhra Pradesh and has since grown to a capacity of 1.25 crore cubic feet. The company operates 17 cold storage facilities and provides storage and preservation services to a range of industries, including the seed, dairy, processed food, and pharmaceutical industries. With over 30 years of experience in cold storage technology, Gubba Cold Storage is a well-established and reputable company in the industry.
4. Indicold Logistics
Established in 2019, Indicold Logistics is an Indian company that provides end-to-end temperature-controlled logistics solutions for perishable products, such as fruits, vegetables, dairy, pharmaceuticals, and other temperature-sensitive items. The company offers services, including warehousing, transportation, distribution, and value-added services. The company operates nationally, providing prompt, reliable cold storage and transportation services to its clients across India.
5. Arihant Cold Storage
Arihant Cold Storage provides end-to-end cold chain solutions for storing and transporting perishable goods, including fruits, vegetables, dairy, and frozen foods. Their services include temperature-controlled warehousing, transportation, and last-mile delivery to ensure the products remain fresh and safe for consumption. They use state-of-the-art technology and equipment to maintain the required temperature and humidity levels throughout the supply chain.
6. Coldman Logistics
Coldman Logistics is a leading cold storage company in India, offering temperature-controlled supply chain services for various industries with the capacity to handle a range of temperatures. Coldman Logistics provides a comprehensive range of customized warehousing solutions scalable to clients'/product-specific needs. It offers six different temperature zones ranging from -30°C to +30°C spread across strategic locations in India. Coldman Logistics handles products in almost every industry vertical, including quick-service restaurants, confectionery, food processing, poultry, meat, pharmaceutical, fruits, and vegetables.
7. Cold Care Group
Founded in 2000, Coldcare Group's core area of expertise was EPC until it diversified into cold chain storage services a few years later. The brand continued to grow and expand further, eventually specialising as a ColdCare Agritech pioneer in 2006. The speciality of ColdCare is its cold storage facilities for frozen food across three units in South India, with a strong fleet of vehicles, each having 1 to 8 metric tonnage capacity.
8. Crystal Group
A pioneer in the logistics industry, Crystal Group was founded in 1962 to meet the growing demand for flexible and resilient supply chain services at affordable prices. It is currently on the threshold of building a world-class operational network for cold storage and is expected to cut delivery timelines by over 40%, it has over 200+ cold storage facilities and 150+ warehousing partnerships. It has a strong line-up of customers, including Amul, Magnum, Blinkit and more.
9. ColdStar Logistics
A ISO 22000 standard cold storage services provider, Colstar is backed by Tuscan Ventures. It is also certified by leading agencies across Europe for safe and reliable cold storage and distribution practices. It is a pan-India player with cold storage units in key distribution hubs and refrigerated storage facilities, warehousing and logistics services for all commodities.
10. Stockarea
A technology-first logistics and cold storage company, Stockarea offers specialised supply chain solutions. It focuses on optimising inventory management and helps in designing and executing inventory flow. Its speciality is on-demand storage and efficient order processing, supported by its 100+ warehouses. It has been simplifying the movement of goods for SMEs across India. It operates in over 30 countries and 15+ Indian ports.

These are some of the best cold storage companies in India that offer reliable and efficient cold chain solutions. With their state-of-the-art infrastructure and expert services, these companies ensure that perishable products are preserved in optimal conditions and delivered fresh to the market.
Shiprocket Fulfillment is a leading e-commerce logistics and fulfillment solution provider that enables e-commerce businesses to store their inventory in a warehouse. Shiprocket Fulfillment has multiple fulfillment centers across India and offers inventory management, quality checks, and packaging solutions to ensure that products reach customers in the best possible condition.
How To Choose the Best Cold Storage Company in India?
Here's a more detailed explanation of the factors to consider when choosing the best cold storage company in India:
Location and accessibility of the facility: This is an important factor to consider since the location of the facility can impact the time it takes to transport goods and the associated costs. The facility should also be easily accessible to trucks and other vehicles for loading and unloading.
Storage capacity and flexibility to meet your needs: The cold storage facility you choose should have enough storage capacity to meet your needs and the ability to scale up or down as per changing needs. It should also be flexible enough to accommodate different types of products and packaging.
Quality of infrastructure and equipment: The facility should have high-quality infrastructure and equipment that is well-maintained, efficient, and reliable. This includes temperature control systems, backup generators, and other related equipment.
Temperature and humidity control systems: Cold storage facilities must maintain precise temperature and humidity levels to prevent spoilage and damage to goods. The facility you choose should have robust temperature and humidity control systems that consistently maintain the required levels.
Security measures such as surveillance and access controls: The facility should have appropriate security measures to prevent theft, damage, or contamination of your goods. This includes video surveillance, access controls, and other security protocols.
Compliance with food safety regulations and certifications: Cold storage facilities that handle food products must comply with relevant food safety regulations and obtain the necessary certifications. Make sure the facility you choose meets these requirements.
Reputation and customer reviews: Look for a cold storage provider with a good reputation and positive customer reviews. This can give you confidence that the provider is reliable and efficient.
Cost and pricing structure: Finally, consider the cost and pricing structure of the cold storage provider. Choose a provider that offers competitive pricing, transparent pricing policies, and clear invoicing practices.
By considering these factors, you can choose a reliable and efficient cold storage provider that meets your specific business requirements.