Understanding Temperature-Controlled Fulfillment and Warehousing and Its Functioning
A warehouse is a dynamic zone where a lot of activity occurs. Even though there are designated shelves and racks where products are stored, there is a chance that temperature fluctuation may occur due to the constant movement inside and outside of the warehouse. This could lead to deterioration in the product quality, and you may not realize the impact it has on the customer's overall shopping experience. Hence, the need for temperature-controlled fulfillment arises and you need to be prepared for it!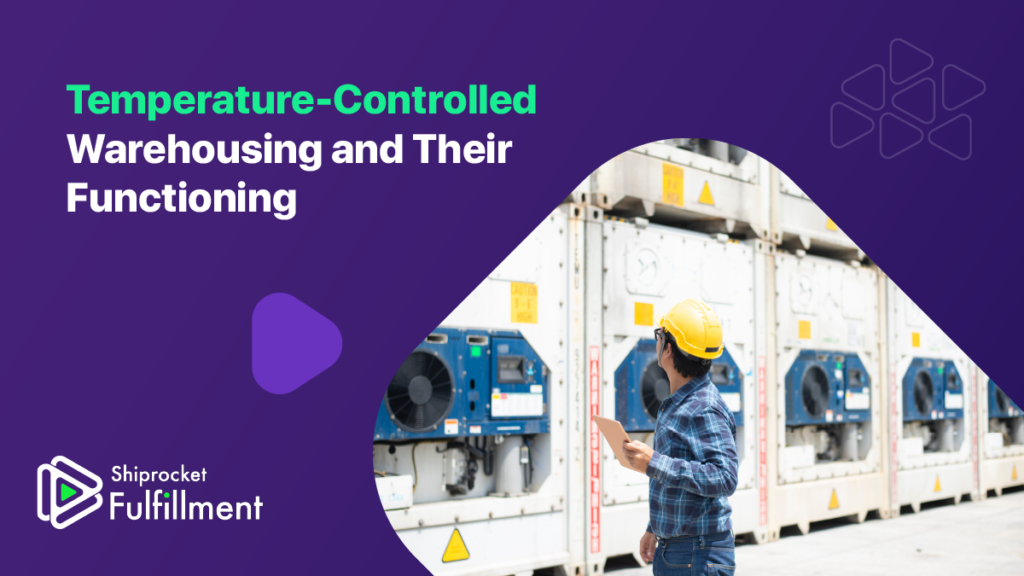 Along with storing your products, it is essential to maintain the correct temperature required by other products. You can only achieve that with temperature-controlled fulfillment and warehousing. Specific industries require a rigorous regime for temperature control and have specific warehouses for the same. But in a country like India, where the temperature is usually tropical, it can be scorching at times. You must provide a temperate storage condition to the inventory you stock.
Let's have a look at temperature-controlled warehousing and its benefits.
What is Temperature Controlled Warehousing?
Temperature-controlled warehousing refers to the storage of products at a particular temperature range irrespective of the temperature outside the facility. For example, if you need to store products at a temperature of 0 to 8°C, a temperature-controlled warehousing solution will help you achieve that even if the temperature outside is 40°C.
What is Temperature Controlled Fulfillment?
Temperature-controlled fulfillment is the process of conducting all fulfillment operations like storage, packaging, and shipping under a strict temperature-controlled environment to preserve product quality.
Components of Temperature Controlled Warehouses
Temperature-controlled warehouses have several elements that essentially help maintain the correct range of temperature for long periods. They need to be fixed systems for controlling airflow, high-strength humidifiers and dehumidifiers, and moisture control systems so that the products do not get too dry.
Here is a list of the components of a temperature-controlled warehouse –
Microprocessors and digital temperature control monitors
Refrigeration systems, target air cooling systems
Weatherproofing
Insulation of the building
Specialized storage spaces like walk-in freezers, cold storage, etc.
Humidity Levels for Several Products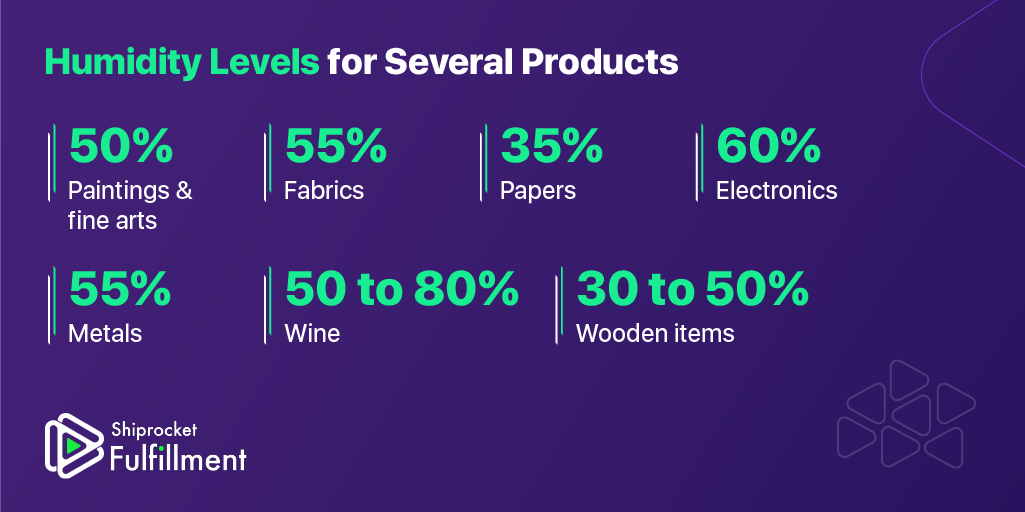 According to research and application, here are a few relative humidity levels suggested by experts that you must maintain in temperature controlled warehouses –
Paintings & fine arts – 50%
Fabrics – 55%
Papers – 35%
Electronics – 60%
Metals – 55%
Wine – 50 to 80%
Wooden items – 30 to 50%
Benefits of Temperature Controlled Warehousing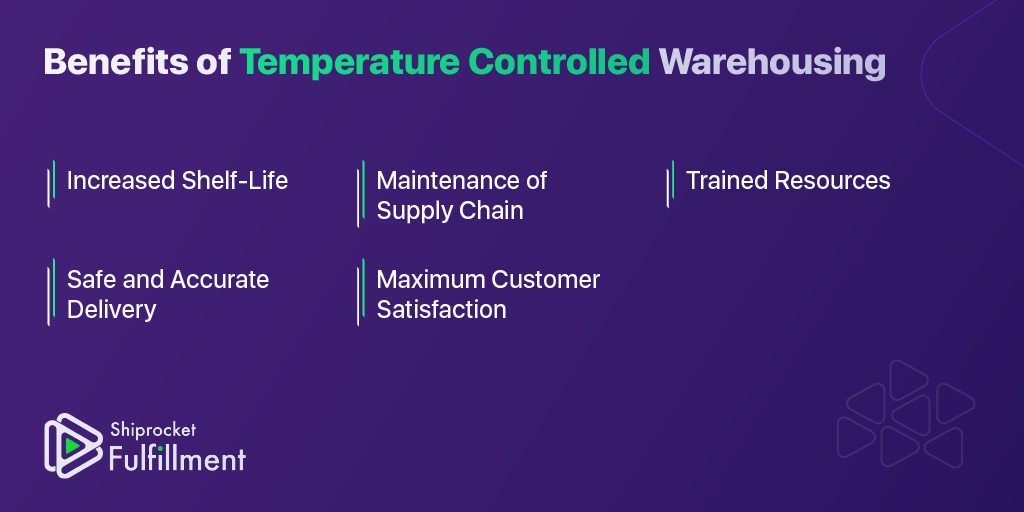 Increased Shelf-Life
Temperature-controlled warehousing can help you store your inventory for longer as it helps improve the shelf life of the products. If you keep products without a temperature-controlled setting, there are chances that the inventory will perish sooner, and you will have to invest more in purchasing the same amount of stock. If you want to run your stock for longer and maintain its quality, you must invest in temperature-controlled warehousing, especially in a tropical country like India.
Maintenance of Supply Chain
Most perishable products like meat, milk, dairy, cosmetics, etc., require a maintained supply chain at a specific temperature. If the supply chain is broken, it will impact the quality of the product, and your customers will receive a substandard outcome. Therefore, to maintain the supply chain and ensure that the quality of the product is maintained at every step of the journey, it is essential to utilize temperature control in your warehousing systems.

Trained Resources
Another great advantage of temperature warehousing is trained resources. You need to have people with the skill and knowledge about the system to manage the warehouse carefully. Therefore, it is recommended that you sign up with 3PL fulfillment providers with temperature-controlled warehousing so that your entire order fulfillment and processing can be maintained with an accurate and qualitative supply chain. Shiprocket Fulfillment is working closely to bring you temperature-controlled warehouses that can help you maintain a cold chain for your required products. Stay tuned to the space to get more updates about the same.
Safe and Accurate Delivery
What temperature-controlled warehouses can you ensure safe, and I get a delivery of your products with thorough maintenance of the product quality, shelflife, and other essential parameters.
Maximum Customer Satisfaction
If the product quality is good, you can ensure that the customer will be satisfied. With thorough checks in place and product specifications met, you can make sure that the customer invests in your product again.
Industries That Utilize Temperature Controlled Warehousing
Cosmetics
Cosmetics like lipsticks, foundations, concealers, and other products for the creamy consistency require temperature-controlled warehousing as they melt in high temperatures and come to dry in very cool temperatures. Therefore they need an optimal temperature for being stored.
Pharmaceuticals
Most pharmaceutical products need to be stored in a cool and dry place. The compounds are sensitive and might react when exposed to high temperatures or sunlight. This makes them more susceptible to damage and can also be dangerous to health if not stored correctly.
Packaged & Fresh Foods
Most fresh foods like meat and dairy require temperature-controlled storage as they perish very quickly. Even some packaged foods require temperature-controlled warehousing to maintain their quality for a more extended period. Overall, all food items do require temperature-controlled warehousing.
Electronics
Electronics are probably the most widely shipped item today. Even they require optimal temperature for being stored because, in high temperatures, the components can expand and be hazardous if not taken care of. Primarily spare parts and batteries that contain elements like Lithium should be stored in cool temperatures so that they do not leak or burst.
Final Thoughts
Temperature-controlled warehousing is more than a choice in India. With a vast spectrum of temperatures, it can be difficult to store products without temperature-controlled warehousing. Therefore, invest wisely and choose a 3PL fulfillment provider that can also provide you with temperature control for your products. It is an intelligent choice as it helps you bring out the best foot forward in front of your customers without compromising on your budget.