Role of Standard Shipping in Ecommerce Fulfillment
eCommerce shipping is probably the most crucial aspect of your fulfillment supply chain. It is the connecting link between your online website or marketplace and the consumers. Not to mention, how you ship the order and delivery experience plays a massive role in the customer's overall shopping experience on your website. According to statistics, customers always prefer shopping with websites with plenty of delivery options. In 2022, customers want the most variety there is. From standard shipping to the fastest express option, customers wish all of it laid in front of them so they can make the best choice. Eventually, all that matters is your shipping is fast, accurate, and reliable. Standard shipping is probably the base option every customer expects from the seller. Even though it is slow, it does cost less, so if customers are not in a hurry, they usually prefer to get their orders via standard shipping.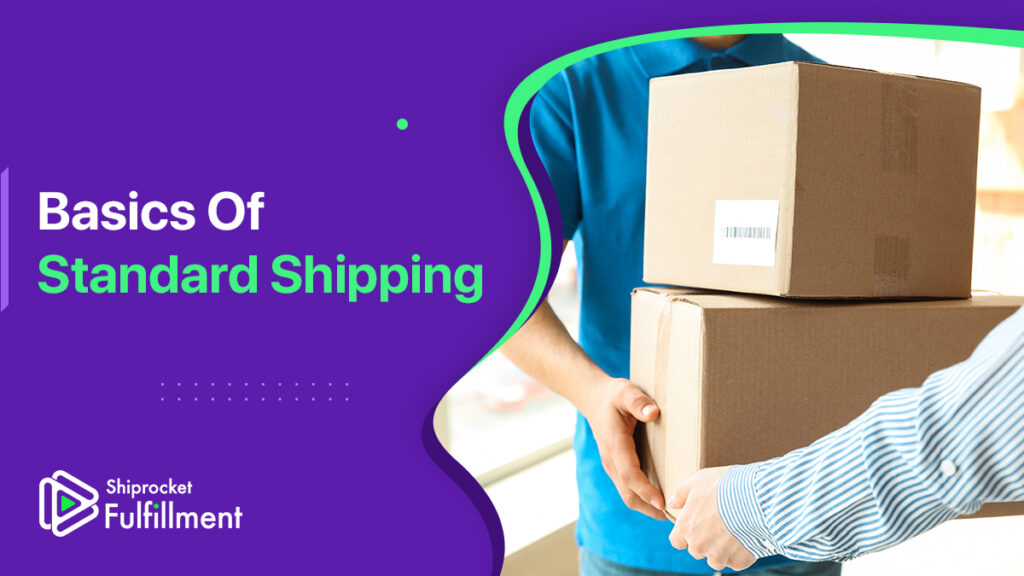 Let's look at standard shipping, the difference between standard shipping and other kinds of shipping, and how 3PL fulfillment providers can help you provide the best shipping options for your business.
What is Standard Shipping?
Standard shipping is one of the most economical shipping offered by eCommerce sellers worldwide. For domestic orders, the transit time for standard shipping is 5-7 days, and the orders are shipped via ground transportation. For international shipping, the transit time is 7-30 days.
How Does Standard Shipping Work?
Before a customer places an order, they must select their preferred shipping method. Standard shipping automatically applies to your orders if you don't offer different shipping options.
In standard shipping, when a customer orders, you pack the goods as usual, and the courier company picks up the goods from your warehouse or fulfillment center. The entire supply chain procedures are carried out as expected. The products are shipped from the courier hub via ground transportation.
After the product is shipped, you can share tracking information with your customer and keep them updated via a tracking page, Email, and SMS updates.
Standard Shipping vs. Express Shipping
Standard shipping and express shipping vary in terms of shipping, delivery deadlines, and price. The average shipping and transit time for standard shipping is 7-10 business days, whereas express shipping is carried out in 3-5 business days by courier companies. Today, express shipping also offers the options of same-day and next-day delivery, and customers are willing to pay a premium for the same.
Standard Shipping vs. International Shipping
Standard and international shipping are not two different forms of shipping. Standard shipping is utilized in international shipping as well. International shipping takes slower, and shipping costs are also cheaper. Usually, products are delivered within 7-30 days, depending on location.

How Can 3PL Fulfillment Providers Help?
3PL fulfillment providers like Shiprocket Fulfillment can help you ship your orders with multiple shipping methods like standard, express, and expedited.
Outsourcing order fulfillment operations can help reduce the stress on your business, optimize fulfillment costs, and give you a chance to focus on more critical aspects of your business. We have fulfillment centers in more than 35+ locations across the country, and all you need to do is ship your inventory to our store. After that, we will handle all your incoming orders and deliver them seamlessly to your customers. Not just this, with Shiprocket Fulfillment, you can store inventory closer to customers and save on shipping costs even when you ship with expedited shipping. For standard shipping, you can reduce your shipping costs by a considerable margin and help deliver faster with regard to the timelines. With an improved delivery rate, you can decrease RTO by 60%, increase customer satisfaction, and eventually bring more repeat customers to your store.
Not just this, our fulfillment centers are equipped with state-of-the-art technology to help automate operations, reduce discrepancies, and improve the supply chain operations for your business. With Falcon weighing machines, you can expect to reduce weight discrepancies as the quality is the same as that of courier companies.
Get ahead of the competition, provide multiple shipping options to customers, and ensure you stay on top of the game without having to lift a finger for eCommerce fulfillment.
Final Thoughts
Standard shipping is the most basic form of shipping, yet it can be a game-changer for many businesses. Ensure you follow best practices to process your shipments on time so you can reach your customers with timely delivery.