Shopify Fulfillment: Make Shopify Order Fulfilment Easy
Shopify is an all-in-one eCommerce platform that enables anyone to set up an online store and sell their products. To help their customers handle everything from a unified platform, Shopify also provides order fulfillment services- Shopify Fulfillment.
Did you know? Shopify has the third-largest market share in terms of eCommerce software platforms worldwide.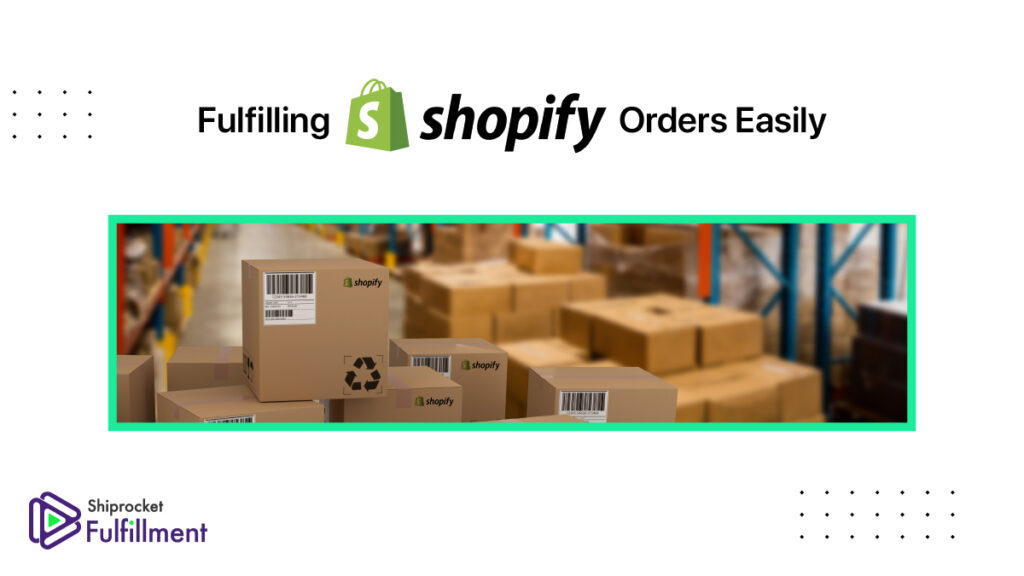 Shopify Fulfillment offers storage, inventory management, picking, packing, and shipping services. If you're a Shopify seller, you can send your products to a Shopify fulfillment warehouse and let Shopify ship your orders for you. Here's how.
How Shopify Fulfillment Works
Product Dispatch
Shopify Fulfillment offers end-to-end solutions. You can send them your products and select items for fulfillment from your Shopify admin.
Inventory Distribution
Shopify also recommends inventory distribution for your products. They suggest which warehouses in their Fulfillment network are best to store your products so they are nearer to your buyers.
Shipping
With Shiprocket Fulfillment, you can make sales on as many Shopify channels as you want. Every time an item is sold, your order will be picked, packed, and shipped automatically.
Easy, isn't it? Now let's talk about what's easier, faster & cheaper!
Boost Your Shopify Fulfillment With Shiprocket
Shiprocket Fulfillment is an all-powerful eCommerce fulfillment solution offering easy & efficient order fulfillment, warehousing, catalog, and inventory management.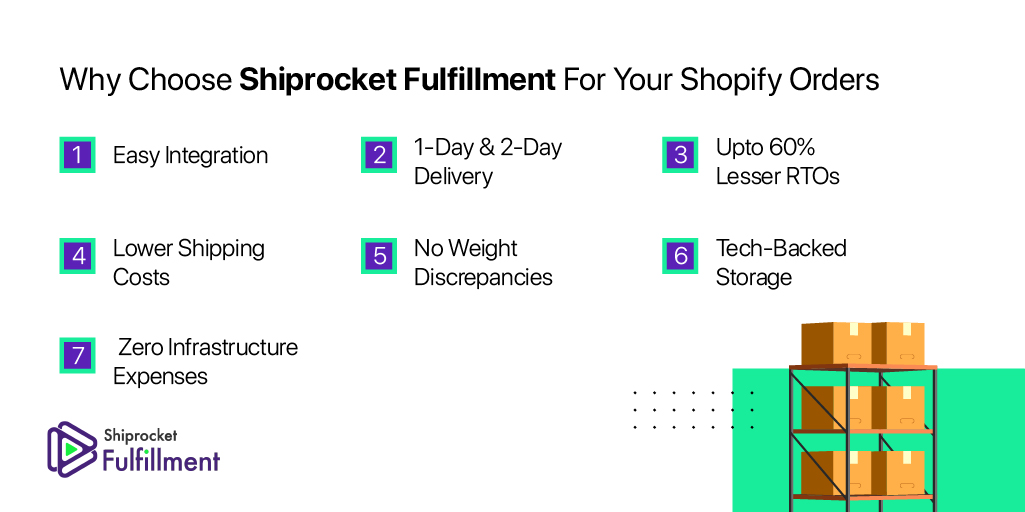 Easy Integration
Shiprocket Fulfillment enables smooth order synchronization and operations processing by providing instant channel integration. Here's how you can integrate Shopify with Shiprocket in one click:
How To Integrate Shopify With Shiprocket
Login to your Shiprocket panel & go to Settings> Channels. Click on the Add New Channel Button. Click on Shopify>Add.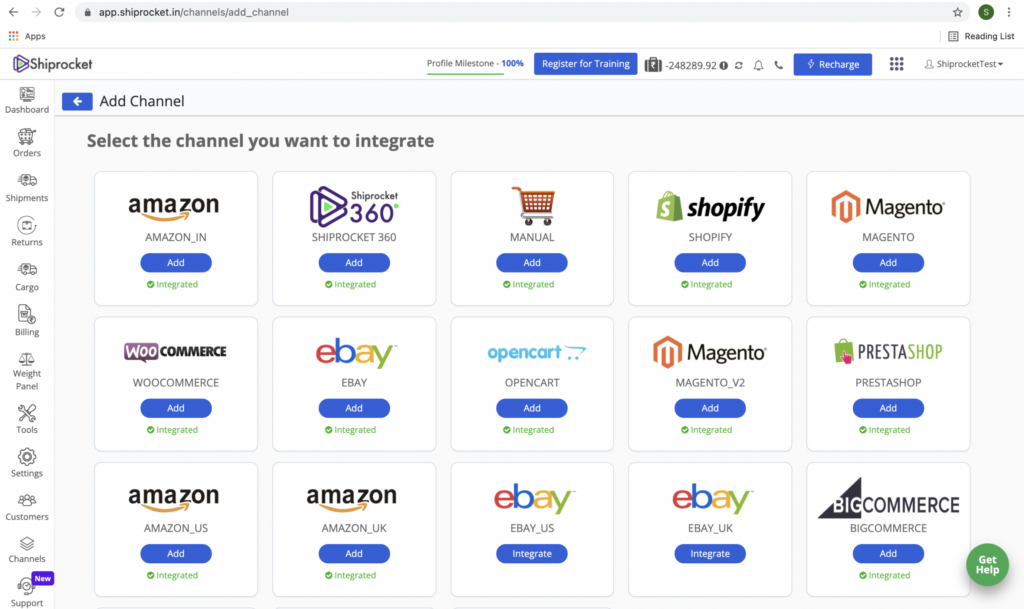 Fill in the required information & then click the Connect to Shopify button on your screen to continue.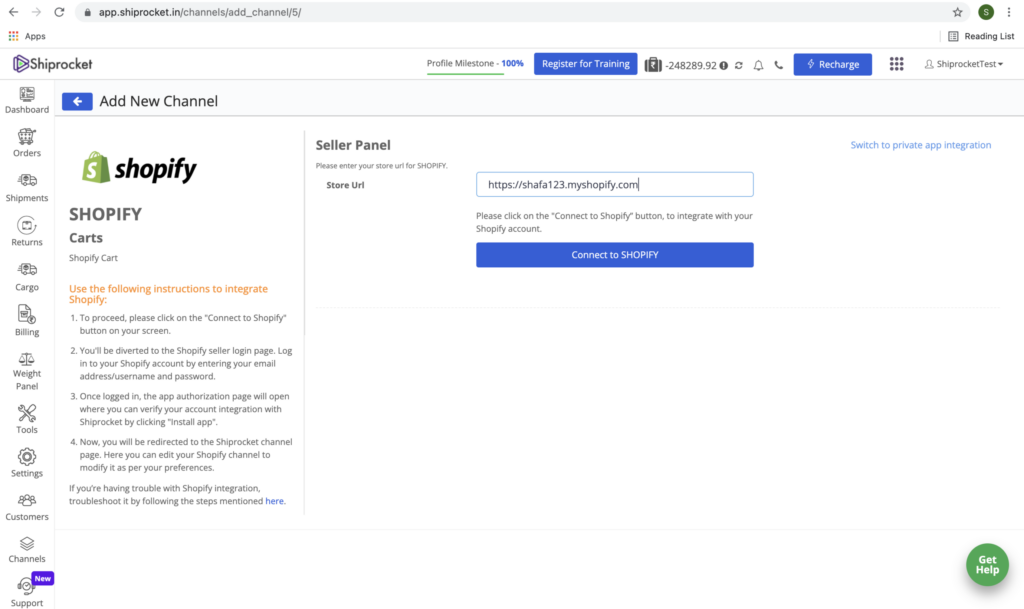 3. You'll be directed to the Shopify seller login page. To log in, enter your Shopify username & password.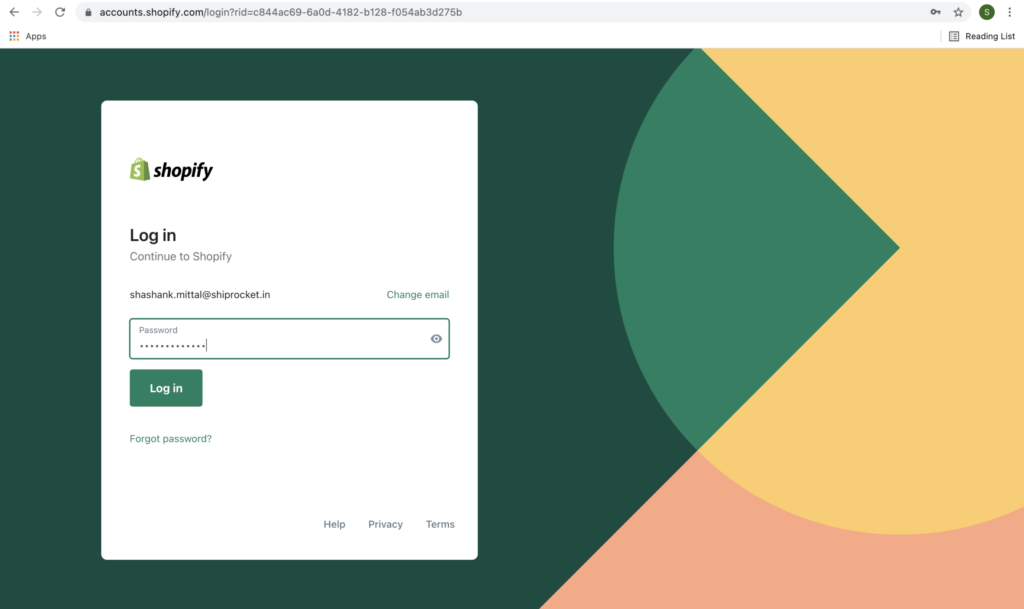 4. Once logged in, review your permissions & click on Install App. Congratulations, it's done.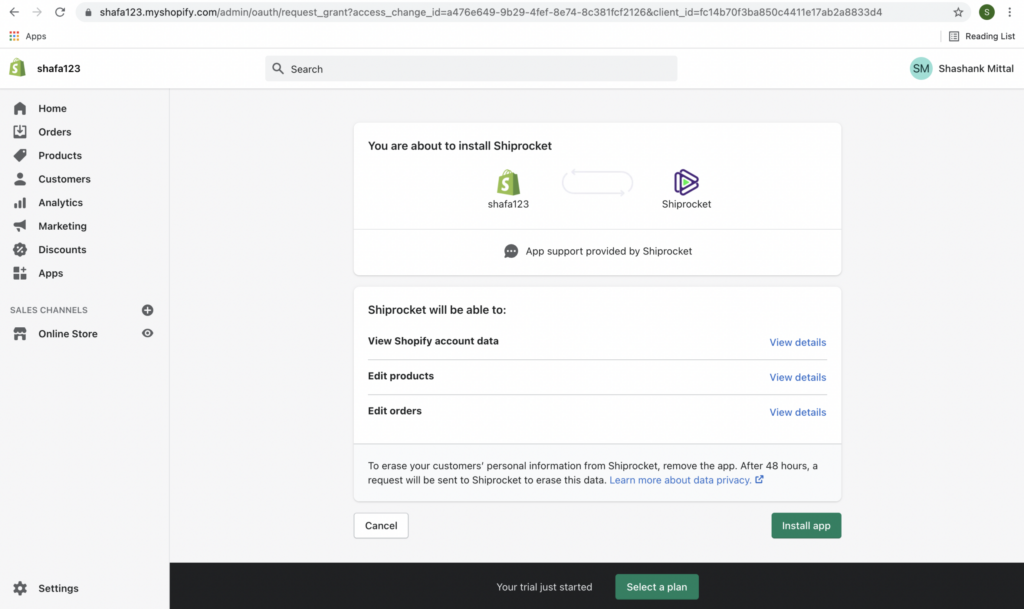 1-Day & 2-Day Delivery
With Shiprocket Fulfillment, you can store your products closer to your buyers in a PAN India network of fulfillment centers. Result? You get 3X faster Shopify fulfillment, enabling 1-day and 2-day delivery.
Up To 60% Lesser RTOs
As you speed up your Shopify fulfillment process, you always deliver your orders timely. Consequently, you increase your customer satisfaction and reduce your RTOs by a significant margin.
Lower Shipping Costs
You can take your eCommerce business closer to profits by storing your products closer to your customers. Save your shipping costs by up to 20% by decreasing the distance between your buyer and your warehouse.

No Weight Discrepancies
Shiprocket Fulfillment enables you to raise weight disputes easily. You can get detailed reports of orders for which a weight dispute has been raised.
Tech-Backed Storage
When you store your products in a Shiprocket Fulfillment center, you turn your logistics into techno-logistics. Shiprocket enables you to empower your fulfillment process with Warehouse Management System, channel integration, Order Management System, and logistics tech.
Zero Infrastructure Expenses
By outsourcing your eCommerce fulfillment to Shiprocket Fulfillment, you can avoid investing in additional warehouse management infrastructure and invest that money in other aspects of your business.
Wrapping Up
If you're a seller on Shopify, Shopify fulfillment makes it easy for you to store, pick, pack, and ship your orders. However, you can deliver even easier, faster, and cheaper by outsourcing your order fulfillment to Shiprocket fulfillment.
All you need to do is integrate your Shopify account and send us your products. We'll store, manage, and ship them 3X faster at the lowest shipping costs. Let's get in touch today.