Types of Shipment Notifications for Enhancing Customer Engagement
Providing your customers with a superior purchase and delivery experience is essential for the growth of your business. You must ensure they receive the maximum support and have a seamless experience on your website. But the wheel doesn't stop there. Customers need to be kept in the loop around the clock about the whereabouts of their eCommerce orders. You'll probably lose customers faster than ever if you don't follow that. Sending out proactive and transparent shipment notifications can help you make the customer experience more engaging and delightful for your customers.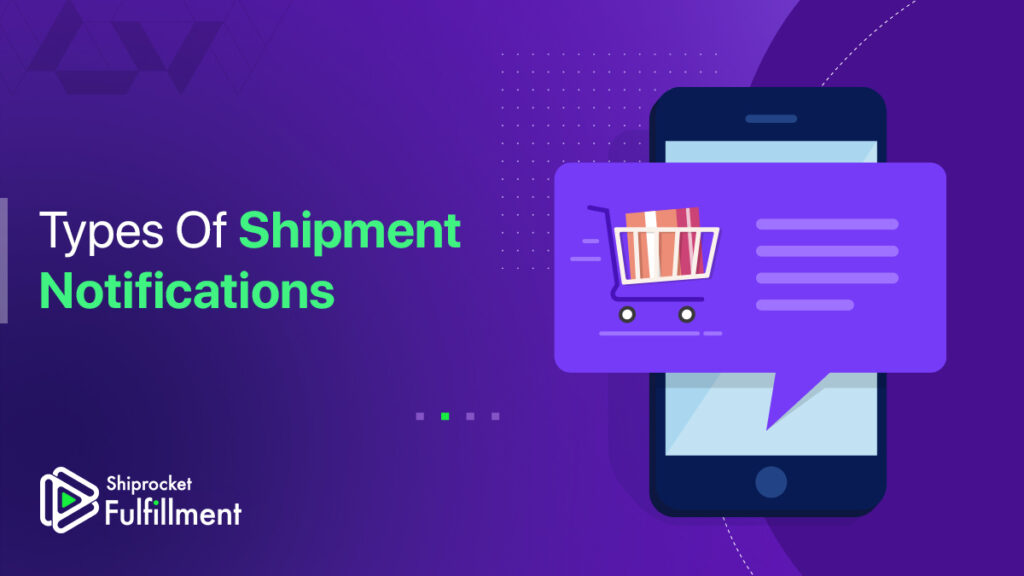 Shipment notifications are not restricted to just one notification you may send. They are a series of notifications you need to send customers so they can stay updated with the status of their orders. Let's look at shipment notifications, their importance, and the different types of notifications you must send.
What are Shipment Notifications?
Shipment notifications are real-time notifications that inform customers about the status and position of their eCommerce order.
These notifications are also known as delivery notifications. Usually, these notifications are sent via email, but today, businesses use several different communication platforms, such as WhatsApp, SMS, and IVR.
The different types of notifications direct-to-consumer businesses can send are order processing, label created, order shipped, and reached courier hub.
However, whatever type of notification you choose, its main goal should be to engage with the buyer and keep them informed about their shipment.
Different Types of Shipment Notifications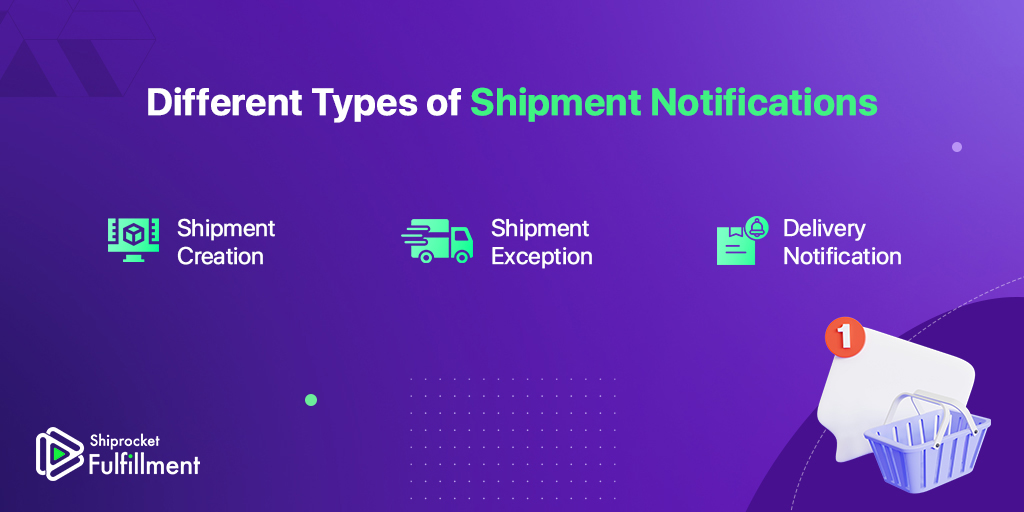 Shipment Creation
The first type of shipment notification is the 'shipment creation' notification. This includes information about the order being created on your panel, and you will begin processing it soon.
For example, when we receive your order at Shiprocket Fulfillment, we send out an order-created notification to the customer once the label is generated. All notifications about processing, shipping, etc., must follow after this notification to keep the customer informed and engaged with their incoming order.
Shipment Exception
Sometimes, shipments are delayed due to unforeseen circumstances. What do you do in these situations? The best way to avoid confusion and a negative impact on the customer experience is to communicate with the customer and keep them in the loop about the shipment.
A shipment exception notification tells the customer that the original delivery date cannot be achieved and gives a rescheduled delivery date. You can expect greater understanding and a stronger seller-customer relationship by providing the customer with realistic expectations and keeping them informed throughout the journey.
Delivery Notification
Finally, once the shipping courier drops off the shipment, a delivery notification must be sent to the customer. Why is this important? Sometimes, customers are not home to receive an order, and you must deliver at a security desk, lobby, etc. In these situations, the customer must know that the shipment is delivered so they can pick it up in time. Also, if there is a fake delivery attempt, the customer will be able to inform you sooner, so you take the right action and ensure successful delivery.
Importance of Shipment Notifications
Transparency
The foremost importance of shipment notifications is transparency. Maintaining a transparent communication channel with the customer can help simplify your customer experience. When they have information, their doubts and questions will reduce, and their trust will increase. To make their journey delightful, shipment notifications can aid transparency.
Improve Brand Connect
You must have heard the saying – out of sight, out of mind. With the customer dealing with thousands of different things daily, they tend to forget they have an incoming order or that they even shopped with you. Shipment notifications can help you stay on the customer's minds by constantly popping on the communication channels they are most active on. They remember your brand, associate positively, and the chances of repeatedly shopping increase drastically.
Keep Buyers Informed
Finally, shipment notifications help inform the buyer about their order's whereabouts. The correct information makes the buyers less susceptible to doubt and keeps their delivery anxiety under check. Whenever a customer places an eCommerce order, they have a minute doubt that it might not be delivered. Shipment notifications are like reassurances to the customer, making their shopping experience pleasant.

Improve Customer Satisfaction With Shiprocket Fulfillment
Shiprocket Fulfillment's fulfillment centers are staffed by industry experts and are equipped with scalable and flexible technology to meet the changing needs of businesses of different sizes. With dedicated space to store products, automated processes, and knowledgeable staff to assist you, it's easy to realize the advantages of choosing Shiprocket Fulfillment as your fulfillment partner.
Shiprocket Fulfillment fulfills customers' orders quickly, professionally, and at a low price. The brand offers several other services like online order tracking, easy returns, inventory management, and shipping tools. Shiprocket Fulfillment is an end-to-end solution provider with fulfillment centers in more than 35 countries. These fulfillment centers are equipped with the latest technology to ensure that your orders are processed smoothly.
eCommerce is booming, and more and more businesses are participating in this growth. However, only a handful of these businesses are profitable. That's because there's a lot that goes into managing an eCommerce business that not everyone realizes. Proper inventory management, competitive pricing, low fulfillment costs, and fast shipping speeds add up to keep your customers happy, retain repeat customers, and grow your business. The right fulfillment service can help with every aspect of this. Hopefully, you now have some insight into how to optimize your eCommerce business using Shiprocket Fulfillment as your fulfillment service.
Final Thoughts
Shipment notifications are an integral aspect of your business's supply chain process. Without them, the link between your brand and customer breaks, leaving the customer in the dark about their order. Utilize your communication channels and reach customers with the right shipment notifications at the right time.