Renting Warehouse Space vs Outsourcing Fulfillment – Which is More Suitable for Your Business?
According to a report by efulfillment service, online shoppers not only want free shipping, but they also have a growing expectation of what they consider to be fast shipping. This means that your buyers are becoming intelligent, and expectations are on the rise. It is not far when customers will demand same-day delivery too! With the growing internet penetration and rising eCommerce in the Asia-Pacific region, you need to find innovative ways to deliver faster to your customers.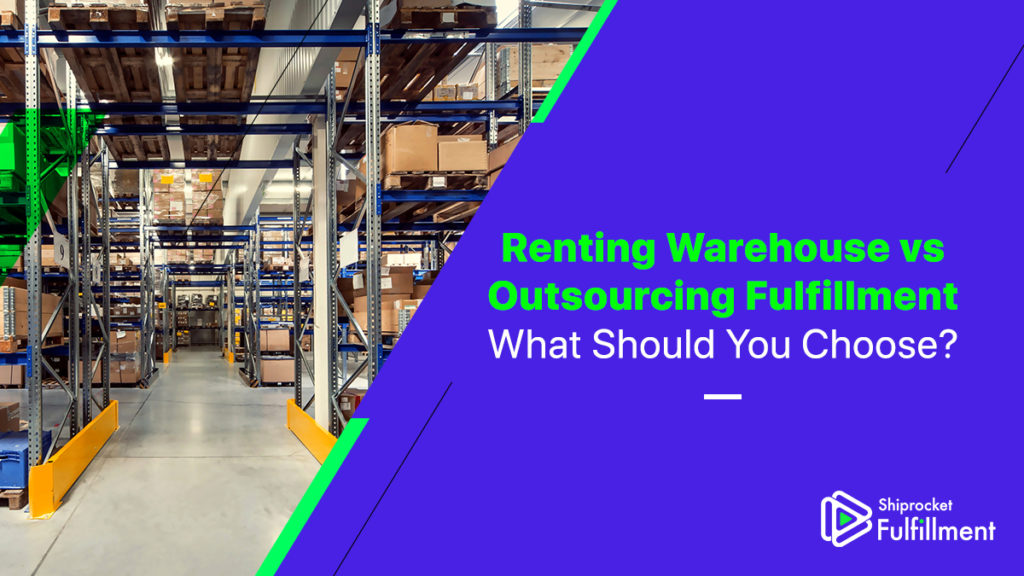 Setting up warehouses closer to customers is an intelligent way of reducing the shipping time and delivering sooner to customers. However, there are two ways of going about it. You can buy or rent a warehouse space, set up operations, hire a team, and process orders or you can simply outsource your fulfillment operations to 3PL fulfillment providers and focus on other aspects of your business.
Even though outsourcing seems like a much lucrative option, it is only wise that you make these decisions solely based on your experience and goal due to your business growth and trajectories. We have compiled a small comparison between the two options – renting warehouse space and outsourcing fulfillment to assist you with this decision-making processt. With this comparison, you can weigh your options and decide what works best for your business. Let's get started.

What Does it Mean to Rent Warehouse Space?
Renting a warehouse space means leasing out or occupying space to store your inventory and process orders simultaneously. In this arrangement, you only pay for the space you hire and set up all other operations yourself.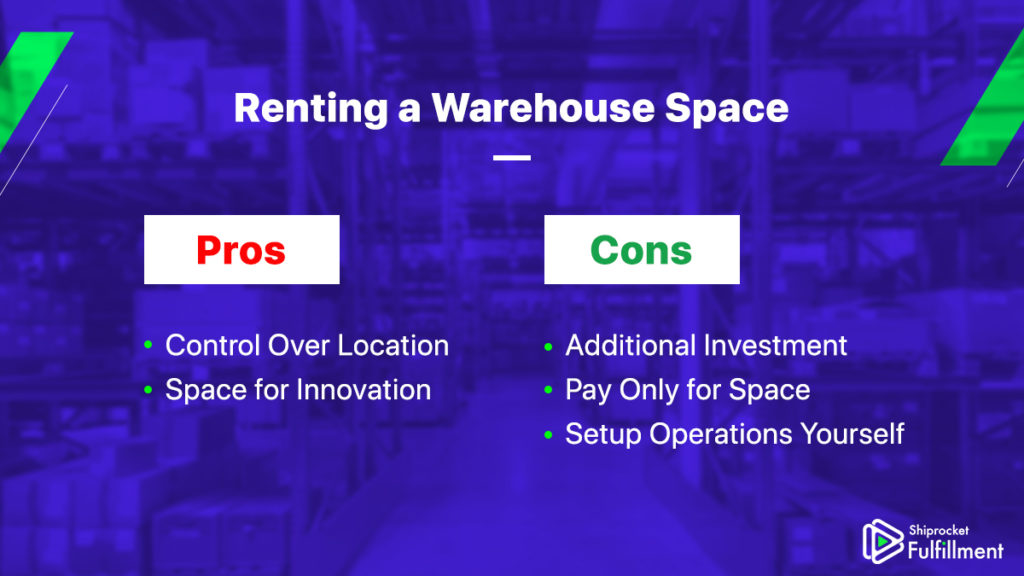 Pros of Renting a Warehouse Space
Control Over Location
The first advantage of renting warehouse space is that you have complete control over where you want to be located. If you have more customers in the southern region, you can rent a central space and reduce your business's shipping time and cost. It allows you to see where the best resources are available and select the location accordingly.
Space for Innovation
Secondly, when you rent a warehouse space you have all the space for innovation and deciding how the warehouse is structured. You can formulate floorplans yourself and utilize intelligent courier routing to pick the best routes for picking and processing the orders.
Cons of Renting a Warehouse Space
Additional Investment
The first disadvantage of renting warehouse space is the additional investment. Since this investment is recurring and you need to pay only for this space, it can be a huge capital loss for your business. Also, this investment can hamper other facets of your business that might require growth.
Pay Only for Space
The next disadvantage is paying only for this space. When you hire a warehousing space, you only pay for the land and the setup. You do not get any other services like processing operations. This can be a massive blow to your budget, especially if you're just starting.
Setup Operations Yourself
The next big drawback of renting warehouse space is setting up operations yourself. This means you might have to set up racks, bins, warehouse management software, higher resources to manage all operations, tie-up with courier companies, etc. If you're planning to expand your business in different locations, renting several warehouses can be expensive.
What Does it Mean to Outsource eCommerce Fulfillment?
Outsourcing eCommerce fulfillment refers to the concept of delegating fulfillment operations to a third party. This means that this fulfillment company will take care of all your operations, starting from inventory management, order management, all up to shipping and delivery. In most cases, these companies also handle return orders for your business.
Companies like Shiprocket Fulfillment offer you this platform to seamlessly deliver your shipments without any additional hassle of capital investment, lending operations, resource hiring, etc.; following are a few advantages of outsourcing eCommerce fulfillment operations with companies like Shiprocket Fulfillment.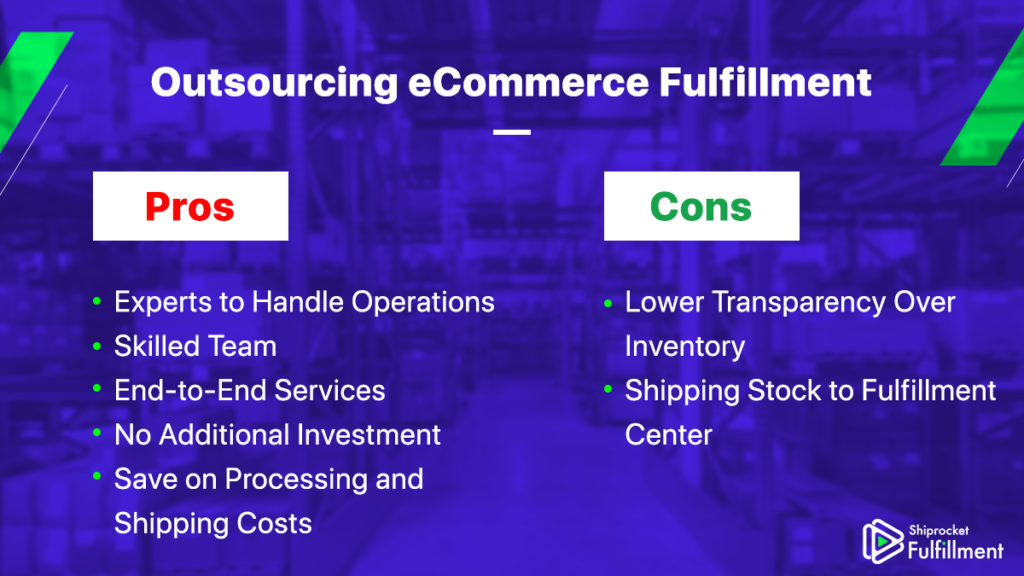 Pros of Outsourcing eCommerce Fulfillment
Experts to Handle Operations
Companies hire experts to handle operations like shipping, picking, packing, etc.since these companies solely focus on processing orders, the team is skilled, and the chances of errors are significantly less. They also have the sophisticated infrastructure to handle large volumes of orders and occasional spikes.
Skilled Team
The team hired to conduct fulfillment operations is skilled, and they throw in the job. They do these operations daily. Hence they can do it with utmost precision. So, if a dedicated resource is hired for packing your products, he will be an expert at it. A skilled team can help you deliver orders faster as the processing speed and accuracy will be much higher, and the order-to-ship time would below.
End-to-End Services
3PL fulfillment companies offer end-to-end services. So if you outsource your operations to a 3PL company, you will be signing up for all operations like storage, order management, picking, packaging, shipping, delivery, and returns. Essentially, all the hassle relating to order fulfillment will be taken care of by the fulfillment company.
No Additional Investment
With Shiprocket Fulfillment, all you have to pay for is the processing fees, storage charges, and shipping fees. The rest is handled, and you do not have to pay for any additional rent. This enabled you to deal with occasional order spikes during the festive season, sale periods, etc. Also, integration with marketplaces helps you deliver marketplace orders quicker with all the impending requirements.
Save on Processing and Shipping Costs
Fulfilling orders with Shiprocket Fulfillment Testimonial helps you save on processing and shipping costs. You don't need to go on our word; you can see the calculations and the cost-benefit with the following blog.
You can save up to 50% in processing charges and similarly up to 40% and shipping charges. Along with that, you can deliver 3X faster, reduce shipping charges, decrease audio, and also eliminate weight discrepancies.
Cons of Outsourcing eCommerce Fulfillment
Lower Transparency Over Inventory
One of the very few drawbacks of outsourcing eCommerce fulfillment is the lowest transparency over inventory. Since the stock is not in your hand or physically not with you, there is a high chance that you might lack clarity. However, with advanced software, this problem can also be taken care of quickly.
Shipping Stock to Fulfillment Center
A minimal inconvenience for outsourcing eCommerce fulfillment is shipping the stock to the fulfillment center. However, this is not a very recurring task, and you do not have to do it very frequently, so it is not a roadblock.
Final Thoughts
Renting a warehouse means a lot of commitment. Also, outsourcing eCommerce fulfillment seems like an easy task. In our opinion, you can try outsourcing eCommerce fulfillment operations to a 3PL company like Shiprocket Fulfillment and see how that works for your business.