Things to Keep in Mind When Outsourcing Apparel Fulfillment
According to a report by Redseer, the fashion market in India is growing at a CAGR of 11%, with online fashion growing the fastest at a CAGR of almost 32%. This indicates that the apparel and lifestyle industries in India are multiplying, and more and more D2C brands are entering the market. Customers today are also resorting to online shopping for apparel.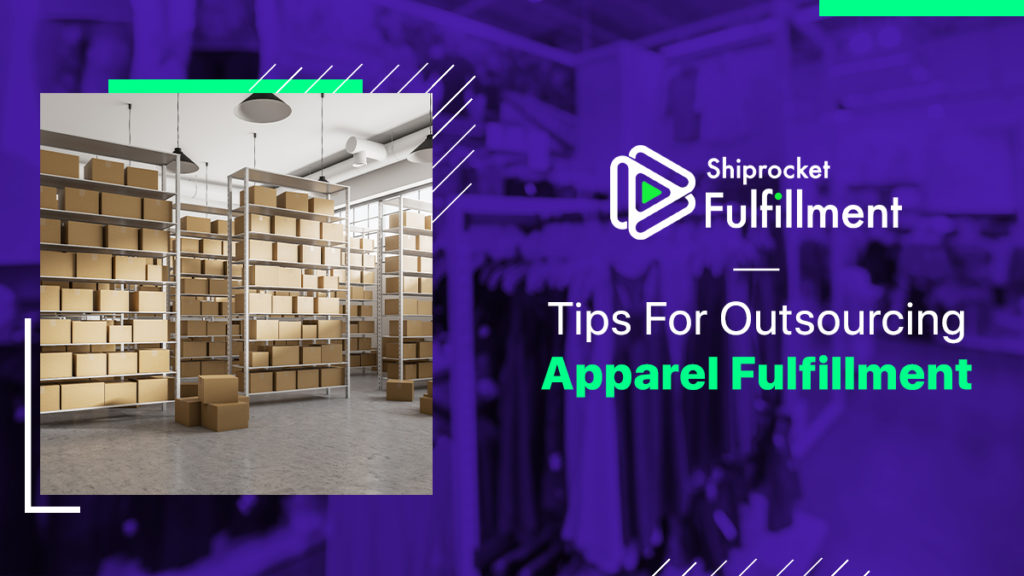 With an ever-expanding internet population and active penetration of internet users across the country, it is essential to stay organized and systematic in your entire eCommerce approach if you want to stay ahead of your competition.
If you sell clothes, accessories, or similar products, you need to be extra cautious about your fulfillment operations so that you can fulfill orders on time. Today, with marketplaces like Myntra, Flipkart, Amazon, etc., investing in apparel, it is essential to deliver products seamlessly, so your service stands out.
To do so, you need to tie up with 3PL fulfillment providers to ensure your reach is widespread and you can enhance your customer's delivery experience. Here are a few things you must keep in mind when tying up with a 3PL fulfillment provider for your apparel business.
Centralized Inventory Management
Centralized inventory management is essential for brands that sell apparel online. Since the fashion industry is ever-growing, it is evident that you will not be selling only from one platform. If you sell on multiple sales channels like your own website, marketplaces, social media, etc., you must have a central inventory management system for all your incoming orders. It helps to process orders faster and tracks inventory in a much more efficient manner. Ensure that your 3PL fulfillment provider has a centralized inventory management system for your business, and you can track inventory from any place. Since you are the one who has to send an inventory to the warehouse, it is necessary to have all the information and data around it.
Pan-India Coverage
The next essential aspect of successfully running an apparel eCommerce business is delivery across the country. Most companies that fulfill orders themselves are not able to deliver within a few days to their customers. People these days don't settle for standard shipping of 7-10 days. They want a delivery of the products within 3 to 4 days of ordering it. Most times, even that seems a long time. Therefore, it is vital to choose a 3PL provider that has fulfillment centers located across the country. This helps you store your products in different zones, and you can deliver faster to every pin code in the country.
Warehouse Management
The next thing you should look out for in your 3PL fulfillment provider is warehouse management. If the warehouses are not managed efficiently and the workflows are not defined, there is a high risk as the orders would not be processed systematically. Since apparel orders usually come in bulk or require a thorough check in terms of SKUs etc. A warehouse management system and a systematic process must be in place to ensure seamless order processing.
Shipping & Distribution
It is essential that the 3PL fulfillment provider you tie-up with has a vast network of pin codes and multiple courier partners that can help ship your orders. If your 3PL fulfillment provider depends only on one courier partner, there is a chance that you might skip out on several orders because you cannot service them. As India's internet penetration is increasing, orders are flowing in from all parts of the country. If you cannot deliver seamlessly, it is difficult for you to make a mark in the industry.

Packaging Solutions
3PL fulfillment providers must have varied packaging solutions for your business so you can associate specific SKUs with designated packaging. This will help you streamline the process, and you will be able to save on additional costs due to efficient packaging. Shiprocket Fulfillment uses packaging material provided by Shiprocket Packaging. This material is efficient and designed for durability. You can buy packaging material by Shiprocket packaging and deliver products in a tamper-proof package.
Accurate Weight Measurement
Several weight issues can arise when shipping apparel. Since these products are light and usually packed and flyers, etc., many times, the weight of these packages is mismeasured. This often leads to an undue rise in the discrepancy issues, and you are directed to pay a considerable amount to courier companies. Your 3PL fulfillment provider must measure your final package's weight before shipping it to avoid such complications. In such cases, if there is any claim by the courier company, you do have a thorough record of fighting for your request.
Marketplace and Website Synchronization
Since you sell on several platforms, your 3PL fulfillment provider must offer you integration with different sales channels and marketplaces like Shopify, Magento, Amazon, etc. This will help you integrate all incoming orders into one place and improve order accuracy.

Shiprocket Fulfillment – Your Solution to Seamless Apparel Fulfillment
Shiprocket Fulfillment is an end to end eCommerce warehousing and fulfillment solution for D2C brands in India.
We have fulfillment centers located across the country Inn different locations, and you can store your inventory with us. But Shiprocket Fulfillment, you can provide your customers with faster delivery options like one day and two-day shipping and process orders at a reduced shipping cost.
We have an automated weight management system in place that helps you lower weight discrepancies that come in by courier companies. You can easily outsource fulfillment for your business while we process and ship orders to your customer's doorstep.
Final Thoughts
The apparel and fashion industry in India is booming. Online fashion is the next big thing as people are now turning to digital alternatives for shopping for clothes. Now is the right time to turn to a 3PL fulfillment provider to make apparel fulfillment a much more simplified task for your business. Reach out to Shiprocket Fulfillment today and let us take care of order fulfillment for your business.