What is the International Shipping and Fulfillment Process Flow?
International shipping and fulfillment can be a game-changer for your business today. With eCommerce taking center stage, the world has definitely become a smaller place, and people are now eager to try things from different countries and continents from the comfort of their homes.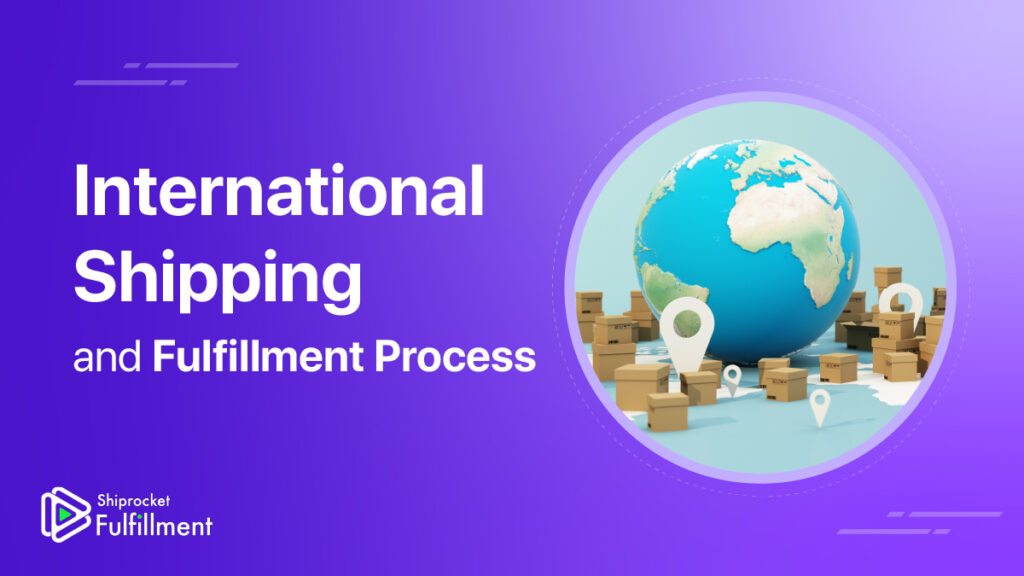 According to a report by Statista, e-commerce retail sales are going to grow from USD 3.53 trillion to USD 6.54 trillion in 2022.
This means that you have a significant amount of scope to tackle international shipping and fulfillment head-on and reach the entire global market with the tap of a few buttons.
To make sure that you ship and fulfill orders seamlessly, it is essential to understand the process behind the whole chain. Let's look at what international shipping and fulfillment entail and the steps to make it successful.
Understanding International Shipping & Fulfillment
International shipping refers to the process of shipping your goods outside your home country. Fulfillment refers to the entire supply chain involved from the start to the end of processing and shipping these goods.
International shipping and fulfillment can be tricky if you do not execute a preplanned strategy. You must know the country's regulations, the packaging guidelines, and how you can price off your shipping to ensure that your business does not hit the wall.
A closer look at the entire international shipping and fulfillment process can help you make these decisions.
International Shipping & Fulfillment Steps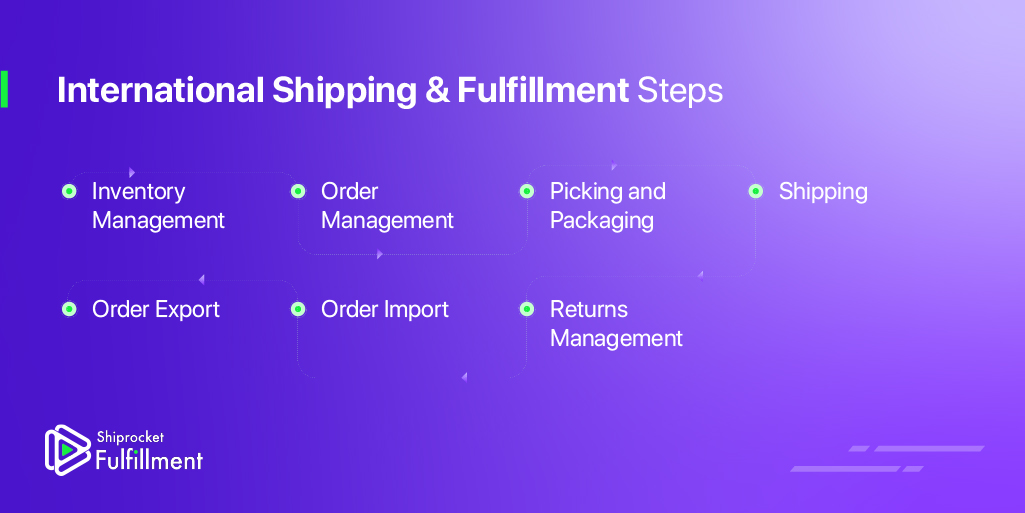 Inventory Management
The first step for domestic and international shipping and fulfillment is inventory management. You must have your inventory sorted thoroughly in the warehouse and synchronized among different warehouses. The inventory must be stored in Isles and tracks to ensure that it can be tracked and pulled out easily whenever required. Your SKUs must be segregated, and the quantity must be updated in real-time. You can do this with the help of a robust inventory management system.
Order Management
The next step is to track the incoming orders and process them. With today's competitive e-commerce market, you would not be selling on just one platform. Your order management system must be equipped to consolidate orders from all the sales channels and give you one single data from which you can process them. This will help you reduce the order to shift time and enhance the speed of floor operations.
Picking and Packaging
Following order management, the next step is picking and packaging, where executives in your warehouse will pick and package the goods before shipping. In international shipping and fulfillment, packaging guidelines are defined by couriers' need to undergo several checks during customs and export. Therefore, your packaging operations must align with the guidelines. Also, since they travel a long distance, they must be secure.
Shipping
The next aspect of international shipping and fulfillment is shipping. To ensure seamless delivery to your customer's doorstep, you need to tie up with a carrier partner with a vast network and reliability. Shipping with multiple carriers can help you reach more locations sooner and build a lasting relationship with your customers.

Order Export
The next step in international shipping and fulfillment of order export is where goods are sorted by the destination country and then shipped via air, land, or sea. This is where you decide how much you're willing to pay and how soon you want your shipments to be delivered. All your documentation must be sorted to go through the steps seamlessly.
Order Import
Following order export after order import, the shipments and orders arrive at customs in the destination country. The customs department officials scan the packages and calculate the duties, taxes, etc.
Returns Management
Last but not least, after your product is delivered to the customer, you need to take care of the returns in case there are any. Having a return policy for your business can help you build trust. But beware, the international fulfillment and return costs can be high, so you need to plan your strategy accordingly.
Choose a 3PL Fulfillment Provider to Simplify International Shipping and Fulfillment
Delivering orders worldwide can be difficult if you have to make a capital investment in managing warehouses, getting the latest warehouse management systems, sorting and inventory management, etc. As it is, the shipping and fulfillment cost for international orders is higher. Therefore it is intelligent if you choose a 3PL fulfillment provider that can help take care of all the inbound operations and ship your products seamlessly with a vast network.
3PL fulfillment providers like Shiprocket Fulfillment can help you reduce the order-to-ship time for your international orders and ship them with leading carrier partners. We have fulfillment centers located across India to store your inventory and process orders as and when they arrive. With this, you can leverage the skilled staff potential and warehouse capabilities without shelling out substantial capital investments.
Final Thoughts
International shipping and fulfillment can bring a significant boost to your business by connecting you with customers across the globe. However, a sorted strategy for carrying out these operations is a must. Knowing the process beforehand to plan your operations smoothly can be a game-changer.