Bringing To Light The Concept of Green Logistics
According to an IBM Research Insights report, 57% of consumers are willing to change their eCommerce purchasing habits to help reduce their environmental impact. Green logistics has been a catchphrase for sellers, business people, politicians, etc. It is often forced to talk about the commitment towards saving the environment with policies that favor reducing the carbon impact, reducing pollution, using energy-efficient tools, etc.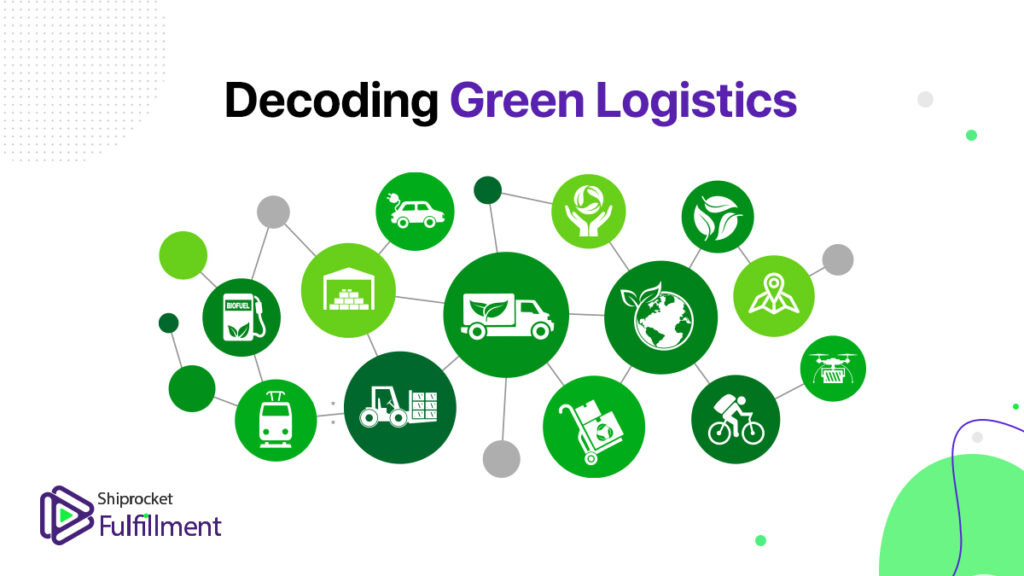 However, at the grassroots level, it is the responsibility of every individual to ensure that the environment is taken care of and utilize resources to help preserve it. Similarly, for eCommerce sellers, green logistics is of great importance as it includes operations like warehousing, transportation, packaging, distribution, material handling, etc.
Let's look at what green logistics says and how you can make your warehouse more sustainable and ensure you do your bit in contributing toward a greener future.
What is Green Logistics?
Green logistics refers to decreasing the environmental impact of delivery and logistics processes.
The generation of today is much more environmentally conscious. It does give importance to shopping with companies that emphasize reducing CO2 emissions, effectively dealing with Best disposal, and using recyclable material.
Green logistics includes the first, middle, and last-mile supply chain logistics. It consists of going greener for all and at any stage of the logistics operation. This can usually be achieved by digitizing processes to reduce energy consumption and eliminate paper trails.
The Difference Between Green Logistics and Reverse Logistics
It is a common misconception that reverse logistics and green logistics are the same. Reverse logistics refers to when the product goes back in the logistics flow, i.e., back to its pick-up location. Green logistics consider forward and reverse logistics of any eCommerce supply chain.
Some reverse logistics take into account environmental issues like picking up old electronic items or pieces of furniture when they make a new sale and recycling or upselling them. But if you want to make the entire process green, you need to consider the carbon emissions and reduce them.
Importance of Green Logistics
The freight and transportation industry is the most significant contributor to greenhouse gas emissions globally. With online shopping increasing throughout the country, there is a subsequent increase in last-mile delivery, and the number is only expected to go up.
While this is alarming, all logistics sector players, including online and retail sellers, must adopt green logistic strategies and practices in their supply chain.
Also, as customers are becoming more aware of climate change and greenhouse emissions, they are becoming environmentally conscious and choosing brands that support the cause. If you do not adopt the green strategy sooner, there are chances that you might lose out on sales to a brand that does.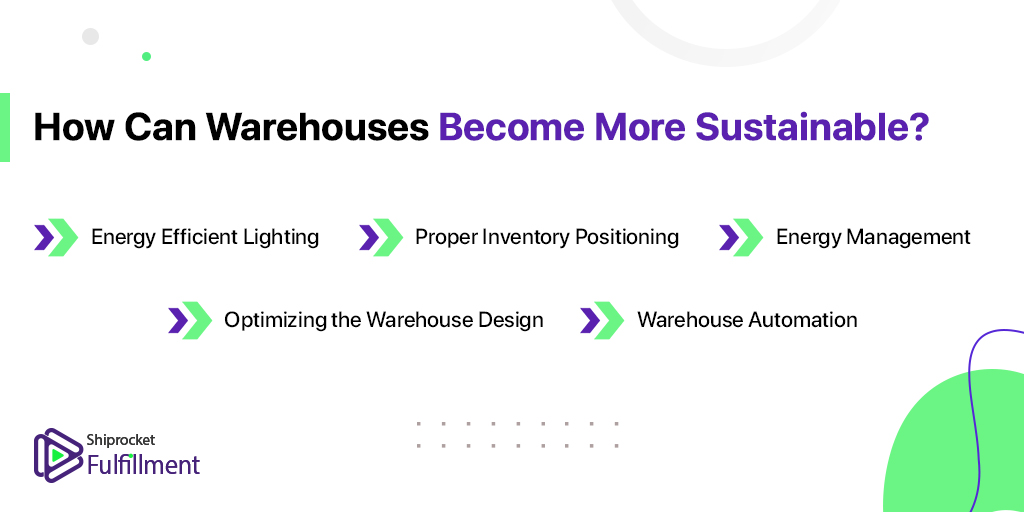 How Can Warehouses Become More Sustainable?
Energy Efficient Lighting
The first step towards making warehouses more sustainable is using energy-efficient lighting. Utilizing LED lighting helps you reduce usage and consumption rates. Also, in a country like India, you can use solar-powered lighting to reduce energy consumption.
Proper Inventory Positioning
Eventually, it all boils down to how quickly you process orders. If your inventory is placed correctly inside the warehouse, it can help you reduce energy consumption, reduce workload, increase efficiency and bolster productivity.
Energy Management
Next, utilizing energy management systems with the integration of timers, thermostats, and gauges for all energy like electricity, gas, heat, water, etc., can help you set up best practices for using what is required without wasting.

Optimizing the Warehouse Design
By optimizing the warehouse design to make it more efficient in energy consumption, you can do your bit to make your warehouse sustainable. The warehouse layout can help you maximize workflow efficiency and also help you stay aware of the new functions that can be integrated in the future. With evolving requirements, your warehouse must be able to make changes quickly.
Warehouse Automation
Digitizing your processes can help you reduce the use of fossil fuels, eliminate the paper trail, and help you organize your business. With warehouse automation, you can have many benefits like inventory visibility, product accuracy, etc. This will help you reduce dependency on paper and reduction in paper consumption.
Shiprocket Fulfillment – Your Approach To Green Logistics
Even though you would want to set up your warehouse and make it sustainable to ensure that you positively impact the environment, it can be a costly and labor-intensive project. The easiest way to run your business smoothly, carry out fulfillment operations sufficiently, and positively move the green logistics supply chain is by outsourcing functions to a 3PL fulfillment provider.
3PL fulfillment providers like Shiprocket Fulfillment can help you process orders faster and more accurately, deliver 3X more quickly, and reduce shipping costs. We have over 35 fulfillment centers located across India where you can send your inventory, and we will handle all order fulfillment processes. By utilizing already existing fulfillment centers, you reduce the carbon footprint of your supply chain by eliminating the construction of new warehouses.
Final Thoughts
Sustainability is the need of the hour, and you must adopt green logistics and sustainable practices for your business. If you do not evolve now, you can face several challenges in the future that can lead to negative impacts on your business and the environment.