Ecommerce Value Chain: Understanding the Key Elements
According to NASSCOM, despite COVID-19 challenges and disruptions, India's eCommerce market continues to grow at 5%, with expected sales of US$ 56.6 billion in 2021. This means that the eCommerce supply chain has seen a substantial increase in the past two years.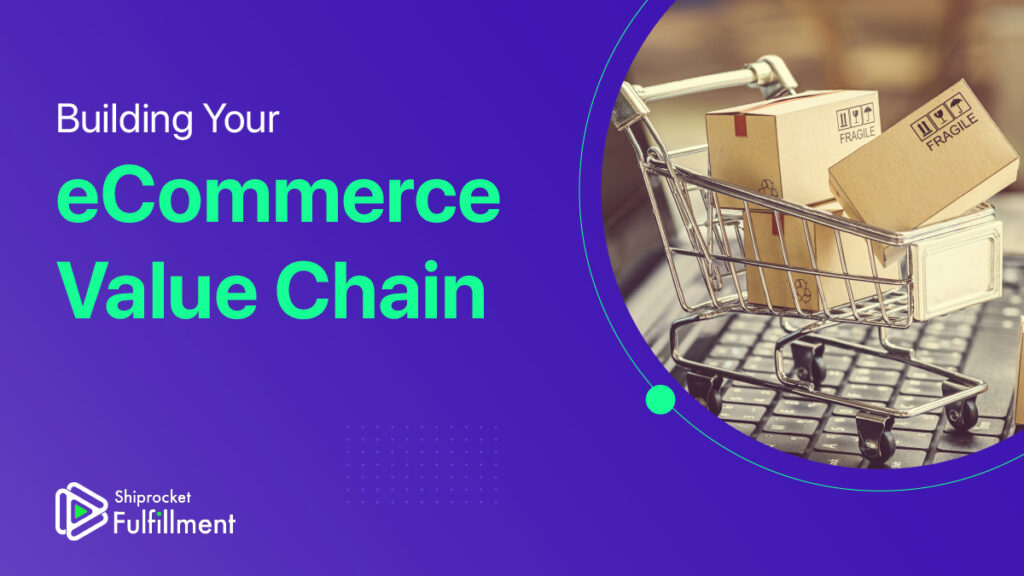 However, this growth wouldn't have been possible without a solid value chain strategized by every eCommerce business thriving in the market. Collectively, these value chains have contributed to the harmonious functioning of the eCommerce industry.
With time, the value chain mechanism has also seen several advancements. With this blog, let's understand the value chain closely, how to create an effective eCommerce value chain and the role of 3PL fulfillment providers in the modern eCommerce value chain.
What is Value Chain?
A value chain refers to the processes and activities through which a company adds value to its products and services. These activities include production, marketing, sales, customer support, technical support, distribution, logistics, after-sales support, etc.
For example, suppose you sell artificial jewelry. In that case, your value chain would be constituted by processes like production of this jewelry or sourcing from a vendor, marketing your products via social media, influencers, ads followed by a website flow where the customer can purchase products, shipping of these products and finally any support queries the customer might have.
All factors like shopping experience, shipping time, returns, support response time, etc., play a valuable role in your value chain. The stronger your value chain, the more customers you will attract to your store.
Value Chain in eCommerce
The eCommerce industry has given rise to a whole new world of retail concepts, but what remains constant is the 'value chain'. A value chain is basically the process of adding value to the end product.
Each step of the value chain process is taken with the intention of optimizing the final output for the consumer. The only aspect that sets apart the value chain process in the eCommerce industry is that the products are delivered to storage facilities or fulfillment centers instead of retail outlets.
During an eCommerce value chain journey, the end consumers are not required to go to a physical store, instead they can browse the products from the comfort of their own home.
Understanding Porter's Value Chain
Michael Porter coined the value chain concept in a retail business in 1985. According to him, the activities of a value chain can be distinguished into two parts – primary and secondary activities.
Primary Activities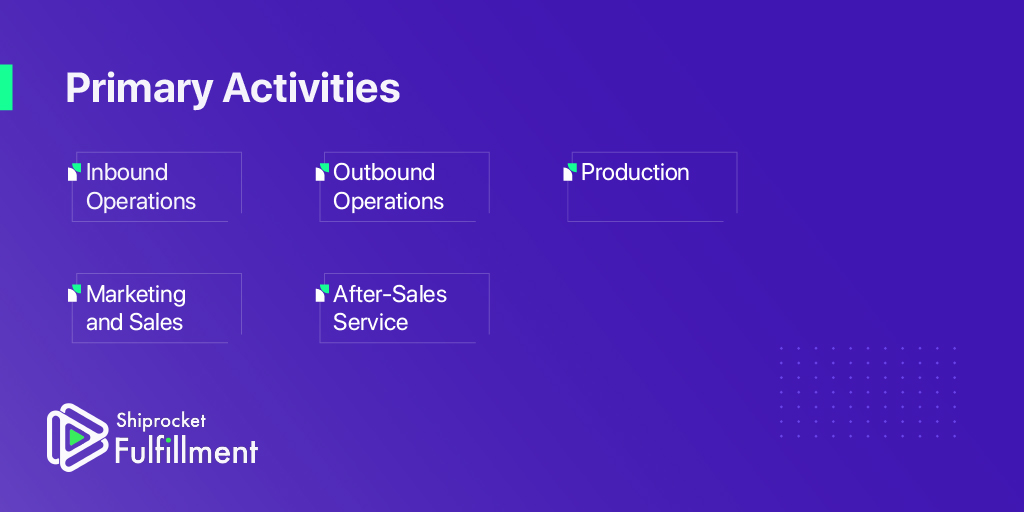 Primary activities constitute the following –
Inbound operations – Order management, inventory management, warehousing
Outbound operations – Packaging, shipping, logistics, etc.
Production – Creation and assembly of the products
Marketing and sales – Pricing, advertising, content distribution, etc.
After-Sales service – Support, quality assurance, returns, etc.
Secondary Activities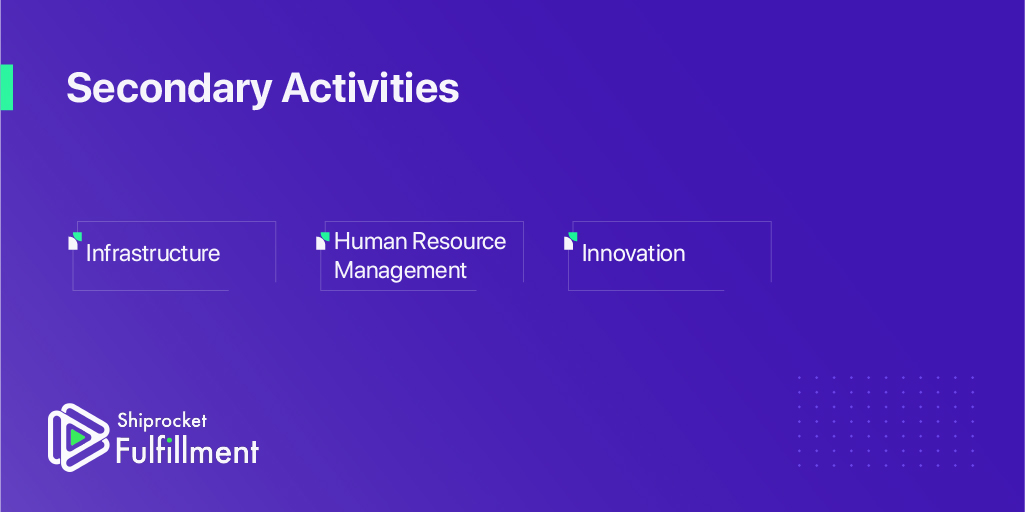 Secondary activities constitute the following –
Infrastructure – Includes activities like financing, planning, overhead management, etc.
Human resource management – Hiring, training, recruitment, retention of employees
Innovation – Research and development that goes behind building and growing a product or service
Evolution of the Traditional Value Chain Concept
In the value chain concept devised by Porter in 1985, doing business was singular. A company made a product in the factory or manufacturing unit, sent it to a wholesaler, a retailer, and then to the final customer. There were several gates before the product reached the end consumer. Thus, the value chain for such businesses was different.
Today, the internet has changed the entire landscape of buying and selling in India. eCommerce has brought about a whole new revolution, and you are now selling directly to the consumer from your website, marketplace, or even social media.
This means the value chain of eCommerce is different from the traditional value chain. Hence, the steps taken to build your value chain successfully will be different. Before, we only took care of activities like manufacturing, marketing, and sales. Now, the umbrella has become broader, so you need to take care of all primary and secondary activities.
With activities like warehousing, inventory management, shipping, logistics, return management can weigh you down, and they can also harm your value chain if not carried out efficiently.
3PL fulfillment providers can be the perfect help to carry out these activities without compromising on the efficiency of your value chain. Let's see how
Role of 3PL Fulfillment in Improving the eCommerce Value Chain
Primary Activities
Like we discussed earlier, the primary activities of your business include processes like inbound operations, outbound operations, and logistics.
3PL fulfillment providers take away the stress of handling activities like inventory management, order management, warehousing, shipping, returns, etc.
With a 3PL fulfillment provider in the picture, you only need to care for your product's marketing and after-sales service.
This helps you save on capital investment and run your business anywhere in India.
Secondary Activities
When you do not have to invest in building and running a warehouse of your own, you do not need to invest in secondary activities like human resource management and infrastructure. You can run your innovation and grow your market while 3PL fulfillment providers carry out the redundant packing and shipping tasks.

You can channel your resources and energy on the essential secondary activities of your business value chain.
How to Conduct an eCommerce Value Chain Analysis
Value chain analysis is an essential part of eCommerce businesses. It is crucial for any business to identify areas of optimization, and a value chain analysis helps you do just that. Here are the key steps involved in conducting a value chain analysis:
1. Identifying Key Activities In The Value Chain
The first step to a value chain analysis entails identifying the primary activities involved in delivering a product or service. From sourcing materials to delivering the end product, every single aspect of the value chain should be taken into consideration.
2. Determining The Cost Associated With Each Activity
The next step is to determine the cost associated with each activity in the value chain process. Costs like materials, labour, overhead, marketing, etc, are taken into consideration for a detailed analysis of the process.
3. Identifying Areas For Optimization
The last step is to identify the key areas of optimization in the value chain process. This includes looking for ways to reduce production costs, increase delivery time and figuring methods for enhancing the customer experience.
Shiprocket Fulfillment – Your Trusted eCommerce Fulfillment Provider
Shiprocket Fulfillment is an eCommerce fulfillment provider working exclusively for the D2C market in India. We have come up with a solution to help you deliver your eCommerce orders from anywhere in India. All you need to do is send your inventory to any fulfillment centers located across India. We will handle all operations like inventory management, warehousing, order management, packing, packaging, and shipping for your business.
We have fulfillment centers in various cities like Mumbai, Delhi, Gurugram, Jaipur, Kolkata, Bangalore, and many more. Shiprocket Fulfillment offers an expert team that helps you manage critical primary value chain operations with ease. You can reduce your delivery time and shipping cost and reach customers in every corner of India.
With Shiprocket Fulfillment, you can decentralize your inventory and reduce the lead time between the warehouse and the customer's delivery location.
Final Thoughts
Your eCommerce value chain defines the success of your business. Understand the importance of a small value chain to ensure that your business involves the trends, and you can meet changes wherever necessary. Therefore, it is intelligent to partner with a 3PL fulfillment provider like Shiprocket Fulfillment to ensure that you do not get stuck on repetitive tasks and channel your resources and capital to much more valuable operations.