What Is US FDA? What Does FDA Regulate?
The US FDA(United States Food and Drug Administration) is an organization that safeguards public health in the United States by ensuring the safety and security of food supply, cosmetics, human and veterinary drugs, biological products, and medical devices.
Not just this, FDA also regulates the manufacturing, marketing, and distribution of tobacco products to decrease the use of tobacco by minors.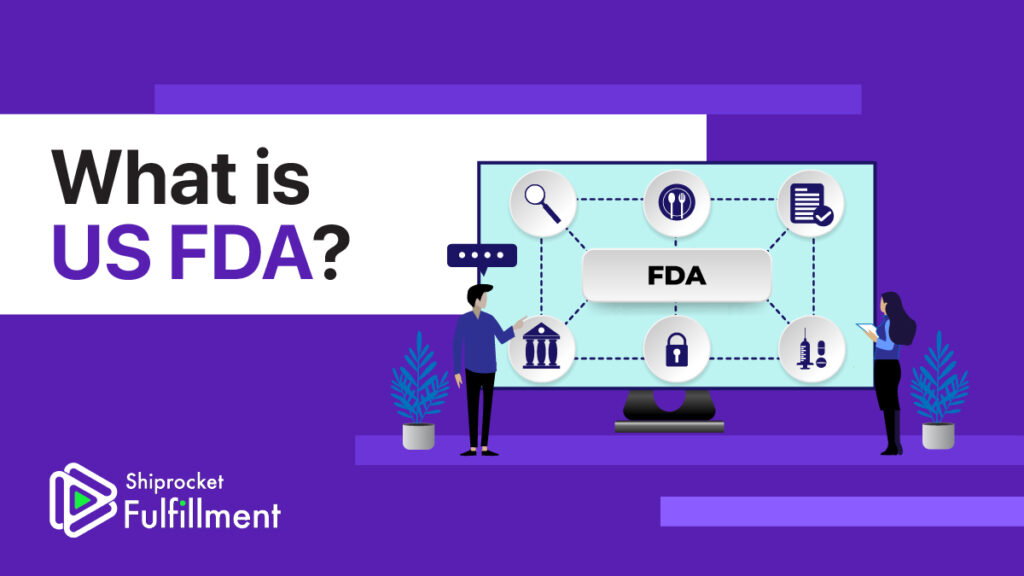 FDA is also responsible for improving public health by boosting innovations in medical products to make them more effective, safer, and more budget-friendly.
Moreover, it provides accurate scientific information to the people about how they need to consume medical products and foods so they can not just maintain but also improve their health.
What Is US FDA's Relevance For Your Business?
If you want to take your eCommerce business global, now is the best time to scale your business. Today, online shopping is one of the most popular online activities worldwide, especially in the United States.
Did you know? Revenue from eCommerce in the United States amounted to $431.6 bn in 2020 and is expected to increase to $563.4 bn dollars by 2025.
It is also important to note that India's exports rose 42.33% to $35.47 bn in October 2021. If you want to grab this opportunity with both hands and want to start exporting to the United States, it is natural for this question to pop up in your mind:
What is US FDA, and how does it affect your business?
If you want to export your products that fall in the category of FDA-regulated products, they are required to meet certain laws and regulations. For instance, food items must be pure, wholesome, safe to eat, and produced under sanitary conditions.
Such products are subject to inspection when offered for import into the United States. For a successful entry, they must not appear to violate FDA requirements. However, some products are subject to certification and/or testing due to a history of violations.

What Is US FDA's Regulatory Authority?
The scope of US FDA's regulatory authority is broader than one might think. FDA's duties are closely related to those of many other government agencies. Here's a list of the main product categories that fall under US FDA's jurisdiction.
Foods
Dietary supplements, bottled water, food additives, infant formulas, and other food items.
Drugs
Prescription drugs (both brand-name & generic) and over-the-counter drugs.
Biologics
Vaccines for humans, blood & blood products, cellular & gene therapy products, tissue & tissue products, and allergenics.
Medical Devices
Simple items like tongue depressors & bedpans, complex technologies like heart pacemakers, dental devices, and surgical implants & prosthetics.
Electronic Products that give off radiation
Microwave ovens, X-ray equipment, laser products, ultrasonic therapy equipment, mercury vapor lamps, and sunlamps.
Cosmetics
Color additives found in makeup & other personal care products, skin moisturizers & cleansers, and nail polish & perfume.
Veterinary Products
Livestock feeds, pet foods, and veterinary drugs & devices.
Tobacco Products
Cigarettes, cigarette tobacco, roll-your-own tobacco, and smokeless tobacco.
Advertising
The Federal Trade Commission is a federal agency that checks several types of advertising. The FTC protects consumers by reducing unfair, deceptive, or fraudulent practices in the marketplace.
Alcohol
The Department of the Treasury's Alcohol and Tobacco Tax and Trade Bureau (TTB) regulates alcohol production, importation, wholesale distribution, labeling, and advertising.
Consumer Products
The Consumer Product Safety Commission (CPSC) ensures safety of consumer products such as toys, cribs, power tools, cigarette lighters, household chemicals, and other products that pose a fire, electrical, chemical, or mechanical hazard.
Meat and Poultry
The U.S. Department of Agriculture's Food Safety and Inspection Service regulates the safety and labeling of traditional (non-game) meats, poultry, and certain egg products.
Water
The Environmental Protection Agency (EPA) regulates all critical aspects of drinking water. They develop national standards for drinking water from municipal water supplies (tap water) to limit impurities.
We hope we have provided you with a detailed answer to the question: What is US FDA, and what does US FDA regulate?
If you want to establish your eCommerce business globally and want to export your products to the United States, by now, you must have a clear idea about the role of US FDA.
Ship At The Lowest Rates
Apart from knowing the export-import rules and regulations, you also want to ship your products domestically as well as across the border at the minimum cost. We've got you covered.
By outsourcing your eCommerce warehousing & fulfillment operations to Shiprocket Fulfillment, you can ship your orders upto 20% cheaper. Using the in-house shipping solution, you can ship to 220+ countries at rates starting at just Rs. 110/50g.