Importance of Warehousing in Supply Chain Management
Warehousing is a requisite for most businesses that import, export, manufacture, or transport goods. While some may see it as an unnecessary expense, it actually saves money and boosts the overall productivity of the business. Warehousing plays a pivotal role in the supply chain management process, and its contribution is only expected to increase in the future.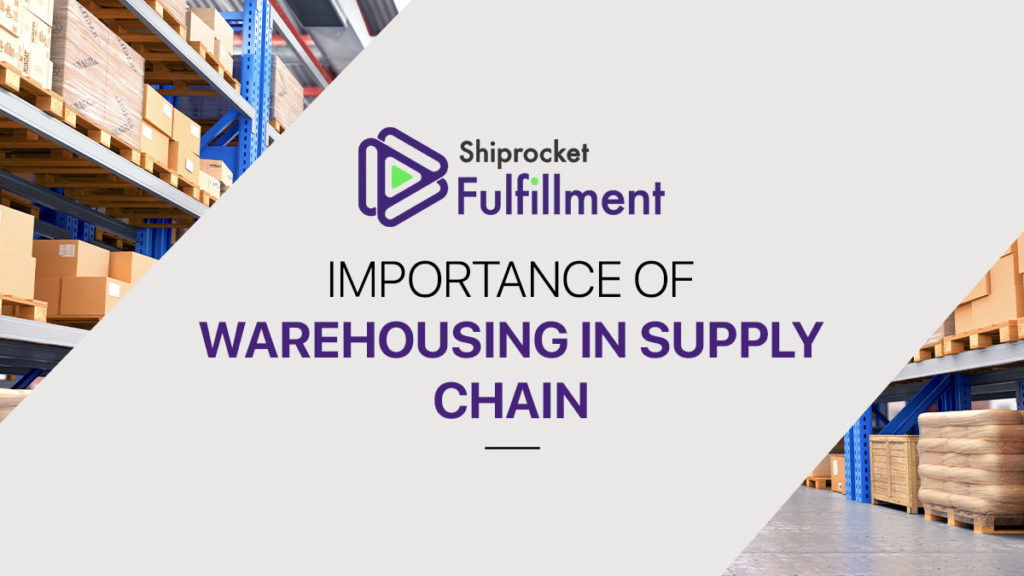 For sellers who are starting their business, investment in a warehouse may seem unnecessary that doesn't bring any significant return. However, a warehouse significantly contributes to the business and the entire supply chain process.
Understanding Warehousing
Warehousing is the process of storing inventory in an organized way. The process also includes distributing the inventory when an order is placed, or a requirement is raised.
A warehouse can be different for different business entities. A business running from home can use a room in their house as a warehouse. They can shift to a warehouse when they outgrow their space. Similarly, for an SME, a warehouse is the right choice to store goods.
Components of Warehousing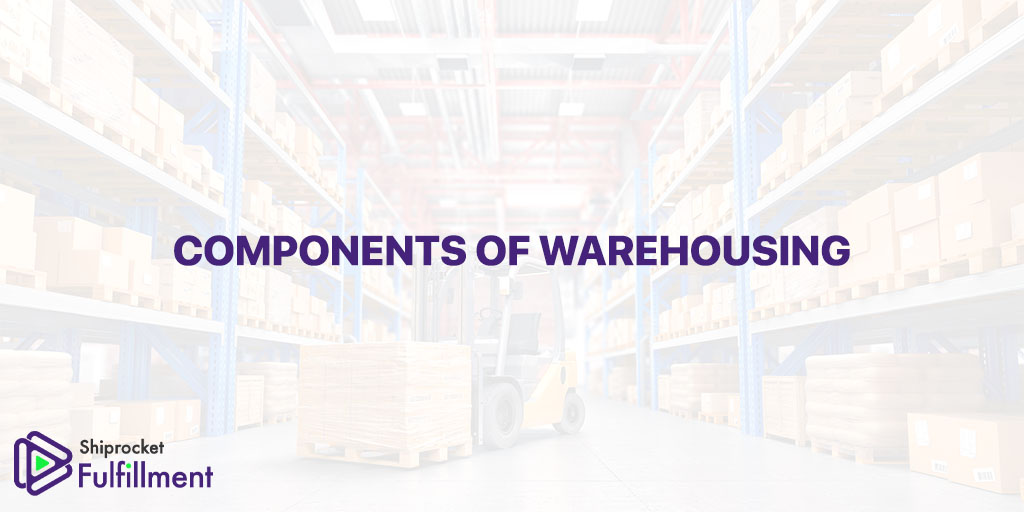 Staff must be competent and adequately trained to carry out their roles. They must also understand their roles and responsibilities.
The warehouse place must be safe and secure.
The material must be processed safely and efficiently in the warehouse.
Inventory should be stored appropriately and safely and must be easily accessible.
All the processes and procedures in the warehouse must be documented carefully.
All the operations must be geared towards eliminating inefficiencies in the process and improving the overall performance.
Know the strengths and weaknesses of the staff and processes.
Have contingent plans to tackle the situations when staff or equipment is unavailable.
Distribution Center VS Warehousing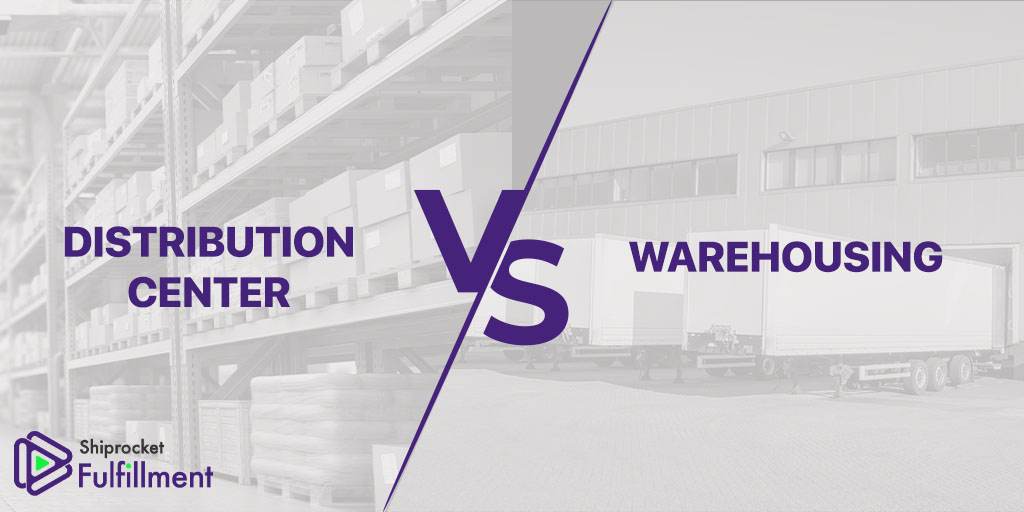 A warehouse is a building where you store goods. It is mainly used by wholesalers, manufacturers, importers, exporters, and even transport businesses. Warehouses are big buildings and are only used to store the inventory. They also have a dock to load and unload goods. So, they can receive goods directly from seaports, airports, and railways. Some warehouses are even equipped with cranes to move the inventory conveniently. Warehouses that are temperature-controlled are the best option to store inventory with temperature requirements.
On the other hand, a distribution center is a building that stores products, distributes them, and ships them to the customers. It is an integral part of the order fulfillment process. The retailer ships the products to a distribution center, and then the distribution center ships them to the customers.
The choice between a warehouse or distribution center depends on your specific needs. Both distribution centers and warehouses are identical, but their workings differ.
A warehouse suits those who require long-term storage and are not looking to ship the inventory immediately. On the other hand, a distribution center is best for companies that have fast inventory turnover. So, whenever you are confused between a warehouse vs a distribution center, your choice should be clear and well-informed.
Importance of Warehousing in the Supply Chain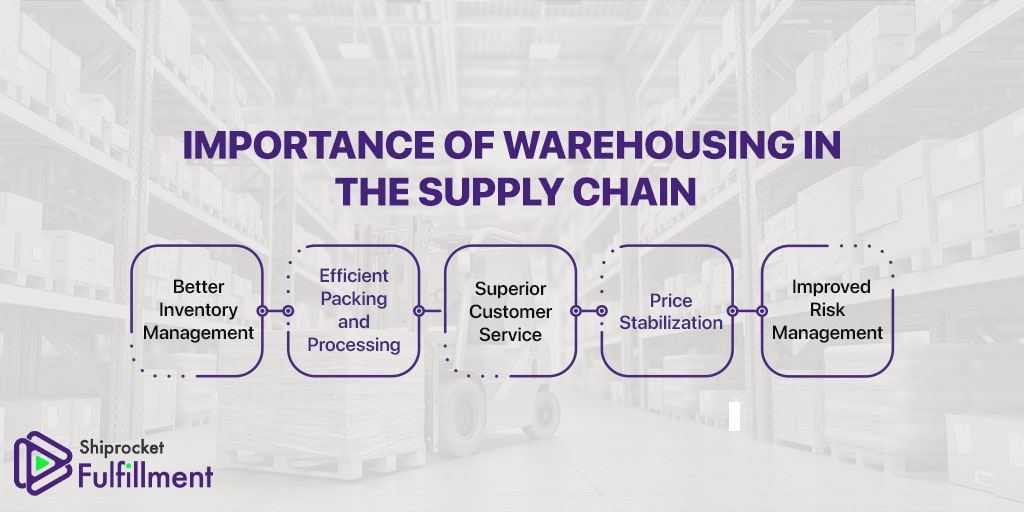 The buyers are unaware of warehousing operations. But it still impacts the overall buying and order fulfillment process. So, warehousing is indeed a vital part of the supply chain process.
Amid the worldwide pandemic, online shopping has become the most basic need of consumers. This implies that the warehousing process needs to be optimized to avoid all possible errors and speed up the overall delivery process.
Besides, it is vital to provide the best service to customers in today's competitive environment. This is where the importance of warehousing kicks in. A completely functional warehouse is critical for supply chain management:
Better Inventory Management
Most businesses don't have the habit of tracking their inventory regularly while some don't track at all. This can lead to delayed order processing, late shipment of orders, and decreased customer satisfaction.
A warehouse acts as a centralized location for storing inventory. It makes it easier to track and manage inventory. By investing in a warehouse, you will be able to store, ship, and distribute inventory efficiently. If some products are out of stock, you will know it. Thereby, you can provide your customers with an alternative option instead of keeping them waiting.
Efficient Packing and Processing
Most warehouses also provide the required supplies that you need to store, move, process, and package customers' orders. Loading docks, pallet racks, and packaging material are just a few to mention. This helps sellers save time and money and manage everything in one place.
A warehouse also enables you to pack the goods as per the customer's needs and packaging requirements. This helps in reducing cost while ensuring flexibility. This facility can act as an ideal distribution center while eliminating the need to hire additional employees to manage fulfillment.
Superior Customer Service
Nowadays, customers expect quick delivery of products. They also want to know the estimated time of delivery. In fact, the delivery time and speed are the primary things that convince the buyer to make a purchase. Besides, delivery speed is also taken into consideration when zeroing in on a shipping carrier.
Like any other business owner, you want to keep your customers satisfied with timely delivery. So, if you fail to deliver orders on time, your business will most definitely suffer. This can hurt your business profit and brand image.
If you store your products in a warehouse, you can offer timely delivery to your customers and also optimize your distribution. This will lead to increased productivity and enhance customer satisfaction. Warehousing also helps in reducing errors and damages that may happen during the order fulfillment process. Plus, warehousing aids in preventing goods from being lost or stolen during storage.

Price Stabilization
The demand for goods and services varies from day to day, month to month, and year to year. Some businesses have seasonal sales while some businesses' sales depend on customers' purchasing power, employment rates, government policies, and other such factors. So, you can store your products in a warehouse for later use when the demand is high in the market. This helps in price stabilization and reduces losses as well.
Suppose you manufacture or sell seasonal products such as air conditioners. So you can store them in a warehouse rather than selling them at par below cost when the summer season ends. This way, you can maintain consistent stock levels as well as the price.
Improved Risk Management
Warehousing provides a safe storage place to store perishable products. It protects against price fluctuations. Depending on your business type and needs, you can lease a warehouse with or without a refrigerator, freezer, and temperature control.
Perishable products, candles, artwork, and medication are a few examples of products that require temperature-controlled storage. A warehouse that offers all these services and can store goods at the required temperature can help prevent spoilage and change in products' color and texture. In all, this helps in increasing the shelf-life of the products and ensures high customer satisfaction.
Warehousing is indeed the backbone of supply chain management. It is the place where fulfillment operations take place. Therefore, it is crucial to choose the best end-to-end warehousing solution to help your business achieve success.