Reorder Level & Reorder Quantity Formula
What is the worst nightmare an eCommerce seller could have? The answer is- an unexpected stockout. If you don't update your inventory timely and adequately, you're inviting the risk of going out of stock during high demand.
On the other hand, having a lot of inventory would be an unnecessary investment. You never want your products to expire or become obsolete before you sell them.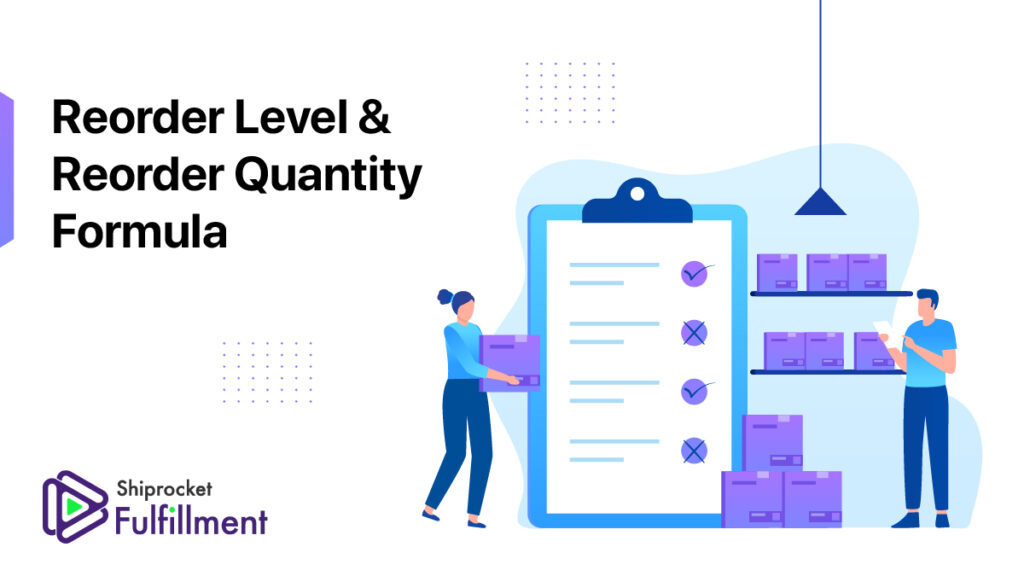 Therefore, you need to strike a balance between the two. This is where inventory management comes into play. By optimizing your inventory management process, you can maintain the right amount of inventory.
That's why you must know the reorder level and reorder qty to keep your shipping costs, storage space, and stockouts at a minimum. Let's understand what reorder level is and how you can calculate reorder quantity using the reorder quantity formula.
What Is Reorder Level Formula?
The reorder level formula or reorder point is that level of your inventory at which you need to place a request for preventing a stockout. It is usually based on the average time taken by the supplier/manufacturing team for recovery, maximum usage of the product during the recovery time, and safety stock requirement.
Ideally, the reorder level should result in the arrival of inventory as and when your existing inventory quantity has dropped to zero. However, it's always beneficial to keep an additional measure of stock, called safety stock, to meet immediate demand.
Calculating Reorder Level – Reorder Level Formula
The next question is – how is the reorder level calculated?
To calculate your reorder level, multiply your average daily usage rate by the lead time in days for an inventory item.
Suppose, Mamaearth experiences an average daily usage of its Vitamin C Hand Cream of 10000 units, and the lead time for producing new units is 5 days.
Hence, the reorder level is 10000 units x 5 days = 50000 units.
When the inventory level of Vitamin C Hand Cream declines to 50000 units in stock, Mamaearth should stock more units. By the time the additional units arrive in 5 days, the on-hand inventory balance should have dropped to zero.

What Is Reorder Quantity?
The reorder quantity is the total number of units of a particular product that needs to be recovered in the stock. This number depends on numerous factors like quantity discounts, shipping rates, warehousing costs, and working capital needs.
The ordered quantity or the number of units needs to be optimum considering the various factors like cost of the order, cost of transportation, carrying costs, etc. The reorder quantity is the quantity that provides the best balance between the various factors like quantity discounts, freight, storage costs, and working capital requirements.
Reorder qty is the total number of product units you request from a manufacturer or supplier on an inventory replenishment purchase order. The exact amount should not be so high that you have too much capital tied up in inventory and subsequent warehousing costs, but not so low that there's not enough safety stock and you risk selling out before you can get the next batch of inventory.
Reorder Quantity Formula
You can calculate reorder quantity in 3 easy steps using the reorder quantity formula.
Let's look at how this formula works in detail.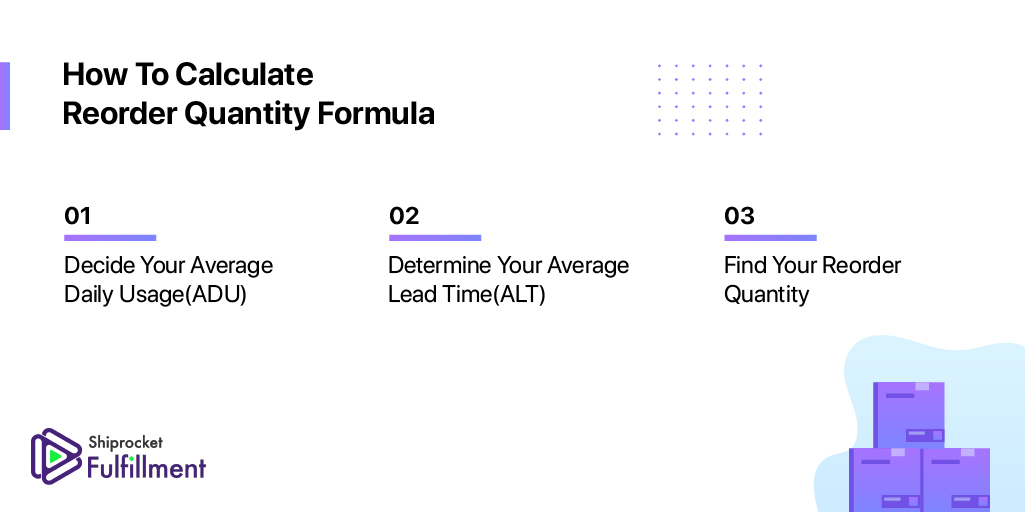 Decide your Average Daily Usage (ADU)
Average Daily Usage(ADU) is the total units of your product sold per day.
Usually, 30 days is a reasonable timeframe to consider, but it's dependent on the time of year. For example, if you need to order products in time for Diwali, your ADU should be calculated based on the previous year's Diwali ADU.
Determine your Average lead time (ALT)
Your Average Lead Time is the time(in days) taken between placing a purchase order and receiving the inventory.
For instance, if you reordered inventory on November 1, and that new inventory is ready to be used to fulfill your orders on November 30, then your ALT is 29 days.
Find Your Reorder Quantity
To know your reorder qty, all you need to do is multiply ADU and ALT. The result gives you the amount of inventory you need to reorder. Here's an example:
ADU = 10 units
ALT = 29 days
Your reorder quantity is equal to 290 units.
Why Do You Need Reorder Quantity Formula?
To Prevent Stockouts
Out of stock means lost customers. You can always offer backorders or split shipments, but those solutions don't provide a seamless customer experience.
Knowing your reorder level helps you ensure a recovery in time before your stocks run out, while reorder quantity enables you to order just enough to last until your next order.
To Minimize Costs
You also never want to block too much capital in your inventory. If your stock levels are too high, you'll need to scale up your warehousing storage capabilities.
By calculating reorder quantity, you can keep just enough inventory to meet your demand without overspending.
To Manage Inventory
When you know exactly how much to reorder and when you need to reorder, you can set up notifications in your inventory management system, enable live inventory tracking, and manage changes in demand over time.
Store Inventory Closest To Your Customers
Do you know? You can fulfill your orders 3X faster by storing your inventory closest to your customers in our PAN India network of fulfillment centers. This not only empowers you to provide 1-day & 2-day delivery but also reduces your shipping costs by upto 20%.
Get in touch with our warehousing and fulfillment experts today.