Quantitative & Qualitative Forecasting Techniques For Your Supply Chain
Did you know? Last year, global eCommerce sales crossed 4.2 trillion US dollars and are expected to rise to 5.4 trillion US dollars by next year.
To stay relevant in a market this big and to cater to the increasing demand, it is important to understand how to properly forecast your supply chain. Keeping your supply chain on-track results in stronger business relationships, better customer experience, and more capital to scale your business.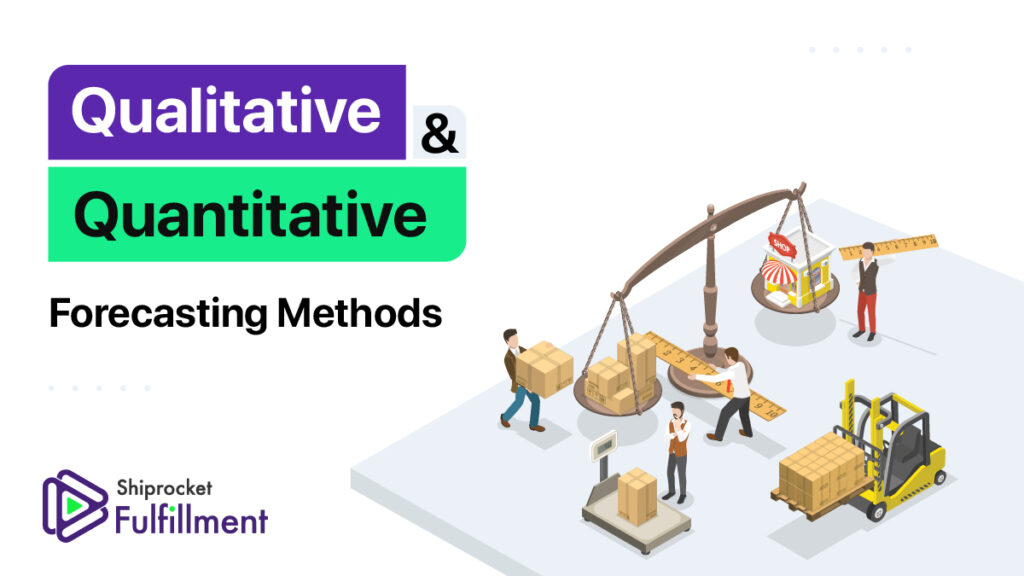 However, forecasting your supply accurately based on your historical data can be difficult at times. You, as a result, end up feeling worried and under-prepared for what's coming your way.
This is why it is crucial to know about the different quantitative and qualitative forecasting techniques & how you can use them to optimize your supply chain.
What Is Supply Chain Forecasting?
Supply chain forecasting refers to the process of predicting everything about your supply chain to ensure smooth running and continued growth. This is done using various data points and research methods.
Supply chain forecasting not just helps in demand forecasting and sales projections, but also makes it easy to determine production lead times, product pricing, labor needs, and others.
You can forecast your supply chain using two types of methods or techniques: quantitative and qualitative. Let's understand the qualitative and quantitative forecasting methods in detail:
What Are Quantitative & Qualitative Forecasting Techniques?
Quantitative forecasting methods use past data to determine future outcomes. The formulas used to arrive at a value are entirely based on the assumption that the future will majorly imitate history.
On the other hand, the Qualitative forecasting method is primarily based on fresh data like surveys and interviews, industry benchmarks, and competitive analysis. This technique is useful for newly launched products, or verticals wherein historical data doesn't exist yet.
Now that you know what qualitative and quantitative forecasting methods are, let's deep dive further: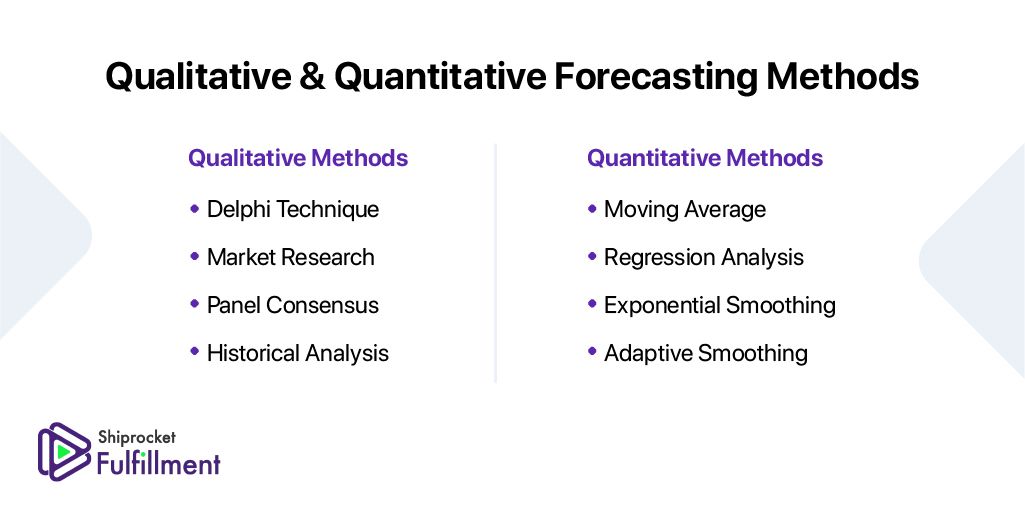 Qualitative Forecasting Techniques
Delphi Technique
In this method, a forecast is made, and then it is validated by experts. The estimates made are discussed in a group until all the members reach a consensus.
For instance, you could forecast the amount of inventory you need to hold to meet your holiday demand in the upcoming winter season. Your forecast could then be analyzed by all department heads in a group discussion until everyone is on the same page.
Market Research
Market research is one of the best methods of supply chain forecasting. Through market surveys, competitive analysis, and expert interviews, you can predict supply and demand, which is in line with your profit goals.
It can be implemented either internally by marketing experts or by a third party specializing in this field.
Panel Consensus
In this method, members from all levels of a business come together to make a forecast. It enables all the participants to express their opinions based on their knowledge and experience openly.
For example, you could work with your customer support team to identify which products are being given negative feedback and why. Similarly, you could ask your sales team to tell you your best-selling products.
Historical Analysis
This kind of forecasting is used to forecast sales on a presumption that a new product will have a similar sales pattern to that of an existing product. This can be either being sold by you or your close competitor.
Historical analysis might not be that accurate in the short term, but it can prove to be helpful in the medium as well as the long term.

Quantitative Forecasting Methods
Moving Average
Moving average is a statistical method in which the normal average is considered as the basic calculation for forecasting seasonal demand. To make your average move over time, you need to remove the oldest values from the data and add new values.
For instance, you could use your week-by-week revenue data to forecast revenue for the coming week using the moving average method.
Regression Analysis
Regression analysis is done by knowing the relationship between two or more variables. The idea is to measure the influence of one or more independent variables on a dependent variable.
This is a relatively faster and easier method to establish forecasts based on existing assumptions, like seasonality.
Exponential Smoothing
This method considers past data but gives more importance to recent observations. It allows you to make essentially data-driven forecasts without the need to examine multiple sets of data.
If you have the right tools, the exponential smoothing method can prove to be really effective for short-term forecasting.
Adaptive Smoothing
The adaptive smoothing method uses multiple variables to make a forecast. It helps you to dive deeper into changes over a period of time and pinpoint particular patterns.
By using this method, you can concentrate on specific variables and make wiser decisions.
That's all. By now, you must have a clear understanding of all the qualitative and quantitative forecasting methods. But which one is the best?
The Best Of All Qualitative & Quantitative Forecasting Methods
While there is no one best method of supply chain forecasting, it is important to note that short-term forecasts are generally more accurate than long-term forecasts.
In fact, it is also true that all of these qualitative and quantitative forecasting methods have some or other errors due to the underlying assumptions.
In a nutshell, the type of method you should use depends on your objectives. As the qualitative methods rely on subjective opinions, we suggest that you consider the quantitative methods to be a bit more reliable.
Strengthen Your Supply Chain
By outsourcing your eCommerce warehousing and fulfillment operations to Shiprocket Fulfillment, you can store your inventory closer to your customers in a PAN India network of fulfillment centers.
As a result, you can deliver your orders three times faster and easily manage a surge in demand. Strengthen your supply chain with efficient logistics. Get in touch with our fulfillment experts today.