Understanding the Concept of Flat-Rate International Shipping
eCommerce shipping is the most vital aspect of your eCommerce fulfillment supply chain. It can affect your budget if you do not consider the correct shipping costs and manage your margins accordingly. This becomes even more crucial when you ship internationally, as international shipping costs can be high. Also, to capture a large audience globally, you need to be careful about what you charge them for shipping. If the rates are very high, people will look for something locally. This is where flat rate international shipping can be of use. Let's look at what flat rate international shipping is and how it can be helpful for your business.
What is Flat-Rate International Shipping?
Flat-rate international shipping refers to the process of paying just one price for the complete shipping irrespective of the weight and size of the package.
Typically, weight slabs are decided, and a flat rate is applied for each slab. So if your weight falls under the slab, you will be charged a flat shipping rate.
For example, if the slab is 1 – 2 kg, and the price is Rs. 250, the price will remain the same for 1.3 kg, 1.5 kg, and 1.9 kg.
Flat-rate international shipping is applicable when you ship small packages across large distances internationally. Many carriers provide this service.
How is Flat-Rate International Shipping Useful?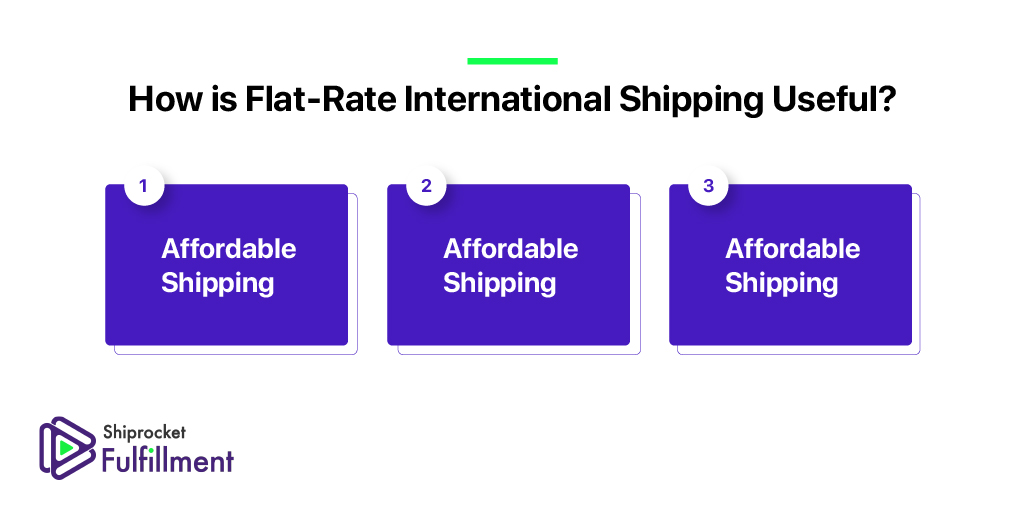 Affordable Shipping
Flat-rate international shipping can result in affordable shipping. Since the weight slabs are pre-decided, The pricing is substantially cheaper. This helps you ship at lower rates and charge customers a single price, enabling you to save on shipping costs and increasing your profit margins.
Simple Processing
With flat-rate international shipping, you do not need to weather products consistently, click pictures, and get in touch with courier companies in case of any disputes. A flat rate will help you ship quickly without getting into the nitty-gritty of reconciliation etc.
Fixed Shipping Costs
Since the shipping costs are fixed in flat rate shipping, you can market your products accordingly and ship them to customers with trust and reliability. A uniform shipping cost will help you reach more customers willing to spend the amount for international delivery.
Shiprocket Fulfillment – Make Your End-to-End Fulfillment Easier
Even if you control your shipping costs and set your margins with flat rate international shipping, you can easily end up spending more on fulfillment operations like inventory management, warehousing, packaging, etc. when you eventually scale your business. Therefore, 3PL fulfillment providers like Shiprocket Fulfillment can help you save on fulfillment and shipping costs by processing all orders for your business. All you need to do is send your inventory to our fulfillment centers, and our team will handle the rest—Shiprocket Fulfillment ships with a vast network of Shiprocket that helps you ship at the lowest possible cost.

Shiprocket Fulfillment has fulfillment centers located at several locations across the country. You can store your inventory there, and we will ship orders for you faster than ever. This will help you reduce the capital investment required to process and ship your orders. You can decrease shipping time and costs simultaneously.
Final Thoughts
Flat-rate international shipping is a lucrative concept for your business to reduce shipping costs and make shipping simple for your customers. However, if you want to scale and ship larger orders, flat rate shipping might not be the best option. Weigh out your requirements and decide the best shipping method for your business.