Things to Keep in Mind When Choosing a Wholesale Distributor
In e-commerce, your inventory is your biggest asset. Therefore it is always advisable to have extra inventory on hand or a large volume of inventory. This will help you prepare for tough times and also manage your sales in a more flexible fashion. In such circumstances, it is advisable to have access to a large volume of inventory so that you can process incoming orders faster.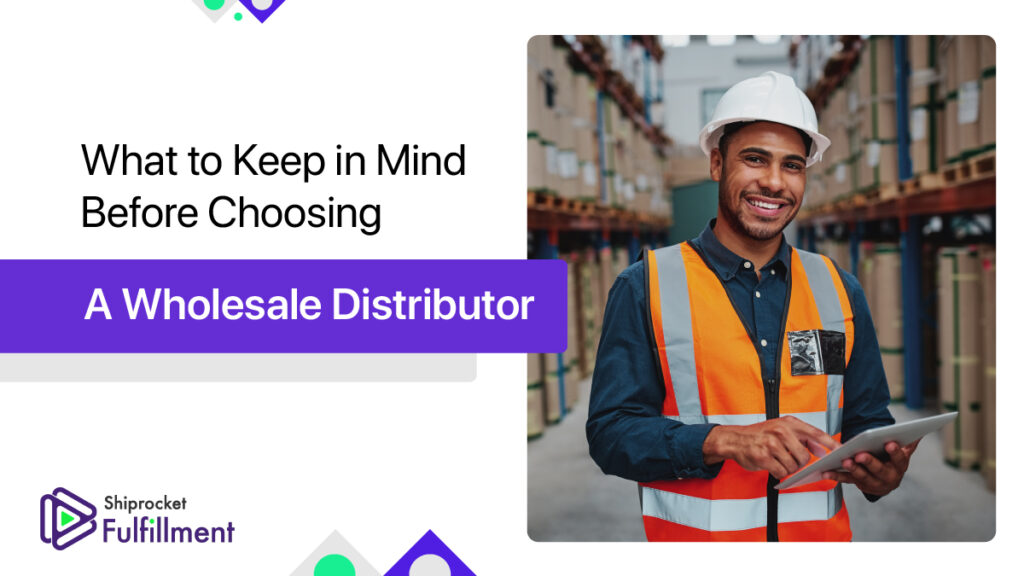 A wholesale distributor is somebody who can help you with this inventory. Let's have a look at the things you must keep in mind when choosing a wholesale distributor.
What is a Wholesale Distributor?
A wholesale distributor or a wholesaler is somebody who purchases a large number of goods directly from suppliers or manufacturers and resells them to retailers and e-commerce businesses. They are like the middleman between manufacturers and e-commerce businesses.
Significance of Wholesale Distributors
Wide Range of Products
Wholesalers usually have a wide range of goods at their disposal. Since they are purchasing in bulk they also get discounts from suppliers. So there is a good chance that you will get access to products you otherwise might not have.
Constant Access
The best part about wholesale distributors is that they have constant access to inventory. They are usually never out of stock and if you ever run out of inventory you can look over to them for a reliable supply.

Consistent Quality
Also, since the Vendors and suppliers of these wholesale distributors are fixed, they always maintain a cautious consistent quality of the goods. Therefore, you don't need to worry about quality checks, etc. as they carry them out at their end.
Geography Specific Products
Also, many of these wholesale distributors have connections with local manufacturers and suppliers. So they will also have a lot of geography-specific products. So if you want to expand your inventory or run specific offers with special products, wholesale distributors can really be of great help.
Things to Keep in Mind When Choosing a Wholesale Distributor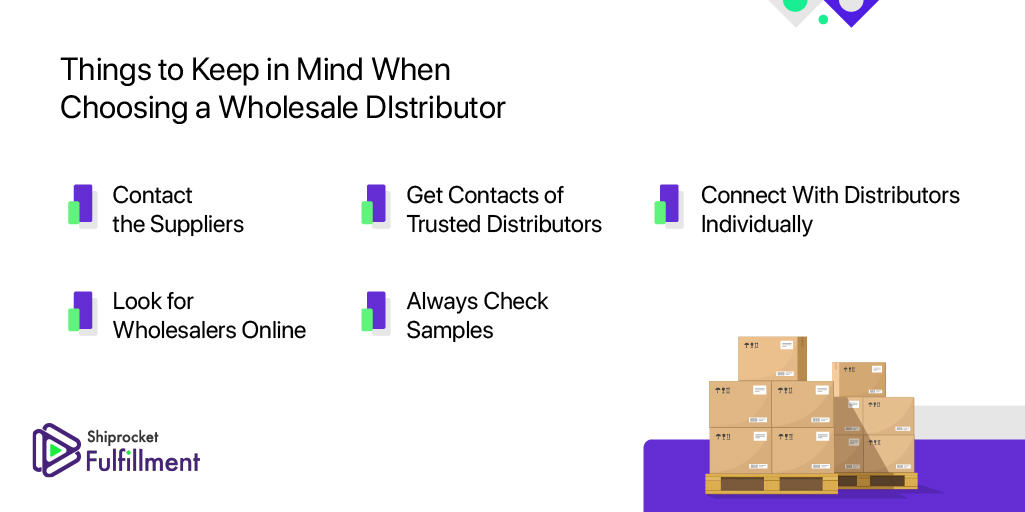 Contact the Suppliers
The first thing to keep in mind when choosing a wholesale distributor is to contact suppliers directly. Many times suppliers have great information about wholesale distributors as they deal with them directly. Therefore you must connect with suppliers try to get the maximum information from them.
Get Contacts of Trusted Distributors
From suppliers try to get contacts of trusted distributors. You will be able to source the best information from them based on the products as they have trusted contacts that have been built over the years.
Connect With Distributors Individually
The next step is to connect with distributors individually and see what products they sell, the minimum order quantity, and the selling price.
Look for Wholesalers Online
Also, you can look for wholesalers online who have their products listed on the marketplaces. Since B2B eCommerce is also gaining popularity these days, you will find many wholesalers at up their shop online.
Always Check Samples
Once you finalize the wholesalers you want to go ahead with, ask for samples to see how the products are and if they are sustainable enough to be listed on your online shop. Do not go ahead with any distributor without trying or checking samples.
Final Thoughts
eCommerce distributors can be a major boon for your business if you are looking for a variety of products at the best prices. Do your research thoroughly, study the market, talk to suppliers, and only then finalize the wholesaler you are going ahead with. It is a major commitment and requires two-way communication and input for the best results.