Best Warehousing Companies in Surat 2023
Surat, also known by several other names like The Silk City, The Diamond City and The Textile City, is located in the Western Indian state of Gujarat. Situated on the banks of the Tapti river, it used to be a large seaport. Surat's art and culture are incredibly diverse, and the city is a prominent trading centre attracting sellers from all over the world.
Today Surat has established itself as an important industrial and economic centre in India. With over 100 publicly traded enterprises, the Surat SEZ is emerging as a leading jewellery production hub. More than 5000 diamond manufacturing facilities, including some of the most cutting-edge plants, are located in Surat. Diamonds are cut and polished in the city to the extent of about 90% of the world's supply, making it the largest diamond manufacturing hub in the world.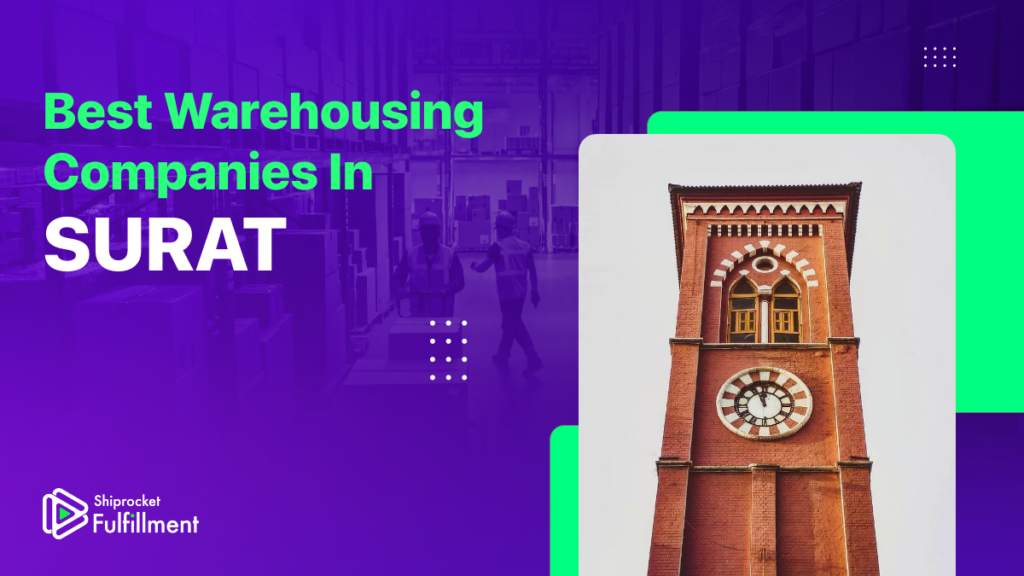 Surat is also renowned as the textile centre of the country since it produces textiles, mainly silk. It is famous for its Surat Zari Craft and has more than 1,00,000 units and mills. The leading MMF (man-made fibre) hub in India is Surat. The overall yearly turnover of the industry is approximately 5 billion rupees. The Microsoft CityNext Initiative, in collaboration with the two largest providers of IT services, Wipro and Tata Consultancy Services, has identified Surat as the first smart IT city in India. The town has various engineering plants, including Essar, Larsen & Toubro, and RIL.
In light of the city's booming business and trade, we have curated a list of the top warehousing companies for both new and existing enterprises to expand their business and take them to the next level.
List of Top Warehousing Companies in Surat
1. Ethics Prosperity Pvt. Ltd.
Ethics Prosperity is a reputed organization in the field of end-to-end supply chain management, established in 2009, with a presence in 120+ locations with 1.9M sq. Ft storage area and serving 19000+ pin codes. They offer various services such as warehousing and fulfillment center, temperature-controlled warehousing, distribution, logistics & reverse logistics, and so on.
2. Arrshan Logix
Arrshan Logix is a one-stop solution in the field of logistics and distribution. It has presence in the states of Gujarat, Maharashtra, Madhya Pradesh & Chattisgarh for over 3 decades. They offer warehousing, transportation & distribution services and are well-equipped to provide customized end-to-end delivery of cargo with expertise in road logistics operations from manufacturing locations to distribution centers to the final destination.
3. Shiprocket Fulfillment
Shiprocket Fulfillment is a reputed solution provider for warehousing, logistics, inventory, and storage distribution. They have more than 45 warehouses across the country with smart features such as WMS (Warehouse Management System), sales channel integration, logistics tech, and order management system. Shiprocket Fulfillment helps to store, manage, pack, and deliver orders for e-commerce sellers and enables sellers to offer their customers same-day and next-day delivery.

4. JN Logistics
JN Logistics is one of south Gujarat's leading integrated supply chain and logistics solutions providers and has been in the business for the last 25 years. They offer cost-effective and prompt customized transportation services, moving & packaging services, goods transportation services, warehousing services, and addressing the varied needs of eCommerce businesses across India.
5. Katson Logistics
Katson Logistics was established in 1987 by Mr. Jaikishan Katira. They provide supply chain and logistics services across the western and southern parts of India. Katson Logistics has expertise in 3PL and 4PL, warehousing, logistics, reverse logistics, and cold chain services. They also specialize in storing goods for later selling and distribution.

How To Choose The Best Warehousing Company in Surat
The process of choosing a warehouse for your business is more complex than it seems. One mistake and your business could go south. Here are a few factors involved in the process of choosing a warehouse.

1. Cost: With multiple options comes a tremendous amount of confusion. Usually, people go with the option which is the costliest due to the common perception-the costlier, the better! We recommend you go through as many options as possible and choose the one that provides the best facilities at the best cost.
2. Ease of Integration: It is challenging to achieve profit or even a breakeven if you have no footprint of your business online. Almost every business transacts or is in the process of transacting online on various platforms/marketplaces. Opt for a warehousing company which gives you the ease of integration with a maximum number of online marketplaces.
3. Location: The location of the warehouse directly impacts delivery services. The nearer the inventory is to the buyer's place, the quicker the delivery. The location of the warehouse to your user base not only affects the delivery time but also impacts the user experience, retention rate and repeat business.
4. Tech: The technical aspect of a warehouse should never be ignored. A good warehouse management system is as important as inventory management. This will increase your operational efficiency, and operational errors will be minimized, resulting in smoother business operations, better inventory prediction and, ultimately, increased revenue.
5. Workforce: The quality of the workforce is directly proportional to the operational accuracy of your warehouse. A good workforce can make or break your ground-level process in the warehouse. Always prefer a warehouse where the workforce is skilled and experienced.