Best 3PL Service Providers For Global Sellers In India
For an eCommerce business owner, fulfilling orders and managing returns becomes infeasible as the business grows. Similarly, for a global business setting its foot in India, it is challenging to fulfill orders in-house. Thus, it only makes sense to turn to a 3PL or third-party logistics to outsource the fulfillment process.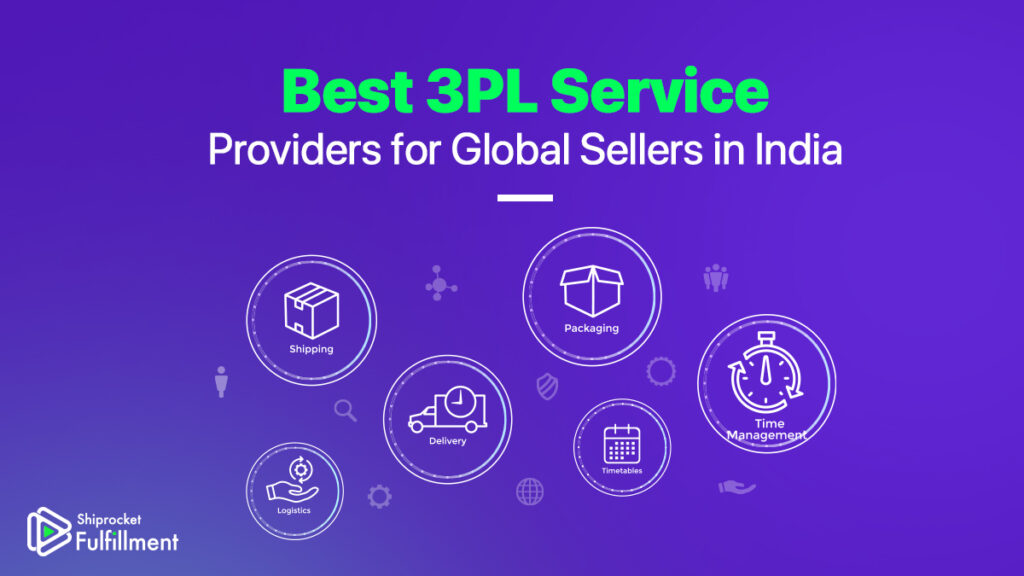 In this blog, we shall discuss what critical points you should consider while choosing the right 3PL for you and the best 3PL service providers for global businesses in India.
Considerations to Keep in Mind While Choosing a 3PL Partner
Capability
Every business has different needs. A third-party logistics provider might work exceptionally well in one department but lack flexibility in other departments. There is an increasing need for modern storage facilities and end-to-end fulfillment operations solutions. Also, consumer demand is ever-evolving. Thus, it is critical that the 3PL you choose is capable enough to meet all your requirements. Whether it is pallet displays or reverse logistics, the 3PL provider should be able to meet all your fulfillment and warehousing requirements suitably.
Reputation
When choosing a 3PL partner, it is imperative to choose a reputed one. A 3PL's reputation is built on the satisfied customers it is serving. You must partner with a reputed 3PL that can find solutions to all the challenges you might face while fulfilling your orders using their team, network, and connections. For instance, since a 3PL has connections in the market, it can negotiate a better deal for you with the courier companies. Thus, you can deliver your orders on time while also saving some extra bucks.
Stability
3PL providers who have been in the business for a while have vast field experience and know how to provide functional supply chain and logistics services. They know the nitty-gritty of the market and logistics industry. They are stable and can adapt to the changes in the market. Thus, they can help you stay ahead of the competition.
You need to look for a provider who has been in the market for some time and has multiple fulfillment centers across the country. This will help decrease both the shipping time and cost. Also, this will help you build a brand reputation among your customers.
Customer Service
An efficient customer support service is crucial to building a relationship with your customers. And a 3PL who has invested in customer service would certainly know the importance of quality management for your brand.
A 3PL with quality customer service can identify your customers' issues and resolve them in real time. It will also provide other beneficial services like shipment tracking. In a nutshell, they will offer all the services that will help make the logistics and fulfillment process less stressful while ensuring that your customers also get a delightful experience with your brand.
Technology
Technological advancements lead to better logistics services. The 3PL provider you choose should have tech-enabled fulfillment centers, so all the processes, from receiving an order to fulfilling it, are streamlined.
It is essential that your provider uses the latest technologies and has the best and most experienced team to meet your requirements. From offering sales channel integration services to having thoroughly equipped fulfillment centers, your 3PL should have it all.
Customized Solutions
Your eCommerce business can be a B2B, B2C, or retail distribution. You need to look for a 3PL that can offer customized solutions for your brand. And when it comes to customized solutions, the services you are getting should integrate with your supply chain seamlessly.
While packing orders, you might want to personalize your customers' experience. A 3PL offering customized solutions can help build a brand among your customers by providing the same services that you want to offer to your customers.

Top 3PL Service Providers
Shiprocket Fulfillment
Shiprocket Fulfillment is one of the most trusted 3PL service providers in India, and it has 45+ tech-enabled fulfillment centers across India. They will handle your inventory and pack and ship orders to 24,000+ pin codes in India and 220+ countries across the globe. Using their extensive courier distribution network, you can ship your orders using 14+ top courier partners.
You can also integrate your sales channels like Amazon and Shopify with Shiprocket Fulfillment and seamlessly process and ship your orders from a single platform. Global sellers planning to sell their products in India can easily trust Shiprocket Fulfillment with their order fulfillment process and grow their customer base.
Stockarea
Stockarea provides on-demand warehousing solutions and 3PL services in major cities like Chennai, Bangalore, Hyderabad, Mumbai, Kolkata, Ahmedabad, and Delhi. Its 3PL offerings include storage service, cold storage, B2B fulfillment, eCommerce fulfillment, FTL service, reverse logistics, customs clearance, ocean freight, and value-added services. You can control your logistics through the cloud platform and set up your remote inventory based on their warehousing network.
Mahindra Logistics Limited
Mahindra Logistics provides end-to-end logistics services that help businesses reduce delivery times and offer better customer service to their customers. Their services include warehousing, transportation, in-factory logistics, freight forwarding, and value-added services. Mahindra Logistics has 17+ mn sq. ft. warehousing space and uses high-end technology that ensures optimum operations efficiency.
Final Thoughts
Choosing the best 3PL partner for your eCommerce business takes careful consideration. It should be based on stability, technological advancement, customer service, and customization.