Here's How Shiprocket Fulfilment Helped Azad Ventures Offer Next-day Delivery to its Customers
Fast-moving consumer goods (FMCG) is India's fourth-largest sector. Household and personal care account for 50% of the total FMCG sales in India.
In the last few years, the FMCG market is growing at a faster pace. The FMCG market in India was expected to grow at a rate of 9-10% in 2020. In fact, as per a report by Statista, the FMCG market was valued at US $52.75 billion in 2018 and is expected to increase to US $220 billion by 2025.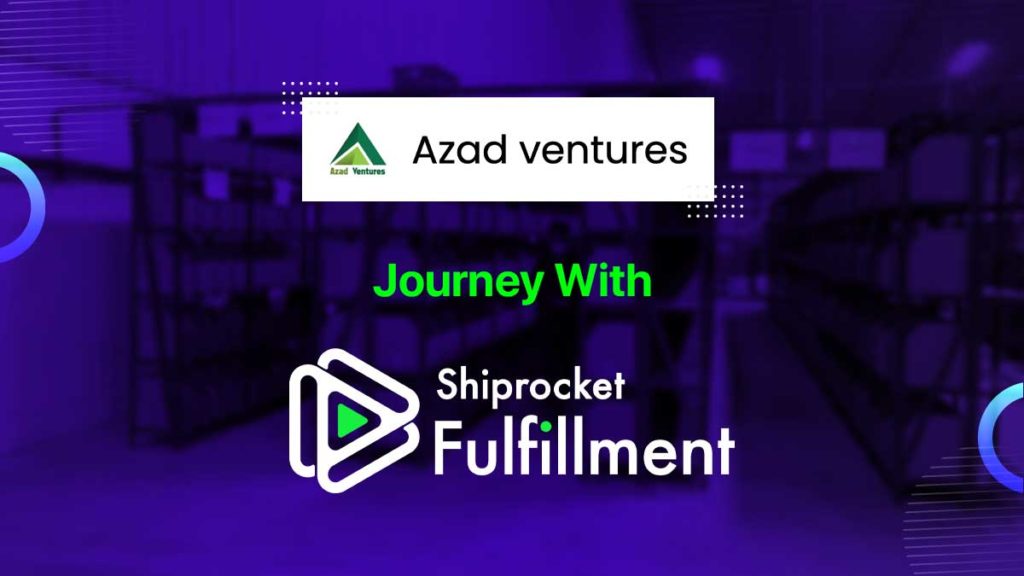 As per the numbers, there is indeed a lot of potential in the market. This is a great opportunity for many business owners operating in the FMCG retail market. In fact, many entrepreneurs have also started their business dealing in daily use FMCG products.
About Azad Ventures
Incepted as a small family business in 2016, Azad Ventures is a national and international trading and distribution company based in Shivamogga, Karnataka. The company primarily sources unique products from domestic and overseas markets and markets & distributes them. The management of the company has many years of field experience in importing and distributing products.
Azad Ventures first started with supplying mobile electronics. With time, it grew rapidly and now deals with various types of products, like gas safety devices, noni juice, and Dr psoriasis oil. Today, the company doesn't have any standard product but offers different FMCG products – it offers useful products like the gas safety device. It is used in a kitchen to avoid cylinder leakage and explosion.
The company has highly professional and experienced sales and marketing operations. The company meets all the basic and unique needs of its customers.

But, like all the brands, Azad Ventures also faced several hardships during its initial years. The business offers customer-driven products and hence, it found it really challenging in reaching the end customers. To overcome this challenge, the company appointed a direct delivery team who used to visit end customers and interact with them about the products on offer.
Besides, getting a shipping partner that can deliver products to far-off locations and on time was also difficult. Azad Ventures tried different shipping channels but finding the right one was difficult.
Warehousing with Shiprocket Fulfillment
Then, Azad Ventures came across Shiprocket through social media. Finally, it started dealing with Shiprocket and it resolved all the problems related to the products reaching the customers late. The company started with Shiprocket partially and then, started using Shiprocket Fulfillment services as well.

Shiprocket fulfillment is a warehousing and eCommerce fulfillment service offered by Shiprocket. The business owners can store their products in our state-of-the-art and tech-enabled warehouses to offer 3X faster deliveries to their customers. With Shiprocket Fulfillment, they can offer same-day and next-day delivery, reduce shipping costs, decrease RTO, and lower weight discrepancy.
Shiprocket Fulfillment also lets the business owners store their products in a warehouse without any capital investment in the infrastructure.

Company Azad Ventures likes several features of Shiprocket Fulfillment, like tracking of the shipment. They also like that the products are dispatched on time and they are informed about the status of the product delivery.
In their note, company Azad Ventures says that they don't worry about the pickup and drop of the products as everything is being taken care of by Shiprocket.