Best Warehousing Companies in Meerut
Meerut is situated in the northern Indian state of Uttar Pradesh. It has proved to be of immense importance historically as it has been on the main stage of numerous activities like The Revolt of 1857. Archaeological sites uncovered the foundation of an old Harappan village and Hastinapur, tying the city's past to the Indus Valley Civilization. The city opens up a page of history with many attractions like Suraj Kund, Hastinapur Wildlife Sanctuary, and Augharnath Temple, among others.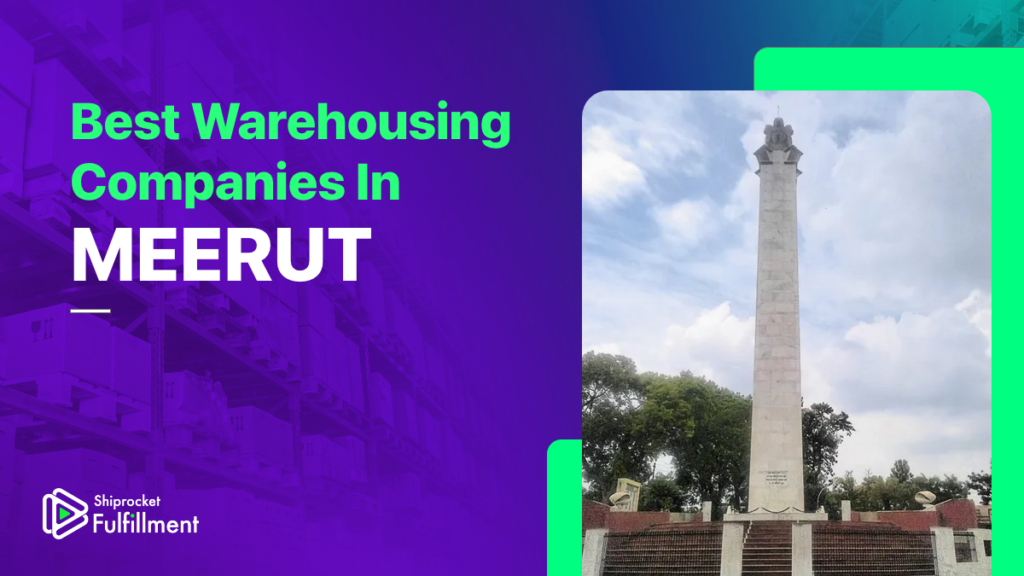 One of the major industrial hubs of Western Uttar Pradesh, the city is home to both established and emerging businesses. Meerut has a long history of producing goods related to agriculture, engineering, and smelting. It is among the earliest towns in northern India, where the publishing of newspapers and magazines was set up during the 19th century. In addition to the above, Meerut is India's largest musical instrument producer, and various sports items manufactured in the city are exported worldwide. Partapur and Udyog Puram are two industrial estates in the city under Uttar Pradesh State Industrial Development Corporation (UPSIDC).
Meerut is a rapidly growing city that offers a wide range of business opportunities in logistics and warehousing. The city's strategic location, well-developed infrastructure, and skilled workforce make it an attractive destination for companies looking to set up logistics and warehousing operations. Businesses can take advantage of the city's excellent connectivity to major markets and ports, as well as the availability of land and other resources to establish their operations. In this blog, we have compiled a list of the top warehousing companies in the city that can help your brand by providing reliable warehousing and order fulfillment services.
Top Warehousing Companies in Meerut
SM Logistics and Warehousing Company
SM Logistics & Warehousing Company is one of the leading warehousing companies that have grown multifold in the last few years. They provide hassle-free logistics and warehousing solutions at par with global companies. SM Logistics offer expert 3PL services, warehouse management, and distribution management. They are located in various places like Delhi NCR, Haryana, Punjab, and Himachal Pradesh.
Nitco Logistics
Nitco Logistics Pvt. Ltd. was founded in 1964, and today it is a multi-unit, multi-location & multi-faceted transport and logistics conglomerate. The company covers all major industrial and commercial centers across India and offers reliable and flexible services customized to suit specific requirements. Nitco offers various services such as 3PL services, air & sea freight services, auxiliary services, roadways services, bulk cargo carriers, etc.
Shiprocket Fulfillment
Shiprocket Fulfillment is a logistics and e-commerce fulfillment platform that offers warehousing and order fulfillment services to businesses. They provide a centralized location to store, manage inventory, and handle order fulfillment, including picking, packing, and shipping. Their warehousing services can help e-commerce businesses streamline their logistics operations, reduce costs, and offer delivery times to customers.

Hira Lal & Sons
Hira Lal & Sons is a leading warehousing and logistics solutions provider in Meerut since 1962. It caters to a wide variety of industries, including telecommunications, cement, industrial equipment, and fertilizers. They provide optimal warehousing solutions to clients with a wide range of facilities and help customers better plan the transportation of their goods through easy access.
How to Choose the Best Warehousing and Fulfillment Company in Meerut
When choosing a warehousing and 3PL eCommerce fulfillment services provider, it is important to consider a few key factors such as:
Location: The provider should be located in a strategic area that is easily accessible to your customers and suppliers. A warehouse located closer to your customers will reduce transit times, which in turn can improve customer satisfaction and increase repeat business.
Cost: Cost is also important when choosing a warehousing service provider. Get detailed quotes and compare costs for different providers to ensure you are getting the best value for your money. However, it is important to remember that the cheapest option may not always be the best option. It's essential to consider the overall value the provider can offer and not just the cost.
Security: The provider should have robust security measures in place to protect your inventory and other assets from theft, damage, and other risks.
Compliance: The warehouse should comply with all relevant regulations and standards, such as safety and environmental standards, to ensure that your business operates legally and ethically.
Communication: The provider should have a dedicated support team that can handle your inquiries and concerns quickly and efficiently. They should also be able to provide regular updates and reports on your inventory, orders, and other logistics-related information.
Network: The provider should have a well-established network of partners and suppliers, which allows them to offer a wide range of services and meet the needs of businesses of all sizes and types.
In conclusion, choosing the right warehousing and 3PL fulfillment services provider is crucial for the success of your business. By considering the factors mentioned above, you can ensure that you select a provider that can meet your specific needs and help you achieve your business goals.