Best Warehousing Companies in Kochi
Kochi (erstwhile Cochin) is a major port city as well as a financial and business hub. As a major center of the spice trade and other export-import activities, Kochi has grown to become the business and commerce capital of Kerala. Kochi also fairs well on economic development, enhanced connectivity, and educational facilities. These factors have made Kochi one of the country's most densely populated urban clusters.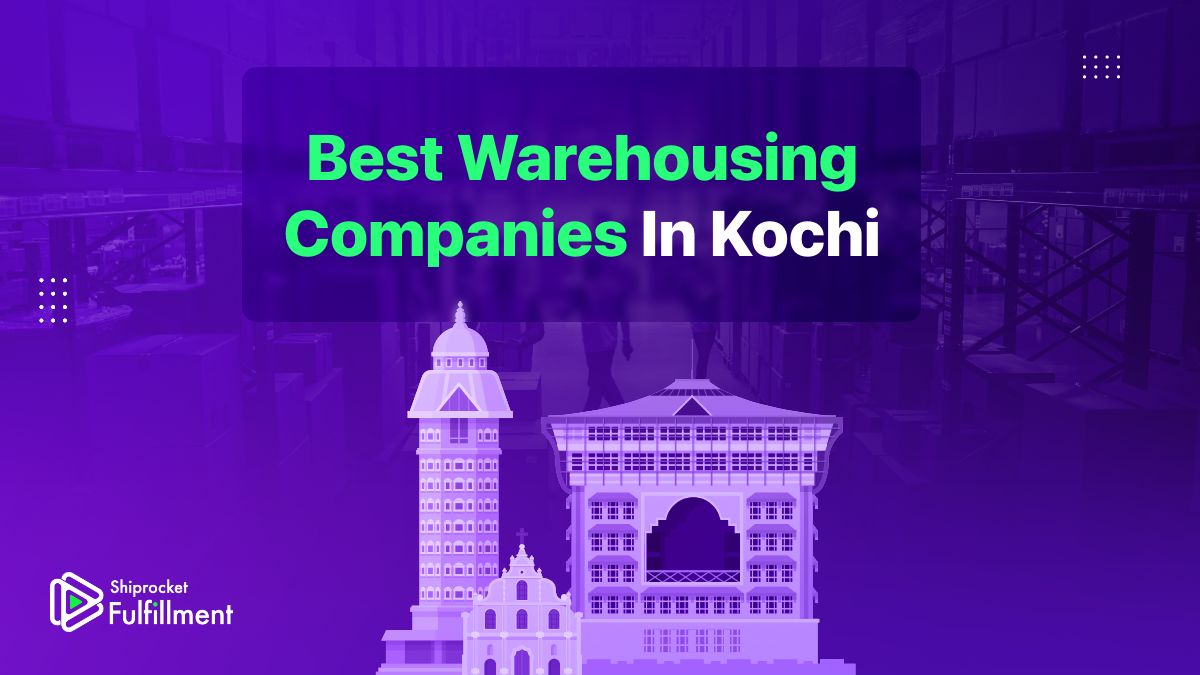 Besides hosting organizations like The Spices Board of India, Coconut Development Board, International Pepper Exchange, and World Spice Organisation, Kochi is also home to firms like BPCL, HMT, Apollo Tyres, FACT, IREL, Petronet LNG, Kochi Refineries, V-Guard and more. In recent years the IT/ITES sector has also seen bustling growth in the city, with the city now boasting of industrial parks like the famous Infopark, Cochin Special Economic Zone, and Smart City, among others.
This has led to the real estate market seeing a period of sustained growth, with both residential and commercial destinations witnessing a boom in demand. Major industrial and warehousing centres include Kalamassery, Varapuzha, Tripunithura, Aluva, Eloor, and some parts on the periphery of NH-17.
With the city's business and commerce on an upward trajectory, we have curated a list of the best warehousing companies for new and traditional businesses.

List of Top Warehousing Companies in Kochi
Mint Logistics
Mint Logistics is Kerala based clearing & forwarding company with its corporate office in Cochin. The company's expertise lies in core logistics and multifunctional freight forwarding business. Mint Logistics has expertise in providing a variety of services such as clearing and forwarding, warehouse management, freight forwarding etc.
Almi Shipping & Logistics
Almi Shipping & Logistics provides international logistics services and provides quality delivery services to its customers. Almi specializes in warehousing & distribution, international cross trades, air freight, customs house work, project logistics, international inland transportation, and worldwide ocean freight.
Beta Exim Logistics Pvt. Ltd.
Founded in 2007 and headquartered in Cochin, it is the fastest-growing logistics company in South India. The company has earned substantial expertise in warehousing operations and manages one lakh sq ft of warehousing space in Cochin. Their warehouses are equipped with the latest technology & trained professionals.
Shiprocket Fulfillment
Shiprocket Fulfillment provides end-to-end eCommerce fulfillment and warehousing solutions to their customers, having 45+ technology-enabled, state-of-the-art fulfillment centers across the country. Shiprocket Fulfillment helps to store, manage, pack, and deliver orders for eCommerce sellers and enables you to offer your customers same-day and next-day delivery.
With Shiprocket Fulfillment, you'll be able to store your inventory near your buyers or target group. This will result in up to 60% less transit time and help reduce upto 30-35% overall shipping costs.
Group Mukkadan
Group Mukkadan/Caspian has almost 20 years of experience in distribution, supply chain logistics, warehousing, and transportation. The company is known for its proficiency in warehouse management services, fulfillment processes, and an extensive network of delivery fleets.
Jasmine Logistics Private Limited
Jasmine Logistics is one of the most trusted and reliable logistics companies, having branch offices in India and covering all seaports such as Mundra, Kandla, Pipavav, Mumbai, Goa, Tuticorin, Cochin, Chennai, Visakhapatnam, and more. Jasmine Logistics specializes in sea freight, air freight, shipping, warehousing, transportation, doorstep delivery, DDP, DDU, and supply chain.
Kochi as a Major Transshipment Hub
With its long and illustrious history as a major shipping hub and the presence of an international airport, Kochi is poised to serve as a major transshipment hub for container cargo with the International Container Transshipment Terminal operating out of Vallarpadam. The city is also home to the country's first marina facility and an international cruise terminal. Warehousing and logistics will play a significant role in the city's economy for years to come.
How to Choose the Best Warehousing Provider in Kochi
The following factors will help you evaluate the best warehousing/3PL provider for your eCommerce business.
Nature of the business: Whether you are running a B2B or B2C business, your requirements from a warehousing provider will vary. Similarly, if you are a traditional business, your requirements will be different from a business which is also engaged in eCommerce. Do lay out your exact requirements to the provider so they can provide you with the best solution.
Ease of integration: Since warehouses store inventory critical to your business, you must ensure that integration with the provider is seamless for both systems and people. Check the compatibility of your existing systems with those provided by the warehousing provider.
Location: Depending on the locations of your production centers as well as your customers, the right location can allow you to decrease lead and delivery times, helping you save as much as 20-30% on your bottom line.
Flexibility: The provider should be able to share an overview of capabilities to handle surges in business due to external and internal factors like festivals, bulk arrivals, etc. Similarly, recent years have shown that even the most resilient supply chains are not shockproof. Hence the capacity provided by the warehouse should be able to match those fluctuations.
Network footprint: It is a well-established fact that keeping your fulfillment centers close to your customers is the best way to reduce courier costs and assure fast delivery. This can only be made possible if the provider has a PAN India footprint of warehouses to support operations in a geographically large country like India.
Technology: Your technology requirements will be primarily governed by the set of existing systems and processes. However, state-of-the-art WMS (Warehouse Management Systems) and OMS (Order Management Systems) are a must for modern warehouses for a seamless inventory flow. Do evaluate this closely.
Returns management: Returns are an inevitable part of any delivery operation. Evaluate your own returns requirements and whether the warehousing provider will be able to manage the same.
Cost: Warehousing operations vary in terms of the scope of activities handled by the provider. Typical activities include inventory management, storage, picking and packing, and shipping. The commercial discussions should involve each of these components and components that might get attributed to value-added services as required by your business.
Conclusion
This guide is intended to help you understand the nuances of warehousing and identify the top providers of warehousing and fulfillment in Kochi. Warehousing and fulfillment done right can help you save on your cost and result in business growth of up to 60 per cent, depending on the nature of the business. We hope this guide enables you to select the best warehousing partner for your business.