Best Warehousing Companies in Gurugram
Gurugram, earlier known as Gurgaon, is the second-largest city located in the Northern Indian state of Haryana. It is one of Delhi's major satellite cities and a part of the National Capital Region, well connected via an Expressway and Delhi metro. It has witnessed phenomenal growth in all spheres of development, particularly in industry and urbanization. Today, it has become a hub of multinational companies, industry giants, call centers, software companies, shopping malls, and skyscrapers.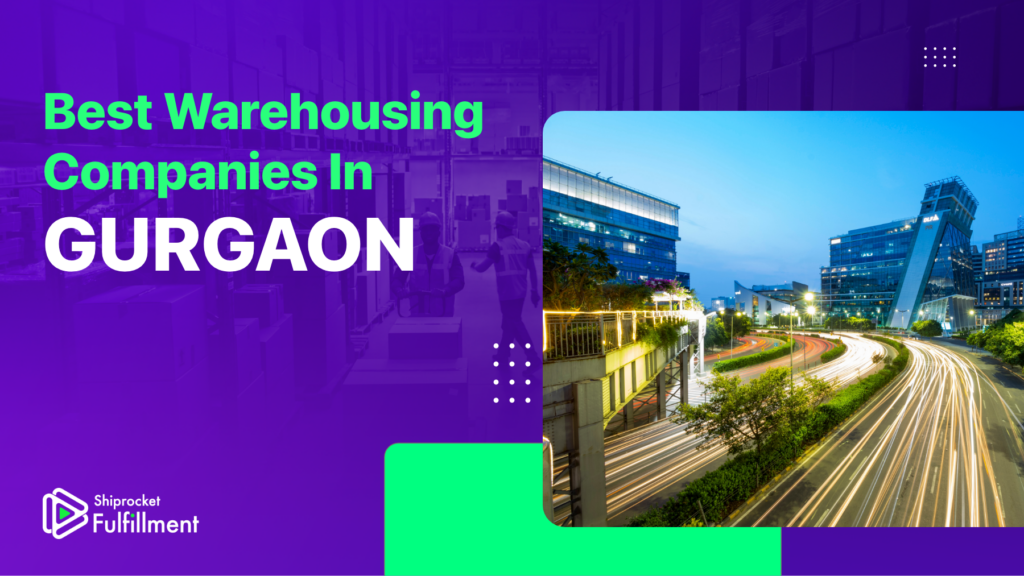 The city is India's second-largest IT and third-largest financial & banking hub. Many of India's top firms have their headquarters in the city and abode thousands of start-ups, businesses, and local offices of more than 250 Fortune 500 companies. Its excellent connectivity with other states via Delhi-Jaipur-Ahmedabad broad gauge rail link and NH-8 brings thousands of people to Gurugram for the purpose of work, travel & entertainment. Along with accommodating corporate companies, there are many prominent and prestigious units involved in the manufacturing of telecom equipment, electrical goods, sports items, readymade garments, etc.
Given its rapid development, Gurugram has emerged as an important district in Haryana. Here's a list of top warehousing companies in the city which will take your eCommerce business to new heights.
List of Top 10 Warehousing Companies in Gurugram
Radiant 3PL Solutions India Pvt. Ltd.
Radiant 3PL, founded in 2018, provides not only third-party logistics but is a strategic supply chain partner across PAN India. They offer best-class services such as warehousing, air cargo, transportation, distribution, reverse logistics, and value-added services and target 125+ major cities with 20+ branches in India. Their warehouses & branches are managed by highly experienced and professional teams.
FIT 3PL Warehousing
FIT 3PL was incorporated in 1977. It specializes in logistics solutions and has grown to be a full-fledged 3PL company providing end-to-end logistics services such as warehousing, distribution, in-plant logistics, fulfillment, first mile, long haul, express, last mile, packaging, and other value-added services. They have 75 warehouses across 33 cities and manage over 2.2 Mn Sq Ft of space across PAN India.
Shiprocket Fulfillment
If you are looking for a warehousing and fulfillment solution, Shiprocket Fulfillment is your best bet. Shiprocket Fulfillment helps to store, manage, pack, and deliver orders for eCommerce sellers with 45+ tech-enabled fulfillment centers across PAN India, such as Delhi, Pune, Gurugram, Hyderabad, Bangalore, Guwahati, Kolkata, Chennai, Jaipur, Lucknow, Chandigarh, Ludhiana, Kochi, Bhubaneshwar, Patna, Indore, Surat and many more. With Shiprocket Fulfillment, you can store inventory close to buyers and deliver conveniently across 24000+ pin codes with a vast distribution network powered by 25+ courier partners.

Ritco Logistics
Ritco Logistics, established in 1996, offers best-in-class logistics services. Ritco Logistics provides the best solutions for pricing, pickup, and delivery, routing & load matching. They offer services such as contract logistics, FTL transportation, warehousing and distribution, fleet management, and aggregated services and have 11+ warehouses with 3.5 lakh Sq.Ft. space.
Vinsum Axpress India Pvt Ltd.
Vinsum Axpress was founded by Mr. Vinod Sharma in 2002. Vinsum Axpress started its operation in the courier & cargo segment providing multimodal transportation and then gradually moving on to warehousing solutions while providing value-added services through 3PL & inventory management. Headquartered in Gurugram, they have 75+ branches and 53+ warehouses across India.
Anyspaze
Anyspaze are experts in warehousing, supply chain, and transportation solutions. They offer flexible and efficient warehouses equipped with smart security systems and temperature-controlled devices for complete protection and safety of products, also providing the best transport and shipping services available all over the world.
Fastogistics
Established in the UAE in 2018, Fastlogic has now grown into a worldwide logistics and shipping provider operating 60 offices in over 14 countries and serving 5000 customers. It aims to capture a sizable segment of the global economy of $100 trillion with a wide range of services that range from international air freight, global air charter operations, project and heavy cargo, international ocean freight, overland transport, warehousing and distribution, dangerous goods handling to customs clearance. Some of its services are very advanced and designed to meet specialised needs with textile logistics, livestock shipping, and more. Its main offices in India are in Mumbai and Kolkata, one of its most extensive warehousing facilities.
Delhivery
Founded in 2011, this logistics company has grown into a nationwide provider, delivering to over 18,500 cities and towns using 24 automated facilities/warehouses as sorting centers and 94 gateways for cargo clearance. It also has 2880 direct delivery centers and a diverse workforce of over 57,000 people. With over 27000 active customers, Delhivery offers quality warehousing services to its customers in Gurgaon and nationwide. The industries it currently supports are lifestyle, automotive, consumer electronics, consumer durables, FMCG, and manufacturing.
Rivigo
While the name 'Rivigo' is new to many people, its parent company Mahindra Logistics Limited is a brand that is well known. Rivigo works with 400+ business partners and offers first and last-mile support with 150+ daily national line hauls, 150+ daily feeders for regional connectivity and maintaining zero-defect operations. It is one of the first to offer EV transportation in the logistics sector. It is working towards achieving IGBC and LEED certification for its warehouses spread across many cities of India and managing multiple client inventories in extensive facilities. It has a workforce of over 22,000 inducted by its inclusive hiring policies and supportive work conditions that have led to the prestigious – Great Place to Work certification.
FedEx
Begun in 1965 by a Yale undergraduate named Fredrick W. Smith, FedEx is the first of the pioneering logistics providers in the world. It is committed to the safe and overnight delivery of parcels and has had operations in the Middle East, India, South Asia, and Africa since 1989. It offers a wide range of international shipping services and easy-to-use tracking services, specialised expertise, and capabilities like shipping lithium batteries or healthcare and medical logistics. With extensive service centers across India, FedEx meets the logistics and warehousing needs of small and large businesses in Gurgaon.
How To Choose A Top Warehousing Company in Gurgaon?
Before choosing a warehouse for your business, be it a B2B model, B2C, D2C, online or offline, there is a certain checklist that needs to be followed. While choosing your warehouse, one should keep the following factors in mind.

1. Cost: As Gurgaon comes with a lot of options for warehousing in the city and its outskirts, these options create a lot of confusion for the customers in terms of rates. So, the best way to get this sorted is to go through the maximum number of options available and compare the prices of the ones which fit your requirements.
2. Tech ability: Gone are the days when the warehouse was just an old-school large building with racks to store your inventory. Modern warehouses are much more than that. Now, an ideal warehouse comes with an Order Management System, Warehouse Management System, which helps with inventory management, inventory prediction, calculation of SKU dissipation rate, etc. This will not only make your business operations smooth but will also uplift the business revenue.
3. Flexibility: An ideal warehouse should be flexible enough to cater to a large variety of businesses. As market trends keep changing with time, it is natural for your business to change along with it. Imagine discontinuing your lease with one warehouse and signing up for another every couple of years as your business requirements change.
4. Ease of Integration: Every online marketplace platform has its own technical requirements and challenges when it comes to integration. OMS (Order Management System) being used in the warehouse must be capable and versatile enough to handle all the integrations. Failing to do this, there will be a roadblock in your business growth.
5. Trained Workforce: The sole reason you outsource warehouse operations is to save your bandwidth and focus on growth strategy and marketing for your business. Lack of trained workforce will need your continuous intervention in the warehouse operations. If so, the purpose of outsourcing will be ultimately defeated.
Above mentioned pointers are just a few of a long list of vital factors involved in choosing an appropriate warehouse for your business. Do your research, keep your options open, test the possibilities, and make an informed decision.