India's Top 3PL Services International Businesses Can Rely On
If you are an online business owner, you probably already know the importance of order fulfillment for efficient business operations. As your business grows, you will find it challenging to fulfill orders in-house. Focusing on product development, marketing, and building relationships with customers gradually becomes difficult while simultaneously fulfilling orders.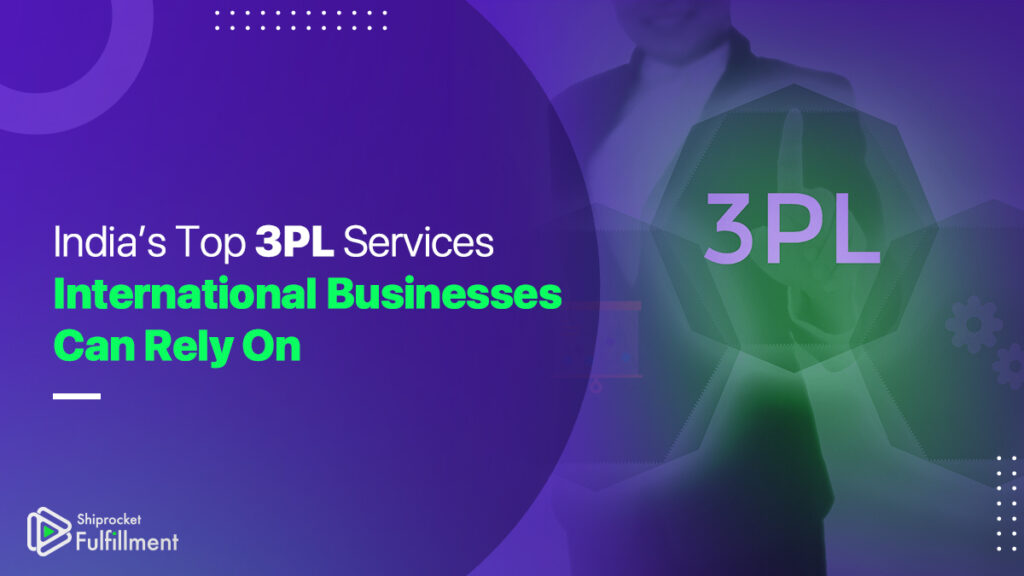 That's where 3PL service providers come into play. They are experts in managing inventory, picking, packing, and shipping orders. They also help you manage return orders better. International businesses planning to expand in India can especially trust 3PL companies with their order fulfillment operations.
Let's look at what you can expect from 3PL service providers and the top 3PL services you can rely on.
What is a 3PL Service Provider?
Third-party logistics or 3PL service providers help eCommerce sellers streamline their supply chain. Services offered by them commonly include inventory and warehouse management, order fulfillment, and managing returns. Partnering with them allows you to focus on your core business functionalities without worrying about fulfilling orders.
Instead of managing your warehousing or fulfilling orders yourself, you can partner with a 3PL and ship orders from their fulfillment centers. When a customer places an order on your sales channel, the order is directly shipped from the fulfillment center on your behalf. The process is straightforward, and you get access to a 3PL's expertise. Meanwhile, you can focus on developing, marketing, and selling more products.
For many online businesses, 3PL providers have proven vital for their success.
Services Offered by Third-Party Logistics
The types of services offered by 3PL vary from one provider to another. In general, the following are the services provided by them:
Procurement: Procuring and storing goods and managing inventory.
Order Fulfillment: Picking, packing, arranging for shipping, and fulfilling an order.
Storage: Storing the inventory for short or long term.
Return Orders: Arranging for reverse logistics, managing return orders and adding them to the stock.
What to Expect from 3PL Service Providers?
Here are the benefits you can expect for your eCommerce business from a 3PL partner:
Cost Savings
3PL providers are specialized in inventory management and logistics. They have a comparatively extensive supply chain network and good know-how in the logistics sector. They can negotiate better deals for you and help save costs.
By outsourcing your order fulfillment process, you can save on overhead costs. Besides, you can also save on other expenses like infrastructure, warehousing, staff, and technology.
Access to Expertise
In today's world, technology keeps updating frequently. It is tough to stay on top of the ever-changing technology and have expertise in all the operations. On the other hand, 3PL providers have the required knowledge and expertise in such operations. They are especially beneficial for international businesses that want to enter the Indian eCommerce sector. Also, they can help companies to enter a new market smoothly.
Improved Customer Satisfaction
With better fulfillment operations, customers will receive their orders on time, improving customer satisfaction. In return, this will lead to greater brand reliability and repeat purchases.
Business Growth (H3)
Reliable third-party logistics service providers help drive business growth by giving you access to new markets where you couldn't establish your presence earlier. Serving customers in a new area without investing significant money in warehousing and equipment is one of the greatest benefits of 3PL providers.
Flexibility and Scalability
Another advantage of 3PL is that they offer flexibility and scalability by efficiently utilizing supply and distribution resources. Thus, when the sales are down, no money is stuck with unutilized resources. And during high demands, businesses can scale.

Top 3PL Companies in India You Can Trust
Shiprocket Fulfillment
One of the top order fulfillment & warehousing companies, Shiprocket Fulfillment offers end-to-end fulfillment services to 600+ sellers. It has 45+ warehouses across the country, and a delivery network spread across 24000 pin codes, with 17+ leading courier partners on board. Its features include efficient fulfillment services, low-cost shipping, and superior customer experience.
Blue Dart
Blue Dart has temperature-controlled solutions that are backed with reliable shipping solutions. It offers logistics services to 35000 locations in India and uses air transportation as its primary shipping mode. It has significant expertise in customs operations and is the best option for sellers looking for frozen, chilled, and ambient conditions to store products.
Delhivery
Delhivery offers multi-channel order fulfillment solutions to help online sellers improve the speed and cost-efficiency of their supply chain. Its services include distribution, inventory management, returns management, and temperature-controlled freight solutions. It serves various industries, including automotive, consumer, retail, electronics, industrial products, pharma, and healthcare.
Summing Up
Numerous 3PL providers are operating in India that global businesses can partner with. They all have different services on offer. Partnering with a 3PL will help you serve your customers better and take your business to new heights!