Reduce RTOs With These Packing Materials This Festive Season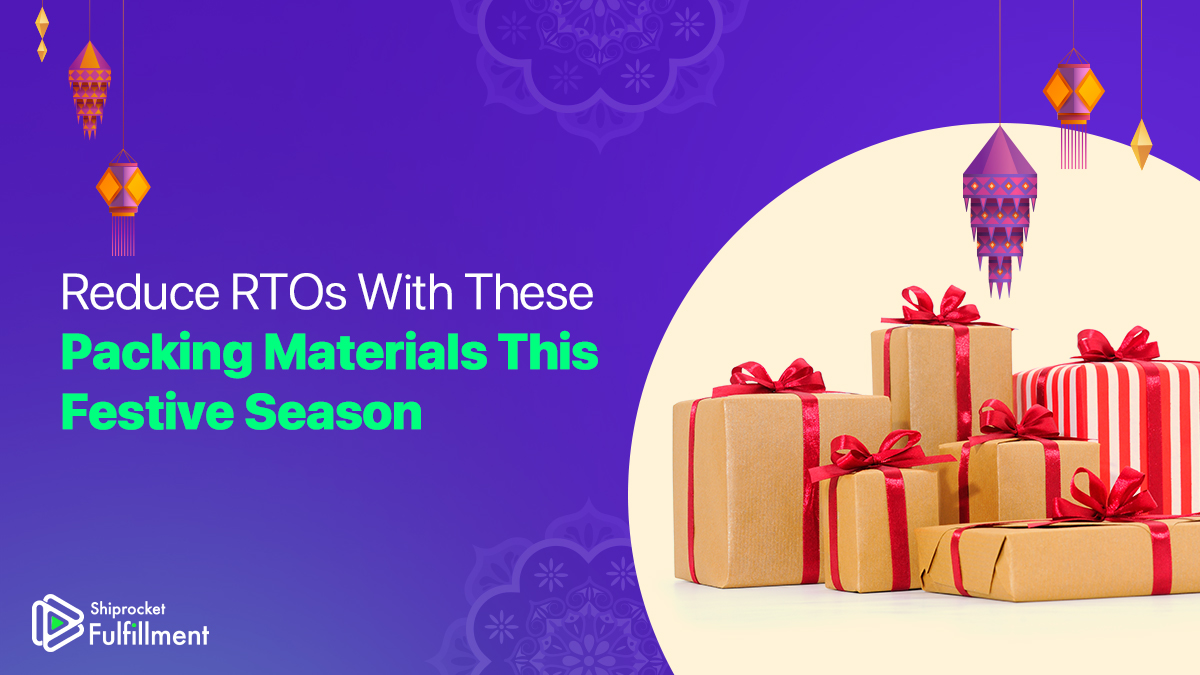 The festive season is knocking at the door, and we know what that means for your business – a surge in orders. But with more orders, there come more hassles too. Mismanagement of time and resources, hasty work, poor packing of products and delivery delays during the season rush becomes a source of stress for businesses.
While brick-and-mortar stores deal with the seasonal rush in specific ways, it is different for ecommerce businesses. The chances of orders returning to origin are high, and the returned orders end up being deadstock.
Inadequate Packing = More RTOs. There is a direct correlation between product packing and RTO orders. If the product is packed improperly, there are higher chances of it getting damaged, thus, an increase in RTO orders. Quite simple.
Difference Between Packing & Packaging
Often used interchangeably, these terms are not quite the same. There is a difference between the two. While packing refers to the layers inside the box to protect the product from damage, the packaging is done to the parcel or orders shipped to the customer. These processes overlap at certain points and purposes but have distinct roles.
Packing
It is the process of making a container or box suitable for a product to ensure safe transportation and storage.
Packing is a material used to cover a product and stop it from moving around and getting damaged.
Packing prevents the product or items from breakage, leakage, pilferage, etc.
Different methods used in packing are wrapping, cushioning, weatherproofing and sealing.
Common materials used for packing are bubble wrap, cardboard, cellophane, foam packaging etc.
Packaging
It is the designing and manufacturing of an attractive box or bags using which the products are packed, stored and made ready for transportation.
Packaging is an essential tool in marketing for boosting sales.
Besides protecting the product from damage, good packaging also engages the customers.
Businesses use packaging to engage and build a visual relationship with customers.
There are two types of packaging – primary and secondary.
Marketers use primary packaging to sell the product to end customers.
Secondary packaging is used to transport the product from one place to another.

Why Is Proper Product Packing Important?
For Protection
The main and the most apparent reason for packing a product is for its protection against damage, breakage and pilferage. Packing gives the product a cushioning and a snug fit inside the box, so it does not stay loose or rattle during storage, handling and transportation. The suitable packing material also shields the product directly from heat, humidity and other factors that might damage the product.
For Safety
In logistics, mistakes happen, and unforeseen problems arise. Despite proper packing, a product may break or get damaged. Choosing the suitable material to pack can be the difference between safe return/ disposal or a disaster waiting to happen.
For example, if you sell glass vases, it is best to wrap the vase in paper or bubble wrap and then put it inside the box with other dunnage. This way, even if the glass breaks, the shards will still be held in the paper and minimise the risk of cuts when the customer tries to take the product out of the box.
Sustainability
Businesses are trying to reduce their carbon footprint, and proper packing is a crucial aspect of that. Using recyclable packing materials takes this one step further and positively impacts your customers' minds. This affects the brand, the product and the business overall. Switching from heavy-duty plastic wrapping to dried leaves and using paper packing instead of styrofoam blocks are some ways companies are trying out these small but effective changes.
Common Types Of Packing Materials
Air Bags
These are plastic bags or pillows filled with air and sealed tightly to offer protection to products. It works as a space filler for shock absorption and damage protection.
Bubble Wrap
This is the most common type of packing material used by businesses. It is lightweight and is used to wrap fragile items like glass, ceramics etc. Companies can reuse this material if the bubbles remain unpopped.
Dried Leaves
In recent years, there has been a rise in the use of dried leaves as a cheap and eco-friendly alternative to plastic. Leaves from bamboo, banana, and coconut trees are used for packing. They work similar to paper but require less processing.
Paper Honeycomb
Paper honeycomb is another eco-friendly packing material. It has strength and rigidity because of its unique form of hexagonal-shaped cells. This material is lightweight and has seven times the strength of traditional cardboard.
PE Foam
Polyethylene foam is a durable and versatile material that is used for packing. These are dense materials that can be used as rolls, buns, sheets or custom cut to fit the product.
Styrofoam Pellets
Also known as packing peanuts or foam popcorn, these are loose-fill packaging and cushioning materials used to prevent damage to fragile objects during shipping. They are shaped to interlock when compressed and free flow when not compressed.
Kraft Paper
This material is made of recycled paper that is typically crinkled and stuffed into packages. It is popular as it is eco-friendly, inexpensive, reusable and effective against damage and shock.
Corrugated Paper
Corrugated paper is made from layers of brown wrapping paper laminated together and used as a flat, thin sheet. It has more strength and durability than Kraft paper and offers a better packing finish to the product.
Thermocol
Also known as stretch polystyrene, thermocol is a popular choice as a lightweight packing material. Although not the most eco-friendly, this material is known for its strength, energy absorption capacity and cushioning effect.
Fiber Packing
Fiber packaging can be made from different materials. These include recycled newspaper, cardboard, or natural fibers such as wood pulp, bamboo, bagasse, and wheat straw. Known as pulp packing, these materials are made with renewable resources, compostable, and completely biodegradable.
Packing Tips For eCommerce Businesses
Choose suitable materials for packing your products. When packing, consider the product's weight, shape, size, fragility and value and choose the material accordingly.
Pack each item individually. Do not leave any space, but do not overfill your box or container.
Keep sufficient cushioning. Having insufficient fillers will have the product to bounce around in the box during delivery. Overstuffed boxes, on the other hand, can burst open during delivery.
After packing your product/s, seal the box properly. Use the H-Taping method to close the boxes for the best sealability. Use brown tape or duct tape.
If you cannot manage the packing, it's best to take help from a 3PL provider like Shiprocket Fulfillment than struggle with in-house packing and packaging.
Summary
Proper packing can save businesses a lot of hassles. The festive season will bring a rush of orders, and it can be challenging to manage all of them properly. With these tips, businesses can manage their packing effectively and reduce product damage, breakage or spillage, reducing the overall number of RTO orders. These practices will help prevent damage to your product when shipping and can save you money on replacing damaged goods. Appropriate packing improves customer experience and results in a strong brand with satisfied customers.