Procurement & Supply Chain Management: Knowing the Difference
To handle the rapidly changing customer demand and compete in the cut-throat competition, all business owners need to know the different supply chain terms and operating models. The supply chain is an interconnected network and plays a crucial role in delivering customers a satisfactory experience. Furthermore, planning, manufacturing, procuring, managing inventory, and logistics play a vital role in running a business efficiently and achieving business objectives.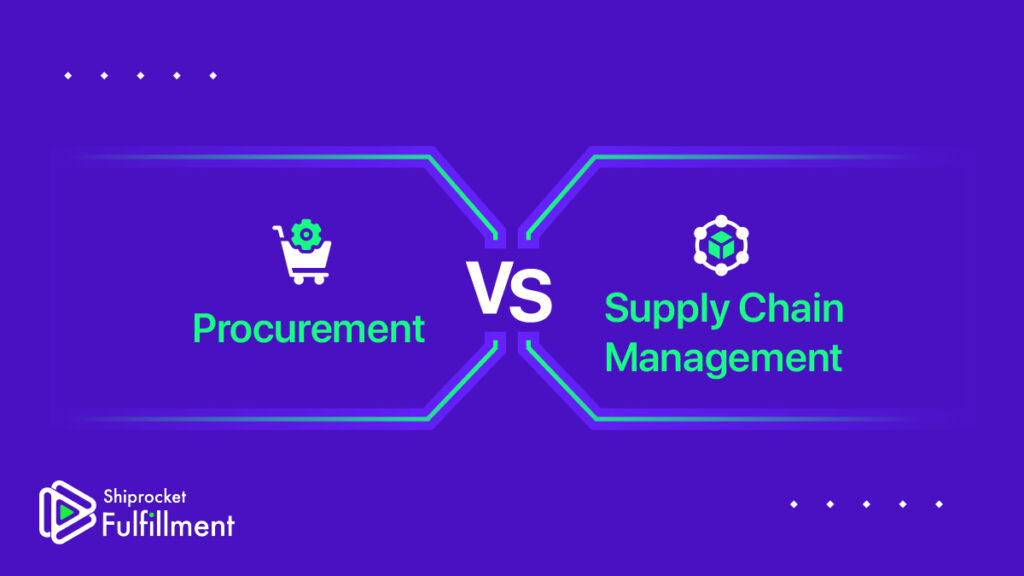 What is Procurement?
Essentially, procurement is the process of acquiring goods and services from the manufacturer to carry out your operations. Product procurement is a part of supply chain management, and it covers the following:
Identifying suppliers and finalizing one
Planning product purchase
Deciding product quality
Negotiating prices
Identifying financing options
Acquiring products and services
The aim of acquiring products is to have stock in hand to meet customer demands without delays. The main stages in procurement include preparing and processing the product demand and its payment approval. The other aspects include acquiring inventory at the best possible rates and ensuring its good quality and quantity.
Importance of Procurement
Most businesses would find it difficult to operate without procurement. But avoiding delays, errors, and maximizing resources is just a part of the reason why procurement management plays an important role. It ensures that a business acquires all products and services on time and successfully. It also offers a business competitive advantage as it helps optimize resources and save time and money.
The supply chain has become bigger, and procurement has become its essential function. It offers strategic support to a business to grow in terms of revenue. With procurement management, you can negotiate supplier contracts, adopt innovative processes, and take your business to better and bigger levels.
Steps in Procurement Process
Managing products, goods, and services procurement consists of several steps and processes. Though these differ from one to another organization, they typically can include:
Step 1: Planning and Specifying
To establish a need for a product or service, it is crucial to specify the product itself. You also need to understand what type of product is to be ordered and when to be reordered. And for that, there is a need for planning and forecasting – you can take the help of data and projections for this.
Step 2: Identifying Suppliers
Identify suppliers and choose the best among them to meet your product needs. You can either acquire products from an already established relationship or research new suppliers and send them proposals and quotations.
This step doesn't end here. Negotiate the prices and terms and conditions with your chosen supplier. Also, clearly communicate your requirements and expectations with them.
Step 3: Place an Order
When you place an order, specify the quantity, product specification, price, delivery date, and all other terms and conditions of the products to be supplied. The Purchase Order is also the source of truth.

Step 4: Expedite the Order & Inspect the Purchase
Sometimes, expediting the order is necessary due to various reasons. You can examine the timeliness, which may help reveal underlying issues like payment dates, delivery time, etc.
Next, review the orders and inspect their quality and quantity. Ensure that the products are up to the mark and are right in amount. You can match the received order concerning their PO (purchase order). If what is delivered to you is not as per the PO, raise a concern with the supplier and replace the products.
Step 5: Payment
The last step is to complete the payment process after inspection as per the amount agreed on the invoice. Notably, it is vital to record all the order receipts and records for auditing and tax purposes. These receipts will also help you confirm the product warranty, and you can use them for the reordering purpose as well.
If required, share your feedback with the supplier for possible improvements and changes.
What is Supply Chain?
The supply chain is an extensive network of product manufacturers, suppliers, logistics enablers, and all other parties involved in getting the manufactured product to reach the end consumer. It also involves raw material providers, transportation companies, warehouses, and enablers that help move the product.
Evidently, product procurement and sourcing are a critical part of the entire process.
Now, let us talk about supply chain management; it is an act of managing the entire supply chain process professionally to ensure maximum operation efficiency. The ultimate goal of managing the supply chain is to reduce storing access inventory while also ensuring that you meet all demands. So, supply chain management includes activities ranging from procurement to product delivery to the customer.
Procurement VS Supply Chain Management
While supply chain and procurement are directly related, these two functions can't be interchanged. Procurement is the process of getting products, services, and materials that you require. The supply chain transforms the acquired goods and services into the final products to be distributed to the customers as efficiently as possible.