Top Logistics Companies in Tamil Nadu [2023]
Tamil Nadu is a state located in the southern part of India. It is known for its rich cultural heritage, including its ancient Dravidian architecture and its traditional dance form, Bharatanatyam. The state is also famous for its vibrant film industry and is referred to as Kollywood, the second-largest film industry in India.
Tamil Nadu is an important agricultural state, with crops like rice, millet, sugarcane, and cotton grown extensively. The state is also a hub for the automobile and software industries, with cities like Chennai, Coimbatore, and Hosur being major industrial centers.
Tourism is an important sector in Tamil Nadu, with its pristine beaches, historic temples, and hill stations attracting millions of visitors every year. Some of the most famous tourist destinations include the Mahabalipuram UNESCO World Heritage site, the Brihadisvara Temple in Thanjavur, and the hill station of Kodaikanal.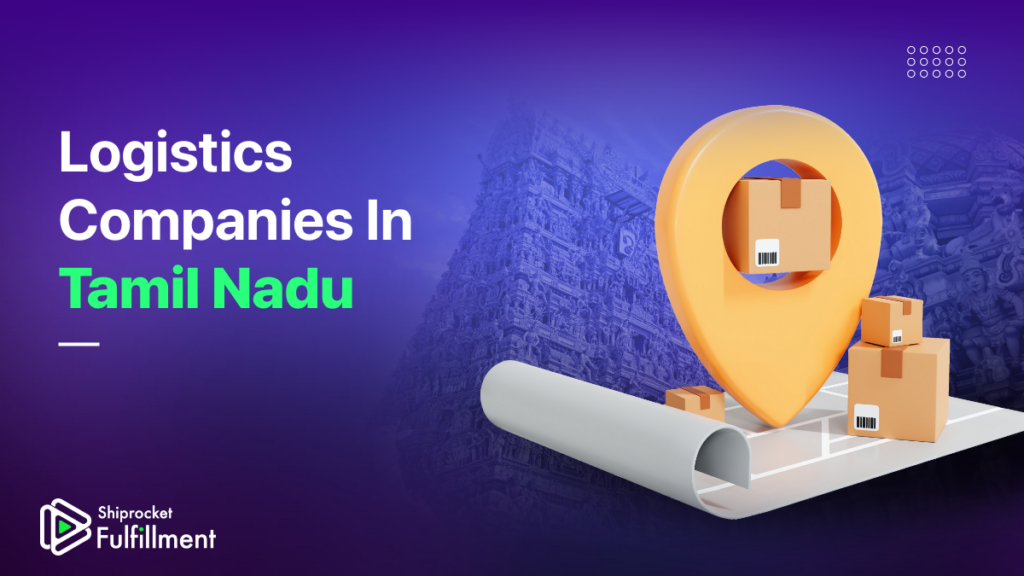 The logistics industry in Tamil Nadu is growing rapidly, driven by the increasing demand for efficient and reliable transportation and distribution services. This presents a significant opportunity for entrepreneurs and companies looking to start or expand an eCommerce business in the state.
However, it is important to keep in mind that there may be specific requirements and regulations that must be followed based on the nature of the business and its location. To ensure a smooth and successful start, here is a list of some prominent logistics companies in Tamil Nadu to help you expand your eCommerce business.
Top Logistics Companies in Tamil Nadu
Sarvam Logistics
Sarvam Logistics is a private limited company operating in the transportation and logistics industry in India. Based in Tamil Nadu, the company provides supply chain management and logistics services to clients across a range of industries. It offers a wide range of services, including freight forwarding, warehouse, and storage solutions, domestic & international shipping, and so on.
Albatross Logistics
Albatross Logistics, established in 2002, is a Multimodal Transport Operator (MTO), freight forwarder, and Non-Vessel Operating Common Carrier (NVOCC) in India. Albatross Logistics provides a full range of logistics services, including sea freight, air freight, customs clearance, warehousing, trans-shipment and re-forwarding, sales order administration, and domestic distribution. This means that they offer a comprehensive range of solutions for the transportation and storage of goods and can provide their clients with a one-stop solution for all their logistics needs.
Shiprocket Fulfillment
Shiprocket Fulfillment offers end-to-end fulfillment services. The company's goal is to make it easier and more efficient for online merchants to store, manage and deliver their products to customers. Shiprocket Fulfillment provides an integrated platform that streamlines the entire order fulfillment process, helping online businesses save time and reduce costs. Shiprocket Fulfillment operates a network of 45+ fulfillment centers across India, which enables it to provide fast and reliable delivery to customers in different parts of the country. The company works with leading courier companies to ensure that products are delivered to customers on time and in good condition.

Gloshipping
Established in 1995, Gloshipping is a shipping and logistics company that offers various services, including sea freight, air freight, warehousing, and customs clearance. Gloshipping has a robust global presence in over 50 countries and provides customized logistics solutions to help customers manage their import and export operations with ease.
Luxor Logistics
Luxor Logistics is a provider of international freight and logistics services. Established in 2012, it offers a range of services, including air and sea consolidation, multimodal and intermodal shipments, customs brokerage, warehousing, and delivery services. The company aims to meet the growing demand for a one-stop-shop solution for all transportation needs. With a focus on customer satisfaction, Luxor Logistics strives to provide high-quality services at competitive prices.
VTL Logistics
VTL Logistics Pvt. Ltd., a leading logistics company in Tamil Nadu, is committed to providing exceptional services for international businesses. Its services include custom clearance services, air freight, sea freight, outsourced warehouse management, and trucking.
When it comes to customs clearance, VTL Logistics handles the entire process for both imports and exports by air and sea at all of their locations. They have the IATA Accredited Air Cargo Agent status, which means they are authorised to handle air cargo shipments according to international standards. For ocean shipments, they take care of all the necessary customs clearance requirements.
Moreover, VTL Logistics has its own fleet of trucks that can be hired for contracted or regular trucking services. Whether you need transportation within your local area or for long-distance journeys, they can cater to your road transport needs both inside and outside of Tamil Nadu.
Velocity
Velocity Freight Services is an esteemed logistics company in Tamil Nadu, specialising in international freight forwarding and catering to clients' diverse logistical needs worldwide. With a comprehensive range of ocean and air transportation services, they offer a convenient one-stop solution for all logistical requirements.
The company offers the following services:
Road freight
Air freight
Ocean freight
Bonding and de-bonding
Chartered Engineering
Customs Bonded Warehouse/Private Bonded Warehouse
SVD/ SAD (Follow up with Customs)
The company's expertise includes air and ocean import/export, sea-air multimodal traffic, customs clearing/forwarding, consolidation, project cargo movements, door-to-door delivery, and warehousing.
ProConnect
It is a subsidiary of the esteemed Redington Group with a valuation of USD 6.5 billion and is a leading logistics company in Tamil Nadu. They offer end-to-end supply chain solutions to over 160 renowned brands spanning various industries. They boast an extensive network comprising 172 warehouses and a staggering 6 million square feet of space. They have the remarkable capability to deliver to over 36,000 customer locations.
The company offers a range of services, including the following:
Warehousing
Reverse logistics
In-plant logistics management
Supply chain consulting
eCommerce fulfillment
Transportation solutions
It caters to industries such as high-tech, FMCG, pharmaceutical, automotive, eCommerce, and mission-critical sectors. They manage an impressive volume of over 65,000 Stock Keeping Units (SKUs) and a staggering 1,50,000 tons of stock annually.
H&S Supply Chain Services
This logistics company has rapidly emerged as one of India's most prominent supply chain management (SCM) players. Established in 2015 as a localised operation, the company has expanded its reach and now operates warehouses nationwide.
The company's array of services can be broadly categorised into two distinct levels: 4PL (Fourth Party Logistics) and 3PL (Third Party Logistics). Its primary services include warehousing, freight and distribution, and reverse logistics.
The company strives to optimise the supply chain operations of its clients, minimising costs, enhancing efficiency, and maximising overall profitability.
Tripath
Tripath Logistics, a rapidly growing logistics company in Tamil Nadu, specialises in delivering comprehensive logistical services customised to meet your unique requirements. The company encompasses various logistical solutions, including air and ocean freight logistics, warehousing facilities, ground transportation services, and on-and-off-site assistance. They ensure smooth cargo transportation to more than 300 ports across over 100 countries. It also offers direct and indirect shipment options, door-to-door service, defined lead times and end-to-end visibility, ensuring a seamless logistical experience.
How To Choose The Top Logistics Company in Tamil Nadu?
To choose the top logistics company in Tamil Nadu, you can consider the following factors:
Services offered: Consider the services offered by the logistics company, such as transportation, warehousing, and distribution, to ensure they meet your specific needs.
Reputation: Research the reputation of the logistics company to determine if they are reliable and trustworthy. Read online reviews, check their ratings, and ask for references to make an informed decision.
Pricing: Compare the cost of services offered by different logistics companies to determine the most affordable option that meets your quality requirements in your budget.
Delivery time: Consider the company's ability to meet your delivery deadlines, as well as its track record for on-time delivery.
Technology: Consider the technology used by the logistics company, such as tracking and monitoring systems, to ensure they can provide accurate and timely updates on the status of your shipment.
Flexibility: Look for a logistics company that offers flexible solutions, such as customizing services to meet your unique requirements or adjusting delivery schedules to accommodate your business needs.
Network: A good logistics company should have a wide network and presence in the region, enabling it to handle deliveries effectively and efficiently.
Compliance: Ensure that the company complies with local regulations and industry standards, such as environmental regulations and safety requirements.
Customer support: Look for a company with a responsive customer support team that can provide prompt and effective assistance when needed.
It is also a good idea to ask for quotes from multiple companies and compare them to find the best deal. Don't forget to consider the quality of the services offered, not just the price, as you want to ensure that your goods are handled and transported safely and securely.