Best Logistics Companies in Coimbatore in 2023
Coimbatore is known as the Manchester of South India and is the biggest city by GDP in Tamil Nadu. It houses many textile and IT businesses and is also known as the Pump City as it supplies engines and pumps to the entire country. Besides this, numerous other small and medium businesses operate in the city, making it one of the best cities to start a business.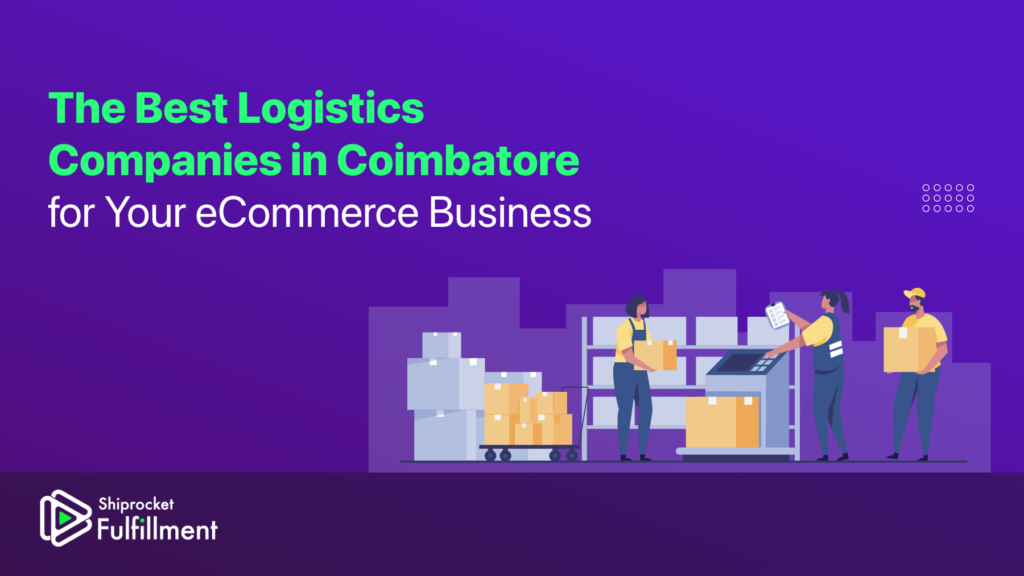 With that, Coimbatore is home to many top logistics companies that offer a wide range of services, from shipping orders to end consumers to warehousing and distribution. If you are starting a new business and looking for the best logistics companies in Coimbatore, you have come to the right place.
So, without further ado, let's take a look at the top logistics companies in Coimbatore.
VRL Logistics
VRL Logistics was founded in 1976 and is a renowned logistics company that offers its services across India, including Coimbatore. The company has the largest fleet of commercial vehicles. VRL Logistics offers reliable logistics services and ensures last-mile delivery even in tier-3 cities and other remote locations in India.
At present, VRL Logistics offers services in 23 states and 5 union territories, and its consumer base includes SMEs, corporates, and B2B companies. It also offers 3PL and warehousing solutions and has technology-based state-of-the-art facilities.
Shiprocket Fulfillment
Shiprocket Fulfillment is a Delhi-based third-party logistics company that enables you to deliver orders to 25,000 pin codes in India. They can pick, pack, and store products in their tech-enabled warehouses for you and offer your customers same-day and next-day delivery options.
Shiprocket Fulfillment has 45+ fulfillment centers across all major cities in India. By storing products in their facility, you can ensure 99.99% order accuracy, deliver orders 3X faster, and reduce shipping costs.
Allcargo Logistics
Allcargo Logistics is a Mumbai-based logistics and supply chain company that offers a wide range of services, including air freight, sea freight, and warehousing. They have 300+ offices in 180+ countries. Their value-added services include cargo insurance, packing and labelling, and door-to-door delivery.
With over 25 years of excellence, Allcargo Logistics has become India's largest logistics solution provider.

Atlas Logistics
Atlas Logistics is a Delhi-based logistics company that offers comprehensive solutions. The company offers a wide range of services, including freight management, custom brokerage, warehousing and distribution, project logistics, ground transportation, industry logistics, and other value-added services. Atlas Logistics is a global logistics solution provider with 6000+ customers. Atlas Logistics ships 30,000+ shipments yearly and has 15 branches in India and 26 branches across the globe.
Maersk
Maersk is a Danish shipping company that offers integrated logistics solutions. Founded in 1904, Maersk offers a wide range of transportation services, including ocean, inland, intercontinental rail, and air freight. The company also offers supply chain and logistics solutions – warehousing, distribution, customs services, and cold chain logistics.
ConnectXpress
ConnectXpress is a family-owned logistics company that was founded in 2015 in the USA. They have offices around the world and provide reliable logistics services in Coimbatore as well. They offer a wide range of services, including flatbed, refrigerated, and dry van services, along with additional supply chain services. As a customer-centric company, ConnectXpress focuses on core Carrier services such as loading, unloading, track-vehicle location, and refrigerated trucks. This makes them a great choice for online retailers in Coimbatore who need specific logistics services.
DP World
This logistics player offers multiple categories of transportation services across the country and overseas. It has services as diverse as rail cargo, domestic services, coastal FCL( Full Container Load) trucking, short sea barge and more. Hence, it is a multimodal transport specialist and is a provider you should choose if you have overseas customers.
Their truck services are particularly popular, and businesses in Coimbatore can benefit from them for high-quality transportation. If your business requires global coverage, DP World is the provider for you, as they can deliver your orders to over 54 countries.
Gati Limited
Gati Limited has been a renowned national logistics company in Coimbatore since 1989. They have a strong presence in Indian districts, with over 99% coverage, second only to the national postal service. With over 500 pick-up points across the country, Gati Limited offers a wide range of services. For the business community, they provide end-to-end logistics services, Express Distribution service spectrum, and special services like Premium flexlite® for shipments less than 5 kgs by air. They also offer a flat 20 kg on-surface shipment package called LAABH. Both of these services are competitively priced and ideal for most eCommerce retailers.
DTDC
DTDC Courier and Cargo Limited is a leading carrier and logistics service provider in Coimbatore, covering over 96% of the country's population. They have a vast network of 14,000+ channel partners and handle nearly 12 million deliveries on average per month.
DTDC is the go-to provider for logistics services in Coimbatore due to its extensive reach. eCommerce businesses in Coimbatore can take advantage of DTDC's specialised platform for online commerce. It offers an integrated solution that covers all services from the point of origin to the destination, all at competitive prices.
First Flight Couriers
First Flight Couriers has been a trusted player in the logistics industry for over thirty years. They offer a wide range of services for all types of businesses, but they particularly excel in the eCommerce industry. They provide volume-driven prices, festive offers, special occasion offers, and better deals compared to their competitors.
First Flight Couriers also offers reverse logistics and priority services. For Coimbatore's engine-making industry, they provide train-cargo services at competitive prices. They also offer convenient features such as pickup requests, email tracking, SMS tracking, consignment tracking, and a list of items that are prohibited from shipping according to government rules.
Conclusion
With the help of a reliable logistics company, you can simplify your order fulfilment process and offer your customers a premium experience with your brand. With their help, you can also run your business smoothly and efficiently without worrying about logistics processes.
You can also partner with a third-party logistics solution provider like Shiprocket Fulfillment, which offers end-to-end order fulfillment, including shipping, warehousing, and inventory management, to take your business to new heights.