How Is Logistics Automation Transforming Supply Chains?
Logistics automation is vital in streamlining and optimising supply chain operations in today's fast-paced business world. Automation has the potential to revolutionise the logistics industry, providing companies with new levels of efficiency, accuracy, and flexibility. By automating repetitive, time-consuming tasks, companies can focus their resources on higher-value activities and drive business growth.
As per Statista's data, the logistics automation market shall expand from its 2018 size of $39.29 billion to $121.3 billion by 2027. The primary reason for such growth in this sector is the adoption of industrial robots. Let us consider the various factors by which logistics automation is transforming the supply chain.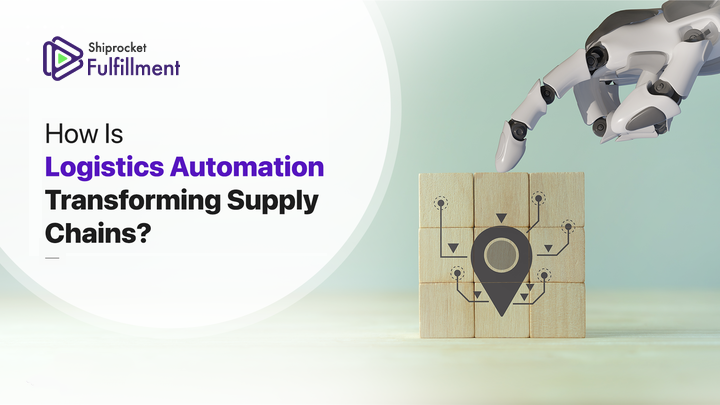 Logistics automation is the process of inducting technology to streamline processes for optimised supply chain functioning. The automation strategy begins with evaluating redundancies at every stage. The evaluation and rectification lead to the induction of efficient operations for an uninterrupted, secure and safe product delivery lifecycle. Automation rebuilds order fulfilment, inventory, and transportation management, eliminating unnecessary expenses, reducing costs, and improving accuracy. The result of the process is a better bottom line for the business, with accurate delivery driving customer satisfaction.
What Are the Challenges in Logistics Services?
Logistics services face many challenges in moving products from suppliers and manufacturers to customers. There are increasing demands and complexities in the supply chain and logistics operations that need to be resolved for the smooth delivery of services. The challenges are:
Growing Demand: The growth in eCommerce and global trade has increased the demand for efficient and effective logistics operations.
Increased Complexity: The supply chain has become more complex, with multiple stages and stakeholders involved.
Labour Shortages: In many industries, skilled labour shortages make it difficult for businesses to find and retain workers for logistics operations.
Expensive Processes: Poor management and inefficient processes led to increased cost of services. Errors also compound the inefficiency of the supply chain.
Poor Customer Satisfaction: Delays and inaccurate deliveries lead to poor customer experience.
One of the most discussed solutions to overcome these challenges is automation. Industry and analyst perspectives of logistics automation vary, but both agree on its importance and potential for transforming the logistics industry.
From an industry perspective, logistics automation is a means to increase efficiency, reduce costs, and improve customer satisfaction by streamlining operations and reducing the need for manual labour. According to analysts, logistics automation is a critical driver of growth in the logistics industry. They predict that the global market for logistics automation will continue to grow as companies adopt more automation technologies and processes.
Analysts also point to the increasing demand for eCommerce and the need to handle larger volumes of goods as drivers for the growth of logistics automation. Logistics companies are investing in automation technologies such as warehouse management systems (WMS), transportation management systems (TMS), and robots to automate various tasks in the supply chain.
However, analysts also caution that adopting logistics automation may only be smooth for some companies. Some may face challenges integrating new technologies into existing processes and require significant investment. Hence, the recommendation is to outsource logistics automation to reputed providers such as Shiprocket Fulfilment.
Benefits of Logistics Automation in the Supply Chain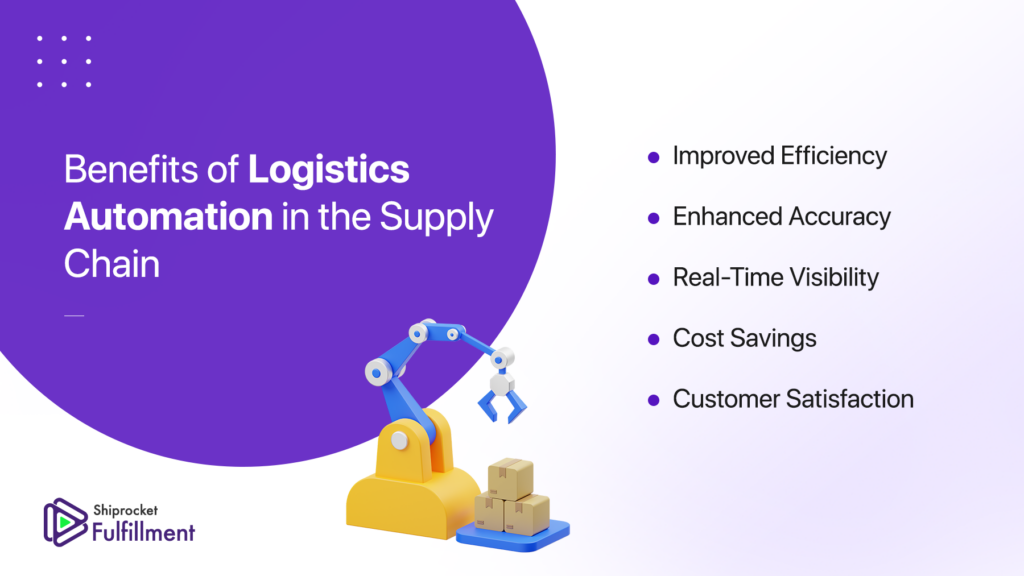 Logistics automation has the potential to bring significant benefits to businesses in the following ways:
Improved Efficiency and Productivity: Automating logistics processes such as order fulfilment, inventory management, and transportation management can increase efficiency and productivity. With the help of technology, companies can quickly and accurately process orders, track shipments, and manage inventory levels, freeing up valuable time and resources.
Enhanced Accuracy: By automating specific processes are better controlled for likely human-made errors, and supply chain operations can be optimised. For example, automated inventory management systems can track inventory levels in real-time, providing accurate information on stock levels and ensuring that orders are fulfilled correctly.
Real-Time Visibility: Helps companies to quickly and efficiently track shipments, overview inventory and match customer needs as they emerge. Hence, decision-making and overall supply chain performance are significantly enhanced.
Cost Savings: Reduce costs by streamlining processes and reducing the need for manual labour. By automating tasks such as order fulfilment and transportation management, companies can reduce the risk of errors, reduce labour costs, and improve overall efficiency.
Increased Customer Satisfaction: By automating logistics processes, companies can provide faster, more accurate, and more efficient customer service. It can help improve customer satisfaction and drive repeat business, ultimately benefiting the bottom line.
These are some of the reasons businesses should consider logistics automation as a solution to logistic challenges and to improve cost-effectiveness.
Which Systems Can Be Automated?
Some systems in logistics that can be easily automated are:
Warehouse Management Systems (WMS): Warehouse tasks such as receiving, storing, and shipping goods, inventory management and order picking are automated.
Transportation Management Systems (TMS): Tasks important in the transportation stage of logistics, such as route planning, carrier selection, and shipment tracking, are automated.
Automated Guided Vehicles (AGVs): Used in warehouses, these new-age locomotives help to move goods from point A to point B programmatically. Specific routes are assigned to pick, pack, and deliver tasks.
Automated Storage and Retrieval Systems (ASRS): The automatic process reduces the need for manual labour by storing and retrieving goods in a warehouse using the software.
Conveyor Systems: Programmatically automate goods movement from one location to another within a warehouse. They handle the transportation of goods from receiving to storage or storage to shipping.
Robotics: By using robots to perform routine manual tasks such as order picking, packing, and palletising, companies can improve efficiency, reduce costs, and improve safety. The task execution can be programmed for specific tasks and working with human workers.
Thus, the automation of these processes improves productivity and efficiency, reduces costs and improves customer satisfaction in the logistics industry.
Steps to Adopt Logistics Automation in Your Business
To introduce automation of logistics in your organisation, the following are necessary steps:
Assess Current Logistics Operations – It identifies areas that are repetitive and can therefore be automated. It will help determine the type of technology for the specific tasks to be automated.
Identify Best-Fit Solutions – Evaluate technology solutions, like WMS, TMS, AGVs and ASRS, conveyor systems, or robotics.
Calculate ROI – Evaluate the preferred solutions for ROI. Before finalising, evaluate the costs, benefits, and impact of adopting automation.
Implementing – Logistics automation integrates into your existing systems, and employee training will be necessary for automating the process.
Monitor and Refine – After implementation, it is essential to monitor the performance of the logistics automation and make any necessary adjustments. Refining the automation process and ensuring it works optimally for your business is critical.
Is Logistics Automation the Solution for Your Business Needs?
The "best" solution or ideal solution for logistics automation emerges when business needs and specific requirements are incorporated. The best examples of a successful transition to new logistics technology have been companies which have outsourced logistics automation.
Rarely have logistics automation adoption by in-house teams been successful. It is mainly because of the complexity and the need for more expertise within organisations and the high technological investment. For example, Fulfilment by Amazon (FBA) and 3PLs (third-party logistics services provider) have proven track records in end-to-end or partial logistics operations. They handle storage, picking, packing, and shipping allowing organisations to focus on in-house competencies.
Frequently Asked Questions(FAQs)
What are the benefits of logistics automation for businesses?
Logistics automation improves efficiency and productivity, enhances accuracy, focuses on real-time visibility and cost savings, and increases customer satisfaction.
What processes in logistics can be automated?
Processes automated in logistics are order fulfilment, complete inventory management process, transportation management, and several other processes.
Can logistics automation help reduce costs?
Logistics automation lowers costs significantly by streamlining processes and reducing the need for manual labour. Automated systems can help to eliminate human error and improve efficiency, ultimately reducing labour costs and improving overall supply chain performance.
How does logistics automation relate to customer satisfaction?
Logistics automation can positively impact customer satisfaction by providing faster, more accurate, and more efficient service. Automated systems can improve order accuracy, reduce shipping times, and provide real-time visibility into supply chain operations, improving customer satisfaction and driving repeat business.