Top 10 eCommerce Fulfillment Companies in India [2023]
When you think of running an online business, one of the first things that come to mind is shipping and order fulfillment. While attracting customers and driving them to make a purchase is important indeed, what happens once you receive an order? You need to work towards fulfilling it. One of the best ways of doing it is by partnering with a reputed order fulfillment company in India.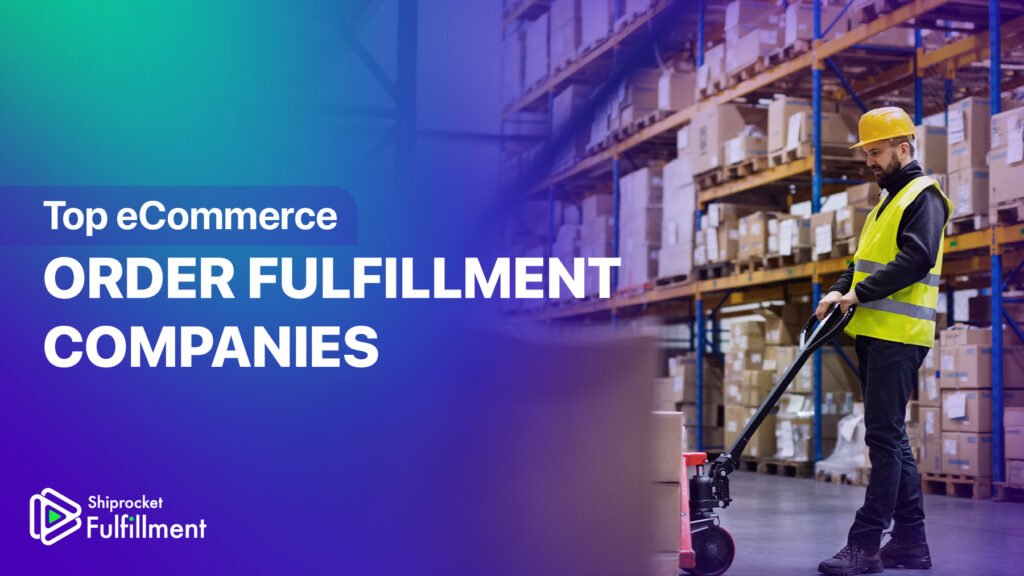 Order fulfillment companies help store, pick, pack, and deliver your orders in a cost-effective manner. In this blog, we shall discuss eCommerce order fulfilment and the top order fulfillment companies you can trust.
What is eCommerce Order Fulfillment?
eCommerce fulfillment is the process of storing inventory, packing products when an order is received, and shipping them to the end consumer. In a nutshell, order fulfillment covers all processes involved, from accepting an order to delivering it to the buyer.
The process begins with a buyer placing an order. The warehousing staff sorts the inventory and picks the relevant product in the right quantity. They pack the order, label it, and hand it to the courier company. The courier company finally delivers it to the buyer. The order fulfilment process generally ends here. However, in some cases, the buyers initiate a return, and the process ends once the product is returned to its origin or the warehousing unit.
Best Logistics Fulfillment Companies in India
Here is the list of top order fulfillment companies in India:
1. Shiprocket Fulfillment
Shiprocket Fulfillment is a Delhi-based 3PL company that has 45+ fulfilment centers across all major cities in India, including Delhi, Bangalore, Pune, Hyderabad, Lucknow, Chandigarh, Patna, Surat, and more. The company has tech-enabled fulfillment centers that offer upto 99.99% operational accuracy and quick order processing. With Shiprocket Fulfillment, you can ship orders to 24,000+ pin codes in India with 25+ courier partners on board.
2. Fulfillment by Amazon
Fulfillment by Amazon, or FBA, is Amazon's own fulfillment network. If you use FBA, Amazon Prime members get access to free same or next-day delivery. Amazon charges a fee for storing your inventory and shipping your orders. With FBA, you can store your inventory in all major cities of the country.
3. ShipBob
ShipBob is a global eCommerce fulfillment solution started by eCommerce entrepreneurs to help fellow eCommerce entrepreneurs in their order fulfillment. Founded in 2013, the company started with an online printing business but soon ventured into the eCommerce fulfillment process. The company offers 2-day express delivery options and also has warehousing units in Chicago, Los Angeles, Dallas, and Philadelphia. On partnering with ShipBob, you get access to order tracking, international shipping to 200+ countries, and customized solutions.
4. Ship Network
Established in 2001, Ship Network is an international eCommerce fulfillment and 3PL company with over 20 years of experience. The company offers 100% accuracy, 1-Day fulfillment, 1–2-day ground delivery, and customer care support.

5. Driver Logistics
Driver Logistics is a Kochi, Kerala-based 3PL company that aims to optimize and simplify logistics. The company has a PAN-India presence with warehouses in 44 locations. With Driver Logistics, you can deliver orders to 8,000 pin codes in India. Its wide range of services includes warehouse management, fleet and transportation management, 3PL services, and digitisation & business intelligence.
6. Flipkart Fulfillment
Established in 2017, Flipkart is widely known as an online marketplace. But, what most people are not aware of are its efficient fulfillment services. Flipkart promises a smooth and efficient fulfillment service. When you opt for Flipkart fulfillment services you get seamless order processing, timely quality checks, high-quality packaging, and faster delivery at low shipping rates.
7. Quick Shift
Quick Shift is a Maharashtra-based company that offers robust eCommerce fulfillment solutions. With Quick Shift's fulfillment service, you can offer your customers one-day or two-day express deliveries. The company uses cutting-edge technology that gives you easy access to seamless inventory tracking and order management. Some brands that trust Quick Shift are Fresh to home, The Whole Truth, Sephora, and Flipkart.
8. DHL
DHL has been a household name for its delivery service since 1969. What's new to the list of solutions the company offers is eCommerce fulfillment. DHL offers 3PL logistics services globally. The company offers a robust warehousing and delivery solution to B2B and B2C businesses. With DHL, you can get real-time inventory updates ensuring faster delivery and a good customer experience.
9. Delhivery
Founded in 2011, today Delhivery has over 71 fulfillment centers across India. With 6 million sq ft of storage and processing facilities, Delhivery offers fulfillment services to over 28,000 customers of diverse industries and sizes like eCommerce marketplaces, D2C retailers, FMCG brands, electronics, automotive, etc. The company aims to provide fast and efficient supply chain services at low costs.
10. Ship Delight
Ship Delight is a company that provides a modern and futuristic fulfillment service to eCommerce sellers. With over 26,000+ serviceable pin codes, Ship Delight ensures a consistent user experience and delivery to online sellers. From an easy store integration to an impeccable order management system, the company provides a holistic fulfillment experience. Some brands that trust Ship Delight are Asian Paints, OnePlus, Jockey, Shoppers Stop, etc.
Partnering with order fulfillment companies helps save time, effort, and money. You don't need to construct in-house capabilities or hire staff to perform these tasks. You can simply partner with a 3PL company to take care of the entire order fulfillment process and ensure your orders are delivered on time.