Diwali Supply Chain Challenges and Winning Strategies
Introduction
People across India browse catalogues, look for coupons and offers, and ship goods and gifts off during Diwali. Diwali, the season of lights, is a time of joy and happiness when people love buying gifts and presents for their loved ones. This creates several challenges for eCommerce supply chains.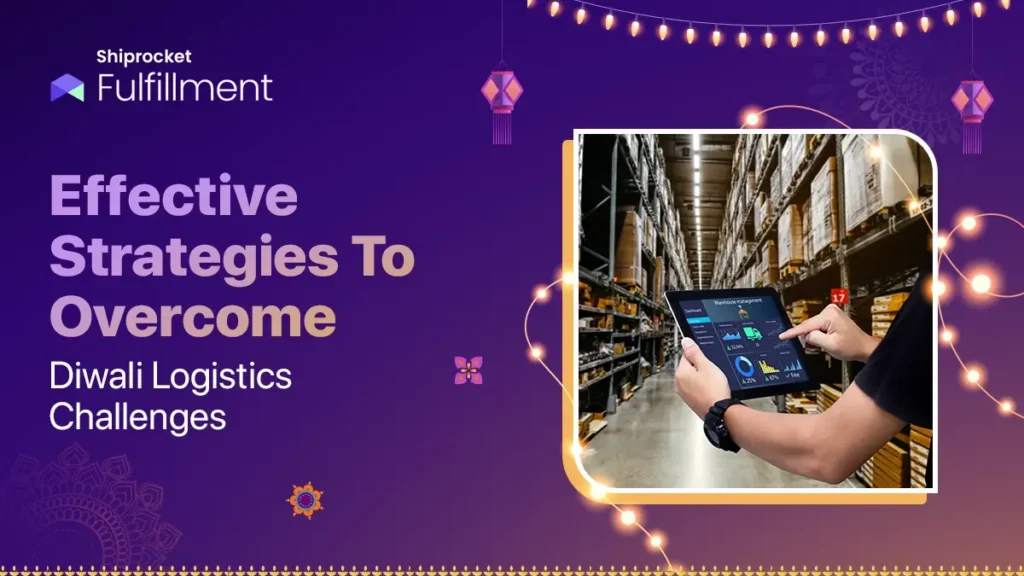 Online shopping in India rose by 72% during the festive season in 2022, as per recent statistics from the Indian Ministry of Commerce and Industry. However, it might be over ten times more difficult to complete orders, meet deadlines, and transport goods during the festive period. Hence, having an agile supply chain is vital to meet all the demand and commotion during this season.
Let's explore how Diwali affects supply chains and the steps you can take to prevent or minimise the effects of several challenges during the festive season.
How Diwali Affects Businesses
Here's how Diwali, one of the biggest and most celebrated festivals in India, affects businesses and operations:
eCommerce Collaboration with Local Retailers: During this busy time, eCommerce businesses generally prefer collaborating with local stores to ensure quicker and better deliveries. These connections allow brick-and-mortar sellers to supply goods to all those in the neighbouring areas. Hence, foot traffic for retailers is higher, and it helps both the local sellers and the eCommerce businesses to maximise their revenues.
Omnichannel Visibility and Purchases: Today, omnichannel visibility and purchases are popularly known as self-service models enabling social distancing and zero-contact deliveries to consumers. It has become very popular after the COVID-19 pandemic. It allows the customers to browse through the products online and have the convenience of picking the orders from physical outlets or getting them delivered to their location. This allows your businesses to gain greater visibility that drives up sales.
Sales Success Through Dexterous SCM (Supply Chain Management): The process through which businesses manage their SCM processes determines whether they achieve their sales goals. All the decisions made while addressing the challenges of the supply chain and logistics play the most crucial role in businesses expanding and growing their consumer base while setting new sales records.
Diwali Supply Chain Challenges
Listed below are the major problems that arise within supply chains during Diwali:
Inventory Challenges Before the Festival: The shopping craze and spree appear to begin earlier every year before Diwali. Shoppers begin to scrabble off to find the best offers and products in the market, and it is one of the biggest supply chain challenges that pressurises businesses. Due to this, replenishing your inventory promptly to meet the overflowing demand becomes a major challenge.
The Surge of Orders During the Festive Season: The number of orders placed during Diwali rapidly increases, especially in India. It implies that all businesses will need additional storage facilities and inventory management strategies to ensure seamless operations. Processing orders online might also demand extra tasks for meeting supply chain challenges. Hence, finding storage at affordable prices and scaling your business operations and supply chain workflows becomes a major challenge.
Erratic and Unpredictable Festive Inventory Trends:
It is extremely difficult to understand what items will sell quickly and what is considered out-of-date during the festive season. What sold well last year might not sell with the same gusto this year.
This causes businesses to examine and scrutinise their inventory and see if they can meet the rising consumer demand. Empty shelves hurt the sales rate and brand reputation; thus, ensuring that products are available at the right time and place in adequate quantity is crucial for businesses.
Supply Chain Issues and Logistics:
Delivery efficiency makes or breaks an order completion process. During Diwali, the rhythm of escalating orders is extremely rapid, and meeting delivery schedules imposes a big challenge. The orders can be hindered due to environmental factors or even route blocks due to the festivities. Only 20% of warehousing is organised, and 70% of the organised market is controlled by the government.
This results in overburdening the logistics crew. The festival times are when everyone wants to indulge in festivities; hence, the safety of warehouses and other areas also becomes a major concern. Sudden issues, bad climate, overloading, and theft can all result in unpredicted losses.
Strategies for Thriving in the Diwali Supply Chain Challenge
Here are some of the most effective strategies to ensure that your supply chain is agile and capable of handling the increasing customer demand during Diwali:
Prior Preparedness: You can never be over-prepared to manage your supply chain during Diwali, as the streets and stores will be packed and extremely noisy. This noise can evolve into conflicts between the retailers and thus lead to fist fights. Despite your business not being involved in the fight, you might be obligated to pay for all the damages that result.
Hence, preparing your processes well in advance can be advantageous to avoid communication issues. Maintaining positive relationships with outsiders and within the organisation is crucial for smooth and efficient running.
Equip your Processes with Modern Technological Solutions: Investing in the latest technology is vital for managing the supply chain processes, as without past data, the supply chain planning, inventory management, timeline scheduling, etc., becomes extremely hard to manage. With the adoption of the latest technology, your supply chain becomes more visible, and you can provide a better customer experience efficiently.
The right logistics management makes it easier for buyers to track things down and streamline their administration processes, leading to satisfied buyers.
Transparency: Ensuring all the gathered data is accessible to different systems and individuals builds trust and openness. When data is freely shared between departments using a secure and centralised platform, mutual trust and transparency are promoted, leading to a healthier work environment. It also allows all these workers to maximise sales and gains during Diwali.
Finding Solutions for Labour Shortages: The festive season also makes it incredibly difficult to get sufficient labour at affordable costs. Dealing with this issue and finding the most optimum solution to manage supply chains is crucial to having a streamlined and efficient SCM process. Every employee must put in more time and effort to enhance productivity, and hiring additional help will also maintain the flow of the supply chain.
Demand Prioritisation: Understanding client demands is vital to meet them. Assessing the demands using past data and new trends will allow you to make the right decisions while replenishing your inventory. Leaving a buffer in the warehouse to allow space for mishaps is also important.
Customer reports and feedback also give businesses insightful data to make these decisions. The danger of running out of stock will be minimised by ensuring you have a well-planned supply chain process and deliver orders on time to the consumers, leading to greater satisfaction rates.
Conclusion
Diwali is one of the best times for businesses to attract clients and touch unknown clientele bases. In the current Indian market, there are a ton of brand enthusiasts and switchers. Companies create various strategies to draw in brand lovers and retain brand switchers. Given that India has the most significant percentage of brand switchers, the festive season presents a competitive opportunity for your business to attract new customers.
Diwali brings new challenges in business operations and SCM that can never be anticipated. Through proper planning and strategy deployment well in advance, businesses can easily cater to the dynamic needs and new trends that the customers put forth every year during this time.
What is a supply chain?
A supply chain involves the production and distribution of a product. It begins with purchasing raw materials from a supplier and ends with delivering the final product to the customer.
What are the functions of supply chain management?
Supply chain management has several functions. The five major ones are purchasing, logistics, operations, information workflow, and resource management.
What are the supply chain challenges in India?
Supply chains in India face several challenges. The significant ones include materials scarcity, transportation restrictions, infrastructure challenges, regulatory restrictions, limited access to credit, etc.
What sells more during Diwali?
Several items sell more on Diwali. These include candles, lights, lamps, puja items, handicraft items, home decor items, sweets, dry fruits, etc.