Best Warehousing Companies in Ludhiana
Ludhiana is a large industrial city in the North Indian State of Punjab. The town lies close to the Sutlej river's southern bank and is centrally located on NH1, which stretches from New Delhi to Amritsar. It has played a pivotal role during the Sikh wars and freedom struggles. The Lodhi Fort, constructed by Sikandar Lodhi about 500 years ago, is the most significant attraction.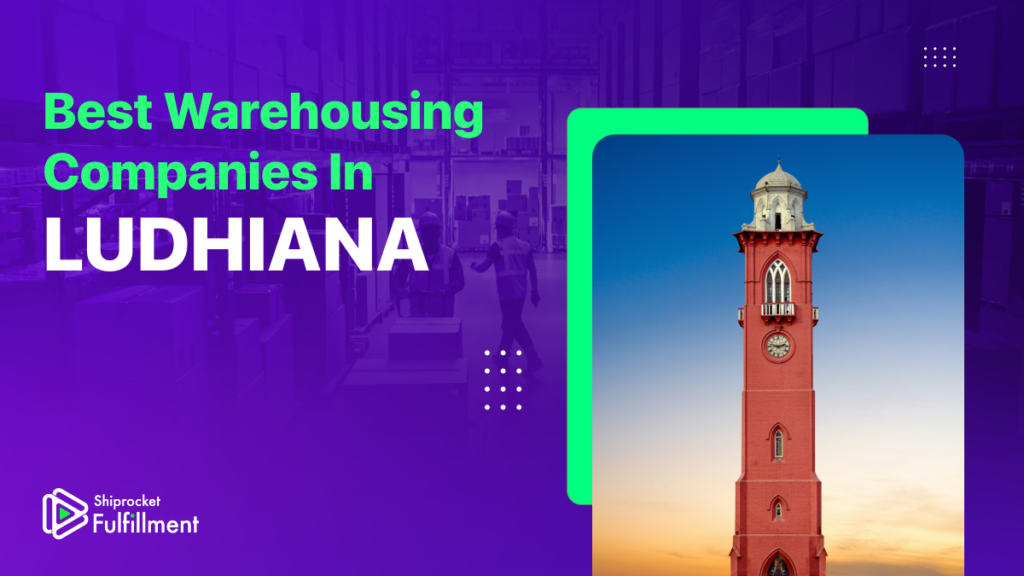 The city is one of the fastest-growing districts in Punjab. Small-scale facilities that manufacture industrial goods, machine parts, auto parts, and home appliances contribute to most of the wealth. 60% of India's tractor parts and more than half of the country's annual bicycle output is produced in Ludhiana. Apart from generating products for India, the city manufactures many components needed in German automobiles like Mercedes and BMW.
With most of India's woollen apparel manufacturers headquartered in the city, Ludhiana is known to employ numerous people in the Hosiery industry. The Shawl and Stole industry in Ludhiana is renowned for meeting the needs of well-known national and international companies. The city provides ample opportunity for small clothing brands to do well in foreign and domestic markets.
Given its diverse portfolio of hosting different industries, we have curated a list of the top warehousing companies in the city that can help you grow your business.

Top Warehousing Companies in Ludhiana
Inland World Logistics:
Inland World Logistics is one of the finest logistics companies in India, delivering end-to-end logistics solutions to businesses. It has over 550 offices/outlets nationwide and provides good quality and timely services. It offers services such as transportation services, warehousing services, supply chain services, and import/export services.
BRC Supply Chain Services:
BRC Supply Chain Services is a trusted freight forwarding company in India. It is headquartered in Ludhiana and offers a full range of supply chain services and customized solutions, including imports, exports, and third-party services. The company specializes in ocean & air freight forwarding, DDP, DAP, shipping, warehousing, and transportation services.
Shiprocket Fulfillment:
Shiprocket Fulfillment is a 3PL warehousing and order fulfillment service provider with 45+ tech-enabled and smart fulfillment centers across India, such as Delhi, Pune, Hyderabad, Bangalore, Guwahati, Kolkata, Chennai, Jaipur, Lucknow, Chandigarh, Kochi, Bhubaneshwar, Patna, Surat and many more. You can store inventory close to buyers and deliver conveniently across 24000+ pin codes with a vast distribution network powered by 25+ reliable courier partners.

Parekh Integrated Services Pvt Ltd:
Parekh Integrated Service was established in 1981 with the brand name Parekh Distributors and is now a leading integrated supply chain service provider that gives end-to-end logistics solutions PAN India. They are experts in 3PL solutions, including inventory management, transportation, storage & distribution, cold chain management, and many more.
VRL Logistics Limited:
VRL Logistics is a freight logistics company established in 2003 and has branches at all major locations across India, such as New Delhi, Jalandhar, Chandigarh, Mundra, Ahmedabad, and Cochin. It has expertise in sea freight, air freight, domestic logistics, warehousing and distribution, and customs clearance. Also, they deal in all segments of logistics corresponding to export & import trades.
M PRIMEX Logistics:
M PRIMEX Logistics was established in 2012. It is headquartered in Ludhiana and is a premier global logistics and supply chain company providing world-class and cost-effective logistics solutions. M PRIMEX Logistics provides diversified services such as warehousing and logistics, packers and movers, freight management, and many more.

How To Choose the Best Warehousing Company in Ludhiana?

One should always be careful while choosing a warehouse, whether it is to be run by you or a third party. Below are some key pointers to consider when opting for a warehouse in Ludhiana.
1. Cost: As the city offers a lot of warehousing options, these options create a lot of confusion for the customers in terms of rates. So, the best way to reach a decision is to go through the maximum number of options available and compare the prices of the ones which fit your requirements.
2. Tech Ability: Gone are the days when the warehouse was just an old-school large building with racks to store your inventory. Modern warehouses are much more than that. Now, an ideal warehouse comes with an Order Management System, Warehouse Management System, which helps with inventory management, inventory prediction, calculation of SKU dissipation rate, etc. This will not only make your business operations smooth but will also uplift the business revenue.
3. Flexibility: An ideal warehouse should be flexible enough to cater to a large variety of businesses. As market trends keep changing with time, it is natural for your business to evolve. Imagine discontinuing your lease with one warehouse and signing up for another every couple of years as your business requirements change.
4. Ease of Integration: Every online marketplace platform has its own technical requirements and challenges regarding integration. OMS (Order Management System) being used in the warehouse must be capable and versatile enough to handle all the integrations. Failing to do this, there will be a roadblock in your business growth.
5. Trained Workforce: You outsource warehouse operations to save your bandwidth and focus on growth strategy and marketing. Lack of trained workforce will need your continuous intervention in the warehouse operations. If so, the purpose of outsourcing will be ultimately defeated.
Above mentioned pointers are just a few of a long list of vital factors involved in choosing an appropriate warehouse for your business. Do your research, keep your options open, test the possibilities, and make an informed decision.