Best Warehousing Companies in Jodhpur
Jodhpur, popularly known as the Blue City, is the second largest city in the Northern Indian State of Rajasthan. Historically the capital of the Kingdom of Marwar, Jodhpur is a popular tourist destination hosting many palaces, forts, and temples set in the stark landscape of the Thar Desert. Famous tourist attractions in the city include Mehrangarh Fort, Umaid Bhawan Palace Museum, Jaswant Thada, and Phool Mahal, among others.
Jodhpur is located on a vital road route that connects Gujarat and Delhi, which makes it possible for the city to profit from the flourishing trade in copper, silk, sandalwood, and dates, among others. The town is among the important industrial cities of Rajasthan. In recent years, Jodhpur's handicraft industry has surpassed all other sectors employing over 2 lakh people in the $200 million furniture export industry. Other items manufactured in the city include textiles, metal utensils, bicycles, sporting goods, glass bangles, cutlery, carpets, and marble goods.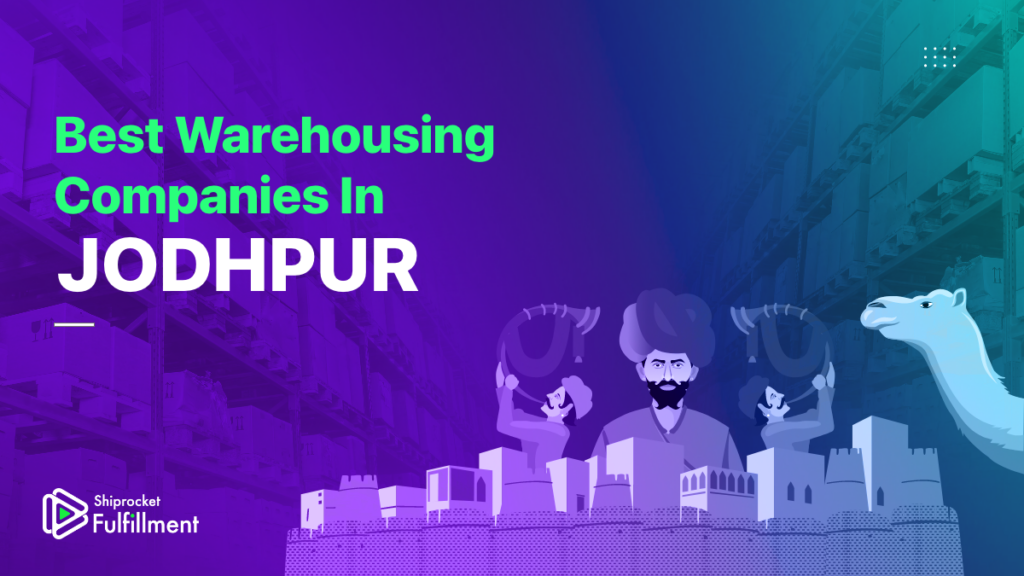 Warehouses are crucial for delivering goods to end consumers and play a vital role throughout the supply chain. We have put together a list of the top warehousing companies in the city that can support your brand by enabling efficient and fast delivery.
Top Warehousing Companies in Jodhpur
Trinity International Forwarders
Trinity International Forwarders was established in 1992 by three leaders with extensive experience in the logistics industry. The company provides a range of services, including customs broking, freight forwarding, air and ocean freight (both export and import), transportation, warehousing, and other logistics solutions.
Global Doot Logistics
Global Doot Logistics is a freight forwarding company that offers a wide range of services to help businesses and individuals ship goods internationally. They provide a one-stop shop for all your shipping needs, offering services such as air cargo, sea freight, customs clearance, consolidation and deconsolidation, warehousing and distribution, project cargo, and courier services.
Shiprocket Fulfillment
Shiprocket Fulfillment is a 3PL warehousing and order fulfillment service provider with 45+ tech-enabled fulfillment centers PAN India. It offers logistics & warehousing solutions and allows businesses to store their products and then handle the process of picking, packing, and shipping those products to customers. In addition, Shiprocket Fulfillment also offers inventory management, order tracking, and real-time reporting features to help businesses keep track of their inventory and shipping operations.

Shree Shubham Logistics Ltd.
Shree Shubham Logistics Ltd. is a leading logistics company that specializes in providing end-to-end warehousing solutions to businesses of all sizes. The company offers a comprehensive range of services, including inventory management, order fulfillment, and distribution. They work closely with their customers to understand their specific needs and develop customized solutions to meet those needs.
MAX Shipping & Forwarding Pvt Ltd.
MAX Shipping & Forwarding Pvt Ltd. is an end-to-end logistics solutions provider. The company has had a presence for the last 28 years, started in Jaipur and Jodhpur, and grew its business in Ahmedabad, Mundra, and Hazira. The company offers various services such as sea freight, air freight, and warehousing services, including storage space, open warehousing, and custom bonded warehouse.
How To Choose The Top Warehousing Company in Jodhpur
When it comes to choosing a warehousing and fulfillment company, there are a number of factors to consider. Here are a few key considerations to keep in mind:
Location: The location of the warehouse plays a big role in determining how quickly and efficiently your orders can be fulfilled. It's important to choose a warehouse that is close to your target market, as this will reduce shipping costs and transit times.
Technology: Look for a warehouse that uses modern technology and automation to ensure accuracy and efficiency. This can include barcode scanning, inventory management software, and real-time tracking systems.
Scalability: As your business grows, your warehousing needs may change. Choose a warehouse that can scale up or down to meet your changing needs. This may include additional storage space or increased labour for peak seasons.
Services: Different warehouses offer different services, so it's important to choose one that can meet your specific needs. Some warehouses may offer additional services such as pick and pack, kitting, and assembly.
Reputation: Do your research and read reviews from other businesses that have used the warehouse. Look for a warehouse that has a proven track record of good customer service, on-time delivery, and accurate order fulfillment.
Cost: Compare prices and services offered by different warehouses before making your decision. You may find a warehouse that offers great services at a lower cost or a warehouse that offers additional services for a slightly higher cost.
Communication: Effective communication is key when it comes to managing your inventory and fulfilling orders. Choose a warehouse that has a clear and consistent communication system in place. This should include regular updates on inventory levels, shipping schedules, and any issues that may arise.
Certifications: Look for a warehouse that is certified by relevant organizations, such as the International Warehouse Logistics Association (IWLA) or the Council of Supply Chain Management Professionals (CSCMP). These certifications indicate that the warehouse adheres to industry standards and best practices.
By considering all these factors and asking the right questions, you can choose the best warehousing and fulfillment company for your business, ensuring that your orders are fulfilled efficiently, accurately, and on time.