Best Warehousing Companies in Guwahati
Guwahati, formerly known as Gauhati, is the capital city of the northeastern state of Assam. Also called the 'Gateway to North-East India', this city is recognized for its abundance of flora and fauna. Guwahati serves as the hub for retail, wholesale distribution, and other businesses in the Northeast. The major economic activity in the city is trade, as it connects the national highways with Assam and the different states of the northeast, which serve for the transportation activities in Guwahati.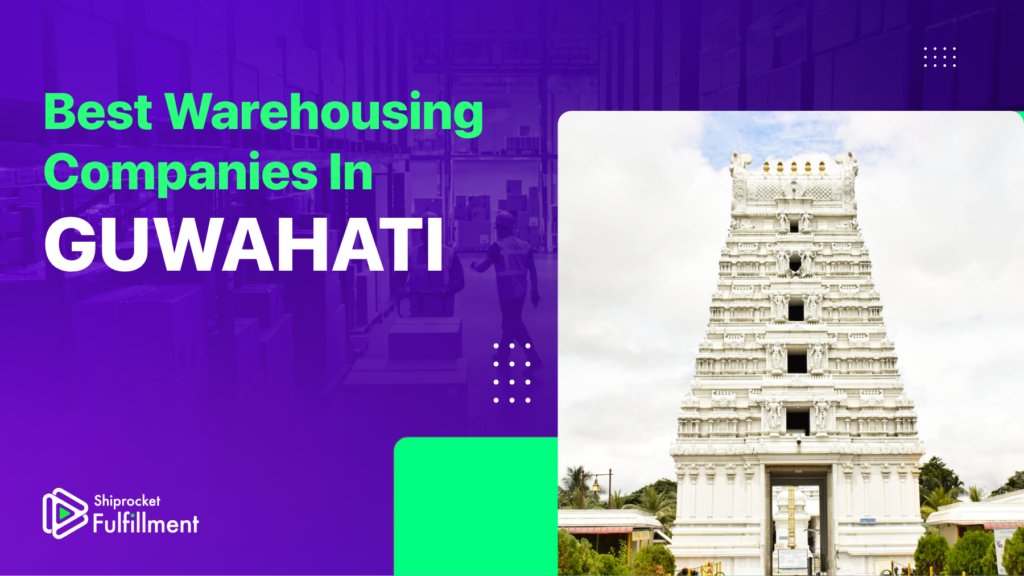 The vibrant culture of Assam and its many artistic expressions are the essence of its people. The city is also known for its flourishing handicrafts business. It produces "muga" and "pat", two types of premium Assamesse silk. Cane, bamboo and terracotta are also skillfully crafted into attractive handicraft products which are sold all over the world. The production and processing of tea is another significant economic activity in Guwahati.
New global research conducted by the Economist Intelligence Unit (EIU), commissioned by the WWF, shows a staggering 71% rise in the popularity of searches for sustainable goods over the past 5 years. This is creating new market opportunities for companies that excel in making these products. To manage this surge in orders, businesses must maintain an inventory of their products. If you are planning to grow your eCommerce business with the help of modern warehousing technologies, we have put together a list of top warehouse providers in the city.
List of Top Warehousing Companies in Guwahati
Jain Group
Jain Group is founded by Mr. Rajendra Kumar Jain. The company is a leader in warehousing, distribution, and repackaging. They are experts in the field of supply chain management & provide customer-defined services related to warehousing, transportation, packaging, cold chain product handling, and serving world-class services across sectors like Pharma, FMCG, Consumer Durables, Paints, etc.
Aeropict Logistics
Aeropict Logistics is one of the most progressive transportation management organization and provides superior supply chain management services with best-in-class technology at a lower price. They offer services such as warehousing, reverse logistics, full truck load, air freight, train freight, packaging, and storage.
Shiprocket Fulfillment
Shiprocket Fulfillment is the one-stop solution for warehousing, logistics, inventory, and storage distribution, trusted by more than six hundred large-scale users. They have 45+ tech-enabled warehouses with features such as WMS (Warehouse Management System), channel integration, logistics tech, and order management system. Shiprocket Fulfillment helps to store, manage, pack, and deliver orders for eCommerce sellers and enables you to offer your customers same-day and next-day delivery.

Xfas Logistics Pvt Ltd
Xfas Logistics is one of the most trusted brands in the logistics industry and provides best-in-class courier & logistics services. Xfas Logistics has expertise in courier & cargo services, reverse logistics, warehousing, contract logistics, and lead logistics. They are one of India's leading service providers for high-volume consignment delivery and management.
BLR Logistiks (I) Ltd.
BLR Logistiks is one of the leading logistics companies in India. It has grown from a small trucking company to a leading logistics service provider and is now equipped to provide a complete logistics platform for domestic & international logistic requirements with more than 63 offices all over India.
How to Choose the Best Warehousing Company in Guwahati?
One should be extremely cautious while finalising a warehouse, not only in Guwahati but also PAN India. There are a few factors to be taken into consideration while signing off the deal. Here are some of them.
Flexibility: A warehouse should be flexible enough to cater to the changes in your business structure. There is no point in outsourcing to a warehousing company which has to be replaced once your business starts to grow.
Cost: It is always wise to compare multiple options and then choose the one which provides the best services at an affordable price. Also, do not look for the cheapest one because lower prices might also come with low standards of services. We'd suggest you to go for a perfect combination of the best services at minimum cost.
Location: Try to choose the warehouse which is nearest to your target user base. This will reduce your delivery timings, level up the customer happiness index, increase repeat orders and uplift the revenue numbers.
Technology: The technical expertise of a warehouse is critical, especially if the warehouse is being used to store the inventory for an eCommerce business. While choosing a warehouse, ensure it is fully equipped with WMS and OMS. This gives you ease in managing your inventory. WMS & OMS helps with inventory management, SKU dissipation, inventory prediction, etc.
Workforce Availability: The workforce is the fuel to any operational structure. A good warehouse is operated by a good workforce. So, ensure that the warehouse has a skilled and experienced workforce.