List of Warehousing Companies in Delhi NCR (2023)
India's capital, Delhi, regarded as the heart of the nation, is known for its rich culture and historical legacy. The city is home to well-known historical sites like India Gate, Red Fort, Qutub Minar, Jantar Mantar, Lotus Temple, and Jama Masjid, among others. The capital city is divided into two sections, popularly known as Purani Dilli (Old Delhi) and Nayi Dilli (New Delhi). With its maze of tiny streets, old havelis, and vibrant bazaars, Old Delhi offers an intriguing window into the past. Rickshaws wind their way through this crowded, swarming Mughal metropolis, where life continues as it did hundreds of years ago. But there is even more to enjoy in contemporary Delhi. The city is well-connected by a modernistic, comprehensive metro network. Commuters get a glimpse of a modern, world-class city through the Indira Gandhi International Airport, which is bursting with life at any given point of the day. Facilities at Terminal 3 are similar to those found in the world's most cutting-edge airports, from which both international and domestic carriers operate.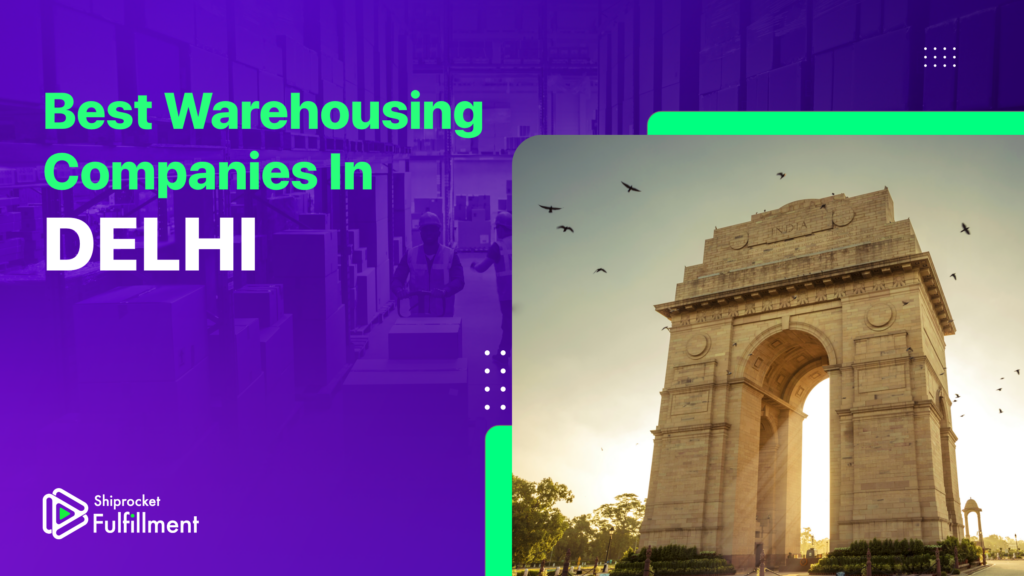 The national capital of India is a commercial center where enormous corporations have established their factories and warehouses. Large projects require several acres of land to conduct their extensive industrial operations. The economy of the nation benefits greatly from Delhi's contribution. Apart from the IT Sector, handloom, fashion, textile, and electrical industries have significantly contributed to the economy of Delhi. Major industrial areas include Wazirpur, Narela, Bawana, Okhla, Naraina, and Mayapuri, among others. The Industrial Policy of Delhi aims to develop world-class infrastructure, facilitate business, and create a business-friendly environment.
With strong demand for commercial properties on the rise in the capital of India, we have put together a list of top warehousing companies that can help your brand with inventory management and order fulfillment.
Best Warehousing Companies in Delhi:
OM Trans Logistics
Established in 2008 and founded by Mr. Ajay Singhal, OM Trans Logistics is an innovative freight forwarding and logistics company in India that aims to provide world-class logistics services to its clients. They offer services such as air cargo, warehousing & distribution, forwarding & groupage supply chain management.
Future Warehouse Solutions
Incorporated in 2008, Future Warehouse Solutions is a leading warehousing service provider in North India. FWS is currently present in 3 states and is one of the single largest landholders in Delhi, it has over 60 acres in the capital's L zone and provides around 2 million sq. feet of warehousing space in Delhi-NCR.
Shiprocket Fulfillment is a well-known and trusted warehousing and eCommerce fulfillment service provider. Shiprocket Fulfillment helps to store, manage, pack, and deliver orders for eCommerce sellers and enables you to offer your customers same-day and next-day delivery. Their fully tech-enabled warehouses offer features such as WMS (Warehouse Management System), logistics tech, channel integration, and order management system.

Paradise Logistics
Paradise Logistics is Delhi based global logistics service provider in the logistics industry and serves customers country-wide. The company provides services such as freight forwarding, supply chain management, logistics & transportation, warehouse & distribution, cargo services, packing and moving of household goods, and so on.
Wheel India
Wheel India was founded in 1995, headquartered in Delhi, and engaged in 3PL, warehousing, transportation, distribution, import, export, freight forwarding, customs clearance, technical services, and any type of outsourced activity, including commercial process outsourcing. They have offices in Delhi, Mumbai, Chennai, Bangalore, Chandigarh, Ludhiana, Indore, Hyderabad, Noida, and Alwar, as well as 12 other major cities across the country.
Kimi Warehousing
Kimi Warehousing provides a one-stop complete 3PL solution in Delhi NCR and some metro cities across Pan India. The company is well experienced in the logistics and warehousing vertical and has been providing excellent services for more than 17 years. They offer services such as complete order fulfillment, warehouse storage, inventory management, order dispatches, RTO, and so on.
How To Choose the Best Warehousing Company in Delhi?
There are various factors involved in selecting the best warehousing company in Delhi or any part of India. One should be very particular about choosing the warehouse partner as it directly affects the profitability, user experience, and delivery turnaround time. A few factors to be considered are listed below:
Location: Nearer the warehouse to the user base, the faster the product delivery! It is as simple as that. Try to choose the warehouse which is nearest to your target user base. This will not only ensure timely (or before time) delivery but also give you a practical timeline to process & close RTO orders.
Rates: Be vigilant enough to enquire about the industry rates across the area before finalizing the business deal. Delhi has been one of the top industry hubs for a long time, giving space to a lot of warehousing companies. Always look for options and choose the one with the most competitive rates with the best service.
Labour: Availability of labour is a pain point when running a warehouse, whether a self-owned or a third party. Before choosing the warehouse, please consider the availability of quality labour.
Tech: The warehouse is much more than an ample space with racks to store the products. A competent warehouse is well-equipped with WMS (Warehouse Management System) and an OMS (Order Management System). This helps you with many aspects of your business, such as inventory management, SKU location, etc.
Ease of Transportation: The warehouse premises are usually located on the city's outskirts keeping the real estate prices in mind. However, it shouldn't be in such remote places that the area becomes unreachable. The location of the warehouse must be well connected via roadways.