Third-Party Logistics Services and Advantages
As a D2C business expands and delivers its products to more customers, it faces a dilemma of whether to outsource its order fulfillment services to a third-party logistics service provider. But before making any decision, it is always advisable to gather knowledge and facts and decide accordingly.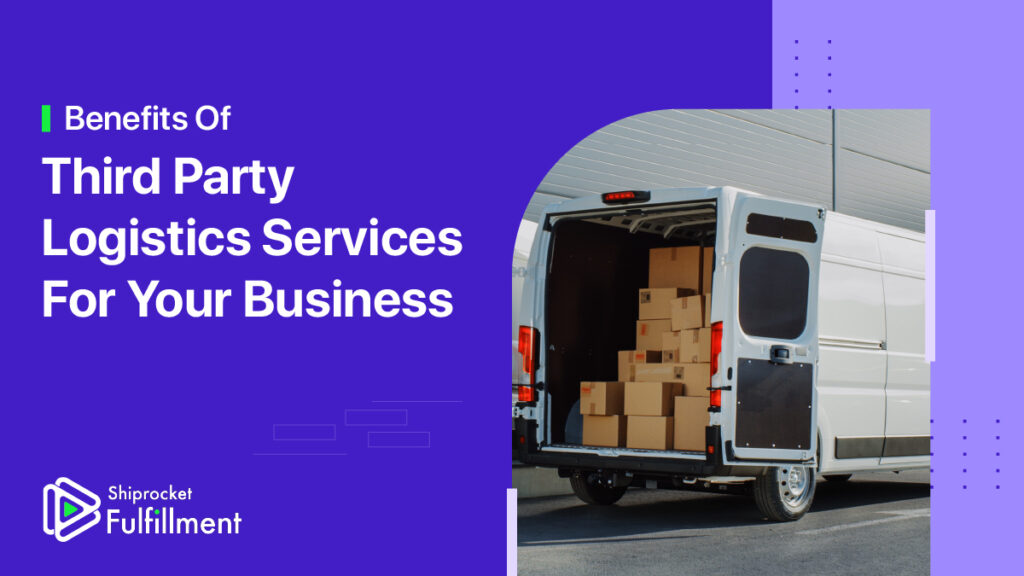 Third-party logistics, or a 3PL, is an organization that manages supply chain, distribution, warehousing, and order fulfillment processes for its clients—earlier these services were mostly used by big and Fortune 500 companies. But now, many D2C brands are also partnering with the 3PL service providers due to the benefits they have on offer.
Outsourcing warehousing and logistics services help save money, time, and resources, so your business can grow exponentially and serve customers better.
Services Offered 3PL Service Provider
The third-party logistics service providers specialize in storing inventory, picking and packing orders, shipping orders, and reverse logistics. They use technology to manage the supply chain and inventory to ensure efficient delivery of your products. The following are the general services offered by them:
Warehousing Services
Once you have manufactured products or procured them from a supplier, you don't need to arrange for a storage or warehousing unit. You can store them with your 3PL service provider. The 3PL service providers offer warehousing services for storing inventory. They have a different section for each client.
Inventory Management
Once you have stored your inventory in their warehousing unit, they will sort it, store it, and manage it as well. They will log the products in their system. They also ensure that inventory levels are managed and keep you posted about the same.
Order Shipping
The third-party logistics service provider also processes the order that you receive. For every order you receive, they will pick, pack, and ship the product. Not just this, some even also provide packaging customizations as per your requirements.
Reverse Logistics
A 3PL also arranges reverse logistics if the order is marked as RTO due to any damage or defect. Not just this, but they also enter the same in the inventory or help you get rid of unwanted stock.

Advantages of Third-Party Logistics Service Providers
Customers demand fast shipping, which small D2C businesses often lack. Trying to compete with large marketplaces that offer 2-3 days shipping options is challenging. Partnering with a 3PL service provider can help deliver goods faster while also providing the following benefits:
1. Cost-Efficient
A 3PL service provider specializes in logistics and has an extensive supply chain and logistics network. They have good relations within the logistics sector and can influence negotiations due to more significant volumes. This can minimize the shipping costs for your business.
By outsourcing your shipping operations to a 3PL provider, you can save investments on infrastructure, warehousing, technology, staff, etc.
2. Focus on Core Business
Outsourcing logistics will leave you with time to focus on improving and expanding your core business. You can enjoy expert logistics services without deploying any internal resources. Thus, you can manage other essential business functions while a 3PL service provider ensures all your shipments are delivered on time.
3. Access to Expertise
In today's global market scenario, it is difficult to manage all business functions single-handedly. A third-party logistics provider has knowledge, experience, and expertise in transport documentation, import and export duties, international compliance, etc. While you may have difficulty managing all these matters, a 3PL provider can be beneficial.
For instance, if you are looking to expand your business to international markets, you can take the help of 3PL for logistics support and know-how. Thus, you can reduce delays, cut down cycle time, and smoothly enter the new market.
4. Flexibility & Scalability
One of the best advantages of a third-party logistics service provider is flexibility and scalability. You get the flexibility to utilize your resources based on your needs. Thus, you don't have unutilized resources when your sales are down. And when the demands surge, you don't need to hire additional resources. Everything is being taken care of by the service provider.
5. Customer Satisfaction
Satisfying customers is the fundamental goal of all businesses. With improved supply chain management and a faster order delivery process, your customers will be more than satisfied with your services. It helps increase brand reliability and also increase repeat orders.
6. Business Growth
The primary role of a 3PL service provider is to help you grow by providing access to markets where you haven't established your presence. Being able to take your business to a new market, without investing in warehousing units, labor, and equipment will save money to invest in other nuances of the business. Also, improved customer service and satisfied customers tend to benefit your business.
Final Thoughts
Outsourcing your logistics operations to a 3PL service provider can really make a difference for your D2C brand and also help save time and money. A third-party logistics provider offers expertise and helps streamline supply chain operations. Their expertise in handling your business functions will allow you to focus on increasing overall value for your customers.