Best Warehousing Companies In Mandi
Mandi, formerly known as Mandav Nagar, is a city in the Northern Indian state of Himachal Pradesh. The city is referred to as 'Choti Kashi' because of its resemblance to Varanasi in terms of the ghats on the Beas River's bank. Owing to its rich culture, traditions, and temple architectural legacy, the town is often referred to as the cultural capital of Himachal Pradesh. The famous International Shivratri Fair is celebrated annually during February-March, where stalls and exhibitions with local merchandise are set up. The city is swarmed by people from nearby districts, allowing local manufacturers to sell their products.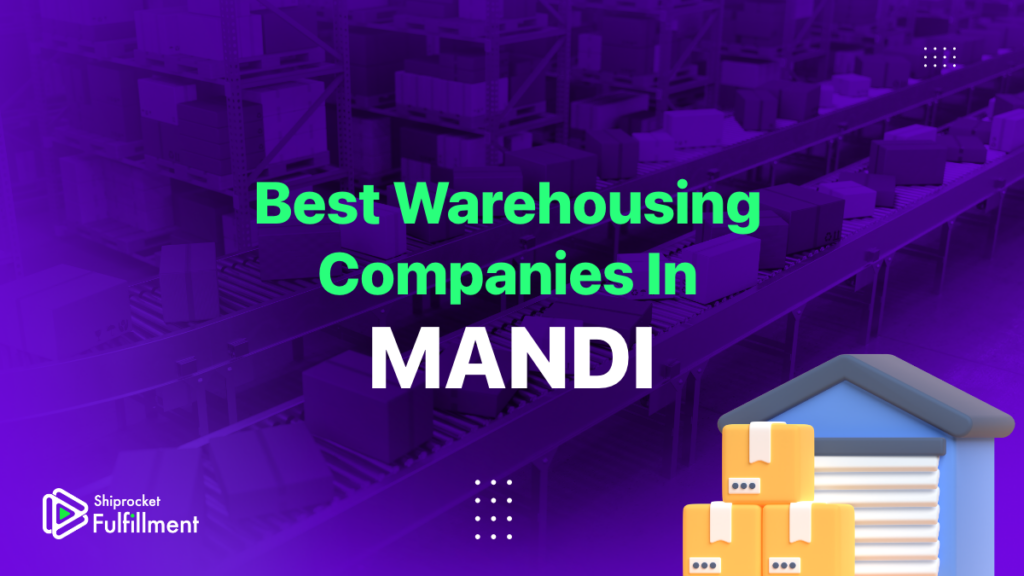 Located on the cross junction of National Highway 20, 21, and 70, the city acts as a gateway to Kullu, Lahaul, and Leh Ladakh, making it one of the fastest-developing towns in Himachal Pradesh. The region's economy is mainly agrarian, as almost 79% of the total population depends on agriculture and related activities. In the lower hills of Mandi, more than 9,000 farmers are actively engaged in the production of silk by cultivating cocoons, which helps people to procure raw silk at significantly lower prices. Other renowned industries in the city include timber items, handloom weaving, and handicrafts.
With a skilled workforce and significantly cheaper options for commercial properties, the city can help people grow their businesses. However, there are not many logistics and warehousing companies operating in the area to support transportation and storage. In this blog, we have compiled a list of a few warehousing companies in the city that can help one to expand their business easily and efficiently.
List of Top Warehousing Companies in Mandi
Om Logistics
Om Logistics is a well-established and reputable company that offers a wide range of logistics and supply chain management services. The company's services help eCommerce businesses streamline logistics operations and reduce costs. They also provide value-added services such as packaging, labeling, and distribution, which can help businesses save time and money.
Paradise Logistics
Paradise Logistics is a well-established company in the logistics industry, offering a wide range of transportation and warehousing services. It also provides additional services such as customs clearance, packaging, and insurance to help ensure the timely and safe delivery of goods. Paradise Logistics is a leader in the logistics industry and serves customers countrywide.
Shiprocket Fulfillment
Shiprocket Fulfillment is one of India's most trusted end-to-end fulfillment and warehousing service providers. It allows sellers to store their products in 45+ warehouses and have them shipped to customers on demand. It provides various benefits, including cost savings, streamlined fulfillment, and increased scalability for businesses. It also offers real-time inventory management, order tracking, and other features to help sellers manage their operations more efficiently.

How To Choose The Best Warehousing Company in Mandi
When choosing a warehousing company for any business, several factors must be considered to ensure you select the right company for your needs.
Location: The location of the warehouse is crucial, as it will impact the cost and efficiency of transportation. Consider a warehouse that is close to your supplier or customer base.
Capacity: Make sure the warehouse has enough space to accommodate your inventory. Additionally, ensure that the warehouse has the necessary equipment and technology to handle and store your goods during peak season.
Safety and Security: Check the warehouse's safety and security measures, including fire suppression systems, surveillance cameras, and alarm systems.
Flexibility: Ensure the warehouse is flexible in accommodating and scaling the space you need. Also, check if they can accommodate unexpected changes in inventory levels or delivery schedules.
Technology: Today, the use of technology in warehouse management is crucial to streamline operations and improve efficiency. Look for a warehouse that uses advanced technology such as barcode scanning, automated picking and packing, and real-time inventory tracking.
Communication and Customer Service: Good communication and customer service are essential for a smooth and seamless experience. Look for a warehouse company that is responsive and easily reachable and that keeps you informed about your inventory and order status.
Compliance: Verify that the warehouse complies with all relevant regulations and laws, including health and safety, environmental, and labour laws.
Ultimately, choosing the best warehousing company requires careful research and consideration of your specific needs and goals. By taking the time to evaluate each of these factors, you can ensure that you select a warehouse that will meet your needs and help your business thrive.