Best Warehousing Companies in Lucknow
As the political capital and largest city of India's most populous state, Lucknow enjoys a preeminent space in the historical, social and commercial landscape of Uttar Pradesh and the country at large. Long synonymous with being a prominent seat for gastronomical delights, dance, music and courtly diction, modern-day Lucknow is an eclectic mix of the old and the new, with towers of economic growth visible through its heritage arcs.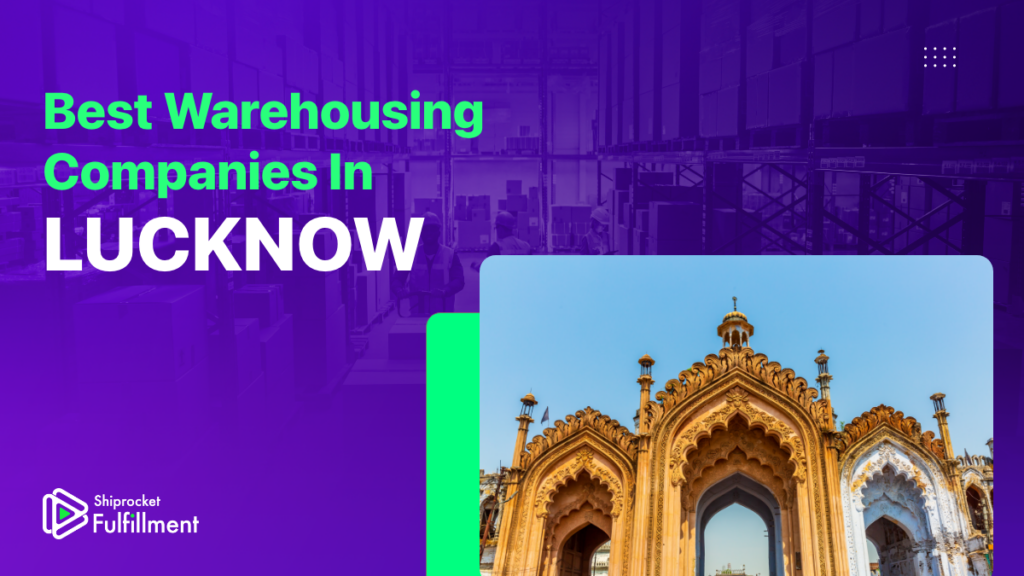 The economy of Lucknow parallels this with agro exports from Malihabad and Chikankari textile from multiple parts of the city thriving alongside aeronautics and automotive sectors. Firms, including HAL, Reliance, Tata Motors, Exide Industries, HCL Technologies and Tata Consultancy Services, have a presence in the city. With the growth of emerging sectors across the country, Lucknow is also home to a number of emerging startups in the IT services, BPO, Manufacturing and FMCG space.
Warehousing hence has been growing in the city, and its growth is highly prominent across industrial hotspots, including the likes of Chak Ganjaria, Transport Nagar etc., ring roads and expressways. With both traditional and new-age businesses having immense growth potential in the city, we have curated a list of the best warehousing companies in Lucknow. The list has been curated keeping in mind the requirements of traditional distribution setups and those that can support end-to-end fulfillment.

List of Top Warehousing Companies in Lucknow
1. AWL India Pvt Ltd
AWL is one of India's most trusted tech-based B2B logistics service providers, offering a broader range of fleets to serve every industry, including electronics, cosmetics, engineering, energy, entertainment, and many more. AWL handles logistics and warehousing, from storing, sorting, handling, packaging, and shipping goods to end customers.
2. Professional Logistics Pvt. Ltd.
Professional logistics, established in 1998, is a logistics company founded by Mr. Rajkumar Poonia. The company specializes in air and sea freight forwarding services, warehousing storage services, and providing professional and high-quality logistics services and supply chain logistics to its customers with a highly motivated team who are experts in the logistics business.
3. Shiprocket Fulfillment
With more than 45 fulfillment centers across PAN India, Shiprocket Fulfillment offers end-to-end fulfillment services. In addition to warehouse storage, you can opt for value-added services like product quality checks, packaging, labelling, etc.
Their warehouses are equipped with top-notch technology. Shiprocket Fulfillment's warehouses come readily available with WMS (Warehouse Management System), channel integration, OMS (Order Management System), and logistics technology. Shiprocket Fulfillment's warehouses are the best bet for business logistics. They have got first-mile logistics, last-mile logistics, logistics for hyperlocal businesses, and B2B logistics.
4. Rishishwar Logistics Pvt. Ltd.
Rishishwar Logistics is one of the best international logistics solutions providers and offers a broad range of services, including ocean freight logistics, air freight logistics, roadways cargo handling services, customs clearance, port handling services, warehousing services, import export consultation, etc. Rishishwar's area of operations domestically is in New Delhi, Mumbai, Kanpur, Agra, Jaipur, etc.
5. Agarwal Logistics
Agarwal Logistics is one of the leading organizations, having eleven years of rich experience in logistics. The company provides valuable services to its customers, such as forwarding, warehousing, distribution, and last-mile fulfillment.
6. Series Logistics and Transportation
Series Logistics is well-versed in logistics and transportation services and provides best-class services of packaging & moving, warehousing & storage to its customers, including sea shipping, air freight, over-dimensional cargo, rail cargo, national-level trucking, containers, trailers, and many more.
Lucknow as a Transit Hub
With its proximity to industrial clusters of Kanpur, Agra and Varanasi, the city also serves as a cross-hubbing center and transit point. A dense railway network and the recent growth in the expressway network in the state have led to a big boost, with most expressways connecting Lucknow with other prominent cities of the state and the country. The city also boasts of an international airport that serves as a critical transportation channel for perishable international cargo.
How to Choose the Best Warehousing Provider in Lucknow for Your Business
Though the services offered by different providers can be segregated based on multiple factors, you should choose the one that is uniquely suited to serve your current and future needs. Filter out the best providers on the following criteria.
Location: This is one of the most important factors to consider. The location should be a reasonable fit between your production centers and customer hubs. This will help you save on shipping costs from the factory to warehouse/warehouse to retailer/customer.
Flexibility: Businesses change over time, and so do your warehousing needs. A warehousing provider should help you increase your capacity with ease and minimal hassles.
Network Footprint: If you are a PAN India operation or are also engaged in exports, then you should choose a warehousing partner who can help you place your inventory across all your target hubs. Dealing with different providers for different locations is time-consuming and integrating them seamlessly is a big challenge.
Technology: Modern-day warehouses need to be equipped with state-of-the-art WMS (Warehouse Management Systems) and OMS (Order Management Systems) for orders to seamlessly flow across your fulfillment chain. Technology also enhances the safety of the entire operations with round-the-clock surveillance and automated workflows.
Accuracy of Operations: Warehouse operations have always been challenging with multiple SKUs and different upstream and downstream channels. Inaccurate dispatches and deliveries are significant drags on the profitability of businesses. Evaluate the accuracy of the provider. Better still, go for an SLA wherever applicable.
End-to-End Services: Based on the nature of your business, you might require end-to-end fulfillment services so that you don't have to invest your bandwidth in your operations and can focus on growing sales and production. Additionally, if you are selling on eCommerce platforms, you need a partner that can support the requirements of the respective platforms.
We hope this guide helps you understand the different warehousing options available in Lucknow and select the best warehousing partner for your business.