Best Warehousing Companies in Jaipur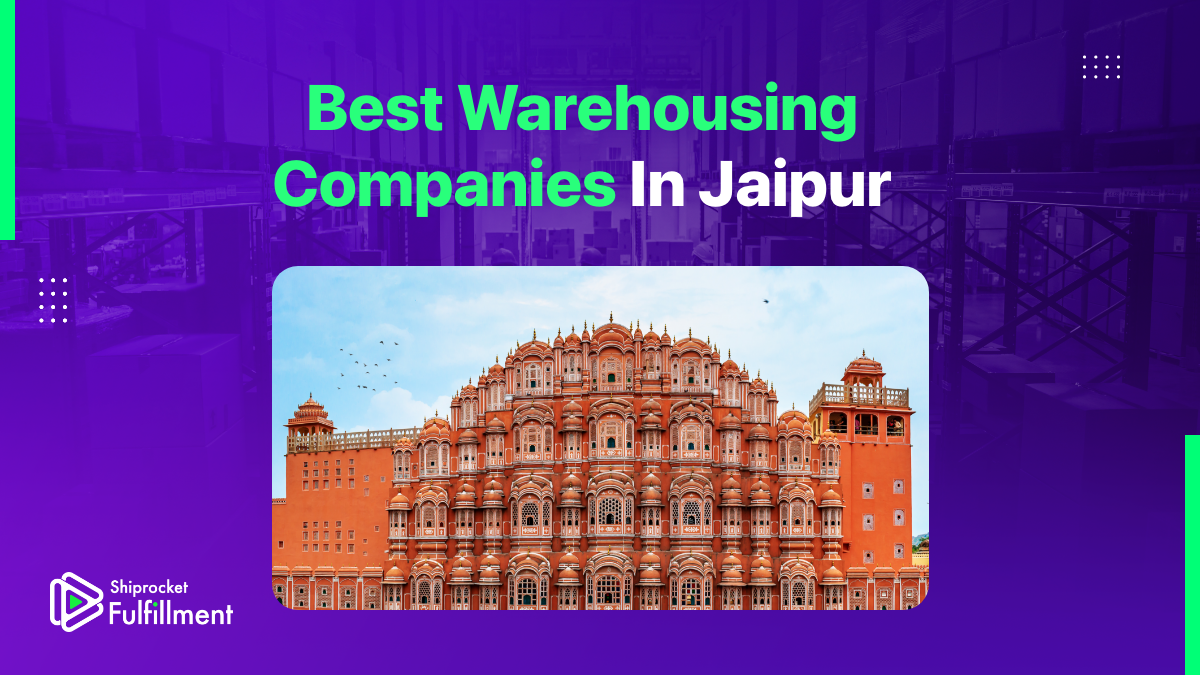 Popularly known as Pink city, Jaipur is a popular tourist destination in North India. Along with Delhi and Agra nearby, Jaipur is a must-visit place for domestic and international tourists. It is the capital city of the state of Rajasthan and consists of several industries. Apart from being insanely famous for its grand forts & exotic tourist attractions, there are twelve industrial categories in which Jaipur is home to textile & clothing, electronics, IT, transportation, chemical, plastic, petroleum, metals, wood, paper, food & leather industries.

Some of the big names in the field of manufacturing industries are National Engineering Industries Limited which was established by B.M. Birla. There are also chemical industries such as Vijayshree Chemicals in Johri Bazaar, Shri Ram Chemicals and Oils in Vishwakarma Industrial Area, Bakshi Industrial Area in Adarsh Nagar, and many more.

There is a fleet of top IT firms with their foot in Jaipur, such as Infosys, Amazon, Genpact, Tata Consultancy Services, Wipro, Capgemini, Cognizant Technology Solutions, and IBM.

With such rich diversity in industrial presence, the pink city has a huge footfall, making it an ideal place to look for a warehouse.

List of Top Warehousing Companies in Jaipur
Baxi Group
The Baxi Group is a 75+ years old name in warehousing & logistics services. Baxi Group holds an important place among the top logistics and warehousing groups in Jaipur. Their services which became their USPs, are 3PL, inventory management, MIS, and reverse logistics.
KTSPL
Kandarp Tradelinks & Services Private Limited, or KTSPL, a C&F agency, is the all-in-one solution for your warehousing needs. They have many services in addition to warehousing. They offer their customers 3PL (Third Party Logistics), Warehousing, Transportation, Retails Specific Services, etc.
Shiprocket Fulfillment
Trusted by more than six hundred plus large-scale users, Shiprocket Fulfillment is the new hotshot of the warehousing industry. They're extremely popular among eCommerce brands as they provide top-notch warehousing and end-to-end fulfillment services, including storage, quality checks, and packaging of products. They have more than 45 warehouses across the country. Their fully tech-enabled warehouses offer features such as WMS (Warehouse Management System), sales channel integrations, logistics tech, and order management systems.

LTC Commercial Company
LTC Commercial Company Pvt. Ltd. is an agri-warehousing company. This warehousing company offers services like scientific storage, quality maintenance and security for commodities. They have severe quality checks for specific commodity types, resulting in the utmost quality assurance.
Central Warehousing Corporation
Central Warehousing Corporation is a lawful subsidiary of Food & Public Distribution under the Ministry of Consumer Affairs, Government of India. It was established in 1962 and claims to be the oldest service of its kind. Under the skilled hands of Managing Director Arun Kumar Shrivastava, this is one of the best warehousing companies in Jaipur.
DGS Translogistics India Pvt. Ltd.
Located in Vishwakarma Industrial Area and established in 1992, DGS Translogistics has been a great service provider to eCommerce businesses. This warehousing company is top-rated among transporters all over India.
Warehousing Industry in Jaipur
With good proximal connectivity to Delhi-NCR, Western Uttar Pradesh, and Madhya Pradesh, Jaipur has become a logistics and warehousing hub in Rajasthan. On average, it has 16-20 warehouses in areas like Vishwakarma Industrial Area, Sitapura Industrial Area, and Jhotwara Industrial Area. In these areas, you'll be able to find warehouses with small sheds, PEB, RCC, and large sheds.

You'll be able to find up to 20000 sq ft. RCC & small shed warehouses in areas like Bais Godam, Ramchandrapura, Transport Nagar, Heerapura, Adarsh Nagar, and Moti Bandha road.
How to Choose the Best Warehousing Provider in Jaipur for Your Business
Whether you are purchasing or leasing the warehouse to run it yourself with a warehouse management system or approaching a third party, it is definitely a crucial task. There are multiple criteria to consider when you opt for a warehousing provider. Here are some factors to keep in mind.

1. Location: Nearer your customers, the quicker the delivery – a simple calculation. A warehouse location close to your user base can result in cost reduction by up to 30% to 35%. In addition to that, it also helps reduce your shipping costs by up to 20%.
2. Cost: While choosing the best warehousing provider in Jaipur, do thorough research and analysis. Try making a list of the top 10-15 warehouses as per your requirements and then compare the prices.
3. Ease of Integration: There is no point in storing the inventory at the nearest point to your customer if the order is not received by you due to any technical miscommunication. Remember, an order missed is a customer lost. Therefore, try and test all the technical aspects with respect to integration for smooth process flow.

4. Technology: Choosing the most equipped and capable warehouse management system is only one aspect of the technology involved in the warehouse. There are various other factors to consider, such as inventory prediction, SKU locators, etc., while selecting the appropriate technical levers for your warehouse.

5. Returns Management: RTO (Return To Origin) is a major pain point of any eCommerce business model. If not handled properly, it will give you the bad word of mouth, poor user experience, and revenue loss (by default). While choosing the best warehouse in Jaipur, check RTO management closely.