Retail Warehouse: Types, Benefits, and Challenges
The eCommerce industry is experiencing a remarkable surge in growth as consumers from all walks of life become increasingly comfortable buying products online, ranging from clothes and furniture to daily essentials. With the rise of eCommerce, warehouses have taken on a critical role, serving as storage facilities for products before they are processed for export or distribution. This transformation has given rise to the concept of retail warehouses, which have evolved to become the hub for fulfilling retail orders. This shift has completely transformed the traditional notion of warehouses, which have gone from mere storage facilities to an integral part of the eCommerce ecosystem. Let us understand more about the evolution of warehouses and how they have become an epicenter for fulfilling retail orders.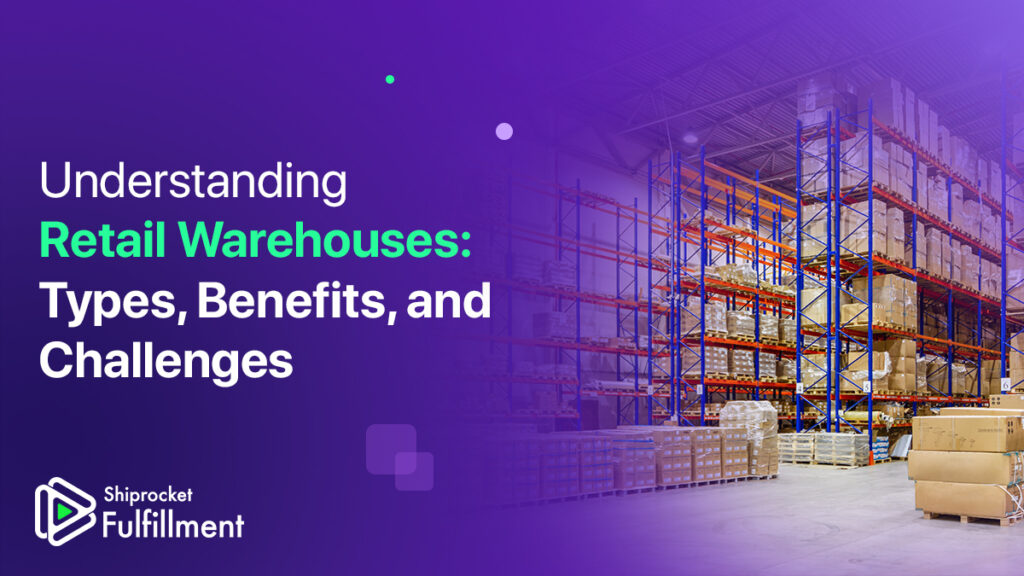 What is a Retail Warehouse?
A retail warehouse is like any other warehouse; big with a large area of floor space and normally built on the city's outskirts. But with a retail warehouse, we can use it not only as a centralised area for storage but also as a distribution center to save resources, money, and time. The retail warehouse allows online orders to be fulfilled within the same space, becoming the central hub for storage, inventory management, packaging, labelling, and delivery. By integrating all these functions, retail warehousing helps organisations maintain the quality and efficiency of their supply chain operations.
Traditionally, warehouses were never considered as an essential part of the retail business. But, with the advent of eCommerce, warehouses have undergone a transformation, emerging as crucial components of the retail industry. The smooth functioning of the retail warehouse is now essential for eCommerce's existence and survival. Global retail eCommerce sales are predicted to reach about 8.1 trillion dollars by 2026, thus increasing the demand for not just a warehouse but a retail warehouse.

Types of Retail Warehouse – Top Choices
Retail warehouse for the eCommerce industry is not only about warehouse space but also an essential part of the order fulfillment process. Selection of the right warehouse would ensure your eCommerce business can fulfill promised deliverables, thus ensuring profit and increased customer satisfaction. The different types of retail warehouses are:
1. Cooperative warehouse
Cooperative warehouses are storage spaces established and owned by cooperative organisations like farmer's cooperatives, milk farmer's cooperatives, fishing cooperatives, etc. Both members and non-members can avail the services of the warehouse. Being a member of the cooperative means services are available at subsidised costs. The sharing of storage and operation costs also helps businesses to save money.
2. Private warehouse
Private or proprietary warehouses are owned and operated by large retail stores, distributors, wholesalers, corporations, online marketplaces, and manufacturers. Private warehouses are costlier than public warehouses and require large amounts of capital to build and maintain. Although requiring investment initially, a private warehouse is very cost-effective in the long run.
3. Public warehouse
Public warehouses are affordable, easily accessible mass storage facilities owned and operated by the government or semi-government entities. They are available for any business and retailer to rent. Public warehouses are not well-equipped or technologically advanced as compared to private warehouses.
4. Smart warehouse
Smart warehouses are where technology is used to the maximum to complete a faster, error-free, and safe order fulfillment process. Advanced technologies like AI are used to complete tasks such as fulfillment processing, storage, and inventory management. Smart warehouses engage automation technologies that include not only software but drones, collaborative robots, autonomous mobile robots (AMRs), and automated guided vehicles (AGVs) to accomplish tasks in the warehouse.
5. Bonded warehouse
Bonded warehouses are mainly owned and run by government or private agencies. They are great for importers to store products duty-free until they are sold. Private agencies that own bonded warehouses require a government license to run them. Importers must keep bonds (bank guarantee) with the warehouse management for goods stored. This ensures that the importer pays customs duties when goods are sold. They are ideal for eCommerce businesses involved in international trade.
6. Distribution centers
A distribution center is a temporary storage space for items that need to be shifted quickly within the supply chain. Within a span of time, a large inventory is received and distributed to resellers and retailers via distribution centers. For food and perishable items, distribution centers are the best to facilitate quickly moving items like groceries, vegetables, etc. Most distribution centers are near transportation centers to ease efficiency and reduce delivery time.
Benefits and Challenges of Retail Warehouse
There are various benefits of a retail warehouse, some of which are:
Increased storage: Most businesses often find a lack of storage space as a main hindrance to fulfilling large orders. With retail warehouses providing storage to store large amounts of inventory and for every type of commodity, the problem is solved to meet the customer demands.
Efficient Management: Delivery management can become easier depending on the type of retail warehouse selected. A smart warehouse using technology would help maintain real-time inventory and ensure the fulfillment of orders efficiently.
Centralisation: Retail warehouses act as a center point to gather all products, pack them, and brand them for further distribution. A central location enables you to keep track of your inventory. It also ensures that extra stock is ordered in advance to meet your order fulfillment requirements.
Enhanced security: The operations team of retail warehouses ensures your goods are safeguarded with high security. They also protect your goods from fire, water hazards, or theft. They have contingency plans in place to reduce the damages that can occur to your stored products.
Although retail warehouses are a boon for the eCommerce industry, various challenges are also encountered. A few of them are:
Returns Management: Returns are inevitable, especially in the retail sector. Proper returns management is required to curtail losses and recover some profits from the returned products through resale, refurbishment, or selling some parts of the returned item. Each returned item must be stored until a quality check is done or returned to the manufacturer as an unsold item. Every retail warehouse should be equipped to handle multiple returns or connect each returned item to its initial order to ensure the audit trail is maintained.
Managing supply chains while maintaining inventory visibility: International trade has increased the complexity of supply chains. This complexity can raise various complications to occur as it involves the transfer of data and information through various systems and networks. Different time zones and different procedures at various places can be challenging. Proper visibility in the various sections of the supply chain is essential to avoid glitches. Using technology to maintain transparency in the procurement and fulfillment areas would help procure real-time information to ensure proper tracking through the entire process. A good collaboration between the various stakeholders in the supply chain would provide a clear picture of items in store and when in transit.
Improve Your Warehousing Using Fulfillment's Services
Shiprocket, India's #1 eCommerce shipping solution, offers end-to-end fulfillment operations. It provides industry-standard operations and same-day/next-day delivery. This is all possible with their fulfillment centers located nationwide, making faster intra-city and intra-zone shipping possible. Shiprocket is a single platform for order, inventory, catalogue, and logistics management.
Conclusion
India is one of the fastest-growing eCommerce countries based on online sales, with eCommerce sales forecasted to increase by more than 25 per cent. Warehousing has always been an integral part of the eCommerce and retail industry. Retail warehousing has become more important for order fulfillment operations. By understanding your retail warehousing requirements, you can decide what works best for your business. Click here to choose the best fulfillments services for your business.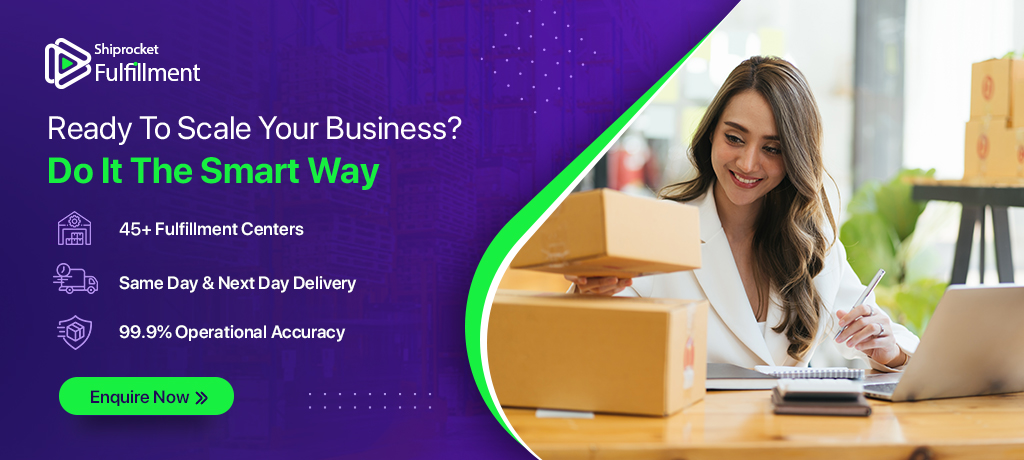 Frequently Asked Questions(FAQs)
Why is retail warehousing important for the fulfillment process of your business?
Retail warehousing helps correct your business's fulfillment process by improving the delivery process, avoiding human error, and increasing customer satisfaction. Choosing the correct retail warehouse is essential depending on business requirements, budget, and product.
Are distribution centers like retail warehousing?
No. Both distribution centers and retail warehouses are different. Retail warehouses typically hold products longer, whereas distribution centers quickly dispatch products to their customers with a relatively shorter storage time.
What is an urban warehouse?
Urban warehouses are fulfillment centers opened in densely populated areas to easily get quick and fast access to a large volume of customers.